All
Visual Storytelling: Why it Matters for You (with Research and Statistics)
---
Over thousands of years, our brains have learned to read without the benefit of genetics that exist for vision or language, thanks to the introduction of Egyptian hieroglyphics, the creation of the alphabet and the invention of the printing press in 1450.
In fact, today's "digital brain" is able to skim through a deluge of information online looking for web pages that offer travel shoppers answers to their questions:
Where should I stay?
What's the property like?
Can I get a coffee nearby?
Are there any special offers?
But by and large, accommodation providers respond to these queries with websites that place visuals on the back burner in favor of structured photos, blocks of text, and buried promotions.
In an industry that is innately experiential and visual, we should be able to do a better job of grabbing and keeping the attention of travel shoppers across all the platforms, channels and devices they're using.
That's why I'm devoting our upcoming webinar with Terry Jones, founder of Travelocity, Founding Chairman of Kayak and Co-Founder of WayBlazer (a cool new intelligent search discovery system that gives travelers personalized advice and insights) to the importance of visual storytelling, and in particular, how storytelling can:
Impact online bookings
Improve conversion rates
Build relationships and trust
Why Visuals Matter to Your Bottom Line
Visuals are a natural component of today's content marketing strategies and go a long way in communicating the value you provide so that you just don't sell on price.
Properties of all flavors have a particular advantage when it comes to visual storytelling on your websites – it's where you want the action to be and in reality, it can be where the action happens if you're doing the right things.
Have a look at the J House Greenwich, a property that is following best practices on its compelling website. Note:
Contemporary references to a sustainability page describing their "green" initiatives
Links to their blog with stories of local events and activities
Open Table widget to make reserving a table in their dining room super easy
Big, bold visuals + rich descriptions that engage, inform and excite
Convenient placement of a booking widget to help achieve their ultimate goal of driving direct bookings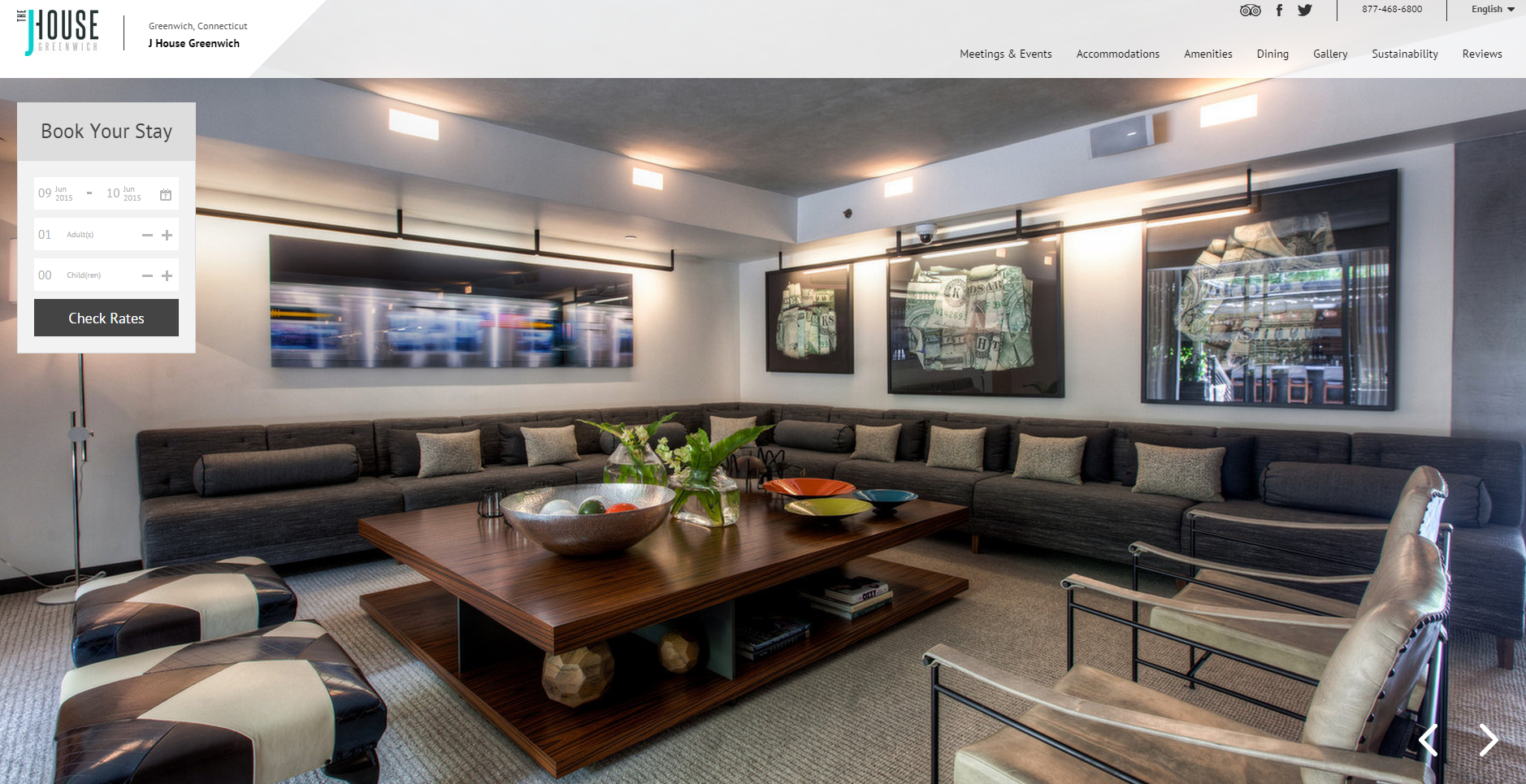 All of these website features provide guests with helpful and useful information and its content and links improve their search engine results.

Nice work, J House!

Statistics to Make You Think Twice (or Thrice)

I just love stats, analogies or parables that make things in life brutally apparent like these highlighting the effectiveness or rather ineffectiveness of a banner ad popular in the '90s and early 2000s. You are:
87.7 times more likely to get into Harvard
50 times more likely to complete Navy Seal Training
28 times more likely to survive a plane crash
……than click on a banner ad!
Challenging Old School Advertising
Travel shoppers are smart and can smell a marketing spin from a mile away. Content marketing is challenging old school digital advertising for position within the buying process. Understandably, trying different tactics and approaches can come with a bit of risk.
But if you don't take these risks, how will you differentiate yourself from the competition? Will you stand out from the crowd or simply blend in?
Our guidance for Accommodation Providers is to draw helpful conclusions for shoppers and make the connections simple and obvious.
This refreshed marketing approach is a way to provide guests with the resources needed to learn about a property; its characteristics, its place in the community, what your brand stands for, what the experience will be like and so on.
Comfort Inn and Suites has embraced the fast-paced digital landscape and shows us best practices in content development and publishing. They've done three things very well:
1) Created a very helpful and alluring website where shoppers can learn, experience, book and share
2) Combined text and visuals to tell their story in an easy to consume format and
3) Presented promotional offers that highlight the value of booking with them. It's this type of content execution that sets them apart from the others in their competitive set.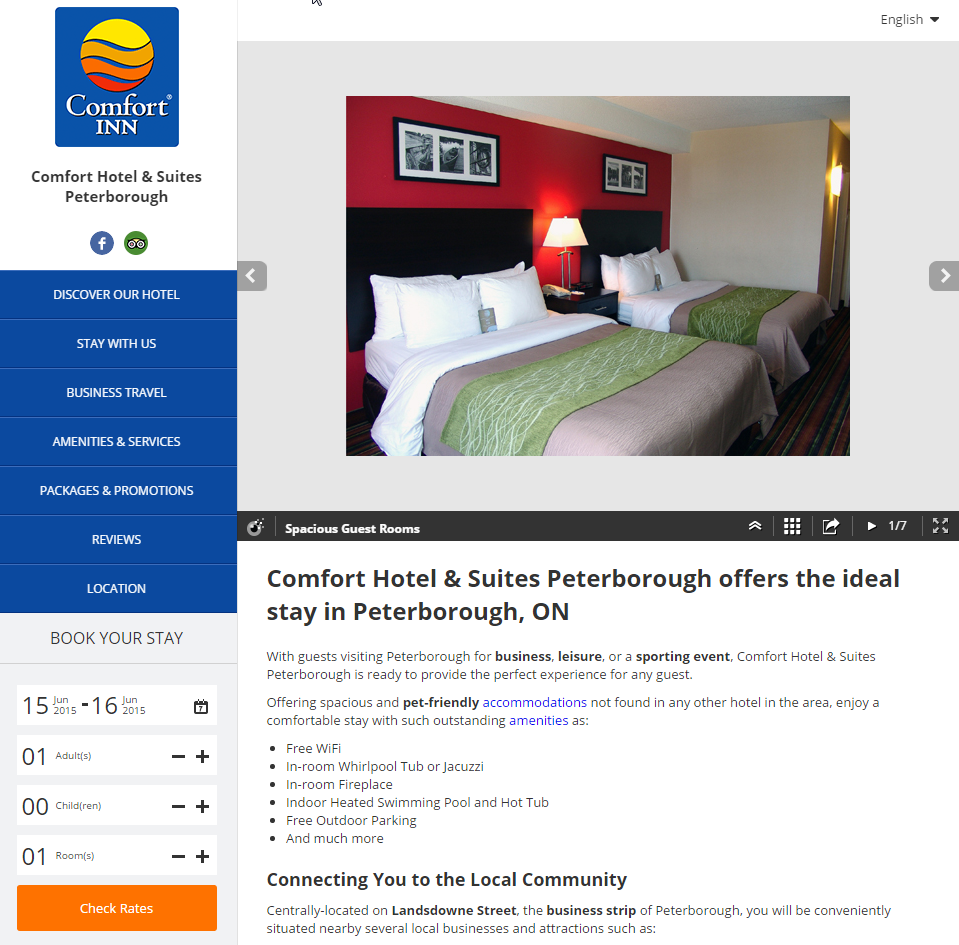 As crazy as it seems, we are already smack in the middle of 2015!

You'll continue to hear more from me about the importance and execution of useful and alluring content across all the devices and channels consumers are using along the travel shopping path. I always like to share a variety of examples from Accommodation Providers for a couple of reasons.

First, it demonstrates that excellence in hospitality marketing can be accomplished in the absence of giant budgets and with limited time and resources. Secondly, regardless of property type – Hotel, B&B or Vacation Rental Property – everyone's got a story to tell, share and experience.