All
Webinar Wrap-Up: Let's Get Visual: The Power of Telling Your Hotel's Story Through Video
---
With 700 YouTube links being shared on Twitter every minute, video is fast becoming one of the most shared media types.  Hotel marketers now have a unique opportunity to engage travel shoppers with this dynamic medium.
I recently hosted a webinar, Let's Get Visual: The Power of Telling Your Hotel's Story Through Video, where we discussed why online video is vital for hotel marketing and how hotels can make the most of video for their properties.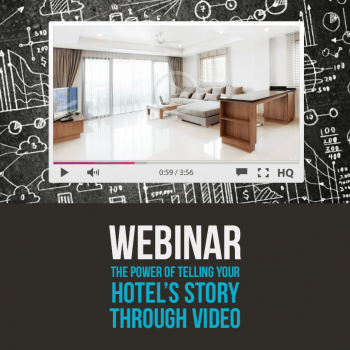 I was joined by experienced and knowledgeable speakers Ben Pickering, President & COO of SoMedia Networks, and Robyn Kinard, Director of Hotel Marketing at Wynn Las Vegas and Encore. They discussed best practices for hotel video content creation and how video grabs the travel shopper's attention, evokes emotion that consumers will remember, and builds trust and credibility before they even walk through your front door.
Ben and Robyn reviewed these key topics:
Why online video is crucial for hotel marketing today
How video can improve SEO results for your website
What types of hotel video to consider creating
Find out how you can start using video by watching the webinar presentation here:
For more detailed guidance on how to successfully leverage video for your hotel, download our new eBook Seeing is Believing: Five Steps To Transforming Your Hotel's Online Presence With Video.