All
What Happens When Social And Storytelling Collide?
---
What's your social storytelling intelligence?
One of the best sales and marketing experts of the last 100 years Dale Carnegie, left us with simple, but profound thinking to help us grow socially smarter, starting with "if you want to be liked, be like-a-ble!"
That means being helpful, resourceful, curious, interesting or funny, and above all, a good listener. When any person, hotel marketer or otherwise, nails this concept, they instantly become approachable and engaging. Guests will tell their stories by way of a written review or a shared image so keep the connection moving forward with a variety of hotel content that is fresh, useful and entertaining as you'll learn in our examples below.
Rachel Feit, Digital Marketing Manager at Dream Hotels demonstrated her social marketing acumen during our webinar last month. Rachel talked about the 3 R's of social media in terms of Reputation, Relationships and ROI:
1. Use social to promote your brand and what it stands for
2. Begin developing the relationship before your guest enters your physical front door
3. Generate bookings on social channels to see a good return on investment (Rachel shared that her properties offer specific discount codes to social media followers as well as track all links on social to determine who purchased).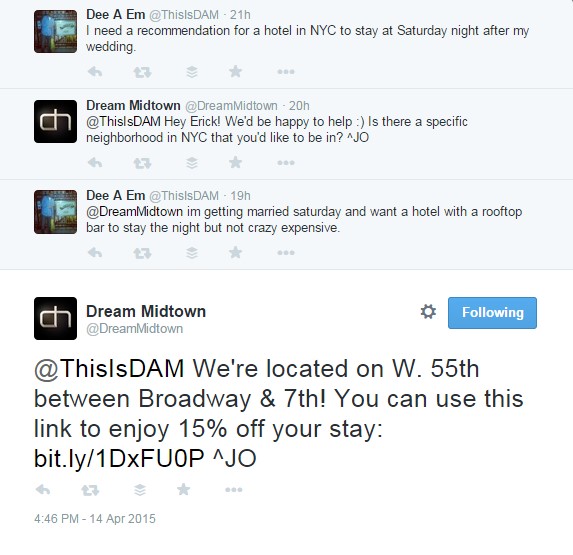 Rachel also shared ideas on how to create partner promotions with "like" brands to maximize your hotel's reach and tips on creating something special for your social followers to promote value, which is the balance of price + experience.
Social Media Boosts Hotel Occupancy
Medallia, a Silicon Valley data research firm, just released a study that found a direct relationship between responsiveness to social media reviews aka "guest stories" and hotel occupancy rates. The properties that increased their responsiveness by more than 50 percent earned double the occupancy rate growth of those that didn't actively engage.
Do you know what stories travelers are posting about your property? What channels they're using to talk about you? Are they sharing their experiences? How are you participating in their story? It's certainly a tall order to keep up with it all, and how hotels manage social marketing activities varies greatly by property type, brand association, and overall marketing strategy.
If you have any doubt about the importance of social media (and especially the reviews travelers share on social media), consider these stats associated with some primary points of influence travelers have at their disposal and then decide if your approach is adequate: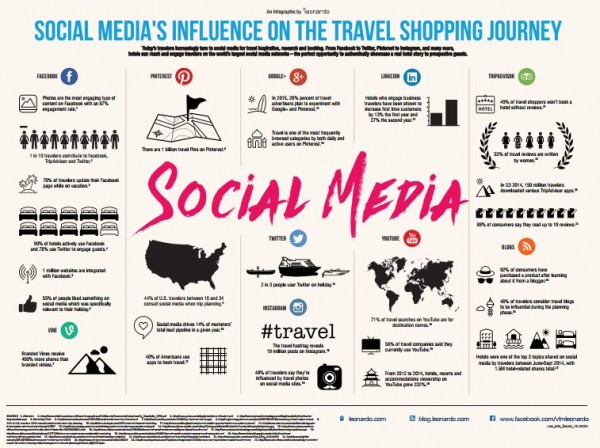 In 2015, it's impossible to talk about social without, at a minimum, mentioning mobile because Social + Mobile (SoMo) = Opportunity. More than 1 billion mobile devices have shipped with pre-loaded social apps all equipped with high-resolution cameras. Social media is very popular for travel inspiration and sharing travel stories, and mobile for research and booking; together, they are a hotel marketing powerhouse. The merging of the two has created opportunities for hoteliers to take advantage of SoMo to tell a better story and reach millions of travel shoppers.
SoMo brings stories to life through visuals. One of the beauties of SoMo is that it enables virtually anyone, anywhere – from your front desk concierge to your chef to your hotel guests – to snap and share photos and videos of where they are, what they're doing and the people and things they love.
As Dan Roam, author of the international bestseller "The Back of the Napkin," writes "thinking in pictures is our nature, and sharing those pictures has long been our dream."
7 Days of Content Ideas for Social Media
Today's marketers need to make social storytelling a priority. Mark Hayward, former hotel owner turned digital marketing consultant, was the inspiration for these ideas for posting stories at your property each day of the week.
We all have varying levels of expertise on the subject of social storytelling. Though it seems like social platforms have been around forever, Mark Zuckerberg's first networking site only launched 11 years ago and the technology has evolved every single day since.
But I'll venture to say the one thing we all understand is that people's true motivations and feelings are revealed by the actions they take. If they're delighted, they'll share, if they're disappointed, they'll tell everyone they know and then some.
When the actual experience is as anticipated or better, people will return time after time. This form of communication happens in our physical world and is certainly made easier in our digital space. Earned relationships will last – so be helpful and informative, but also be entertaining – after all, it is a "social platform."
I'm delighted to be diving even deeper into using guest reviews to craft your hotel story with TripAdvisor Executive Brian Payea. We'll be discussing how to generate more reviews to increase guest confidence, secure more bookings and of course, how to use social storytelling to set expectations (and meet them). Save your spot for the free webinar here.