All
What you need to know about ADA for hotel websites in 2022 and beyond
---
The American Disabilities Act (or ADA) was passed in 1990, long before websites were a twinkle in most hoteliers' eyes. Most hotels know what they need to do to make their on-site premises accessible, but the digital world is not nearly as straightforward. 
The small print is similarly nebulous because as written, the Act itself does not include the word websites. However, hotels are included as public facilities. And all communications provided by a hotel must be ADA compliant, which is where your website comes into play.  
There is no agreed-upon standard of ADA compliance. The closest thing to accessibility "rules" are the Web Content Accessibility Guidelines (WCAG) created by the World Wide Web Consortium, last updated in 2018. Hotel websites can meet WCAG 2.1 in three key ways: 
The content itself

 

The technical design 

 

Accessible integrations 

 
Updating your hotel website for ADA compliance is increasingly important for US-based hotels. The current legal grey area has increased the number of open lawsuits against hotels not meeting WCAG standards. Leonardo builds hotel websites that meet current best practices, from the content to the code itself. We have also recently partnered with Userway to improve compliance going forward. Read on to learn more about what you can do on your website.  
ADA compliant content for hotels 
One of the easiest starting points for meeting ADA regulations on your hotel website is in the actual on-page content itself. One in four adults in the USA have some type of disability, providing relevant information about your accommodations is a smart business move to capture this market while also meeting ADA web requirements for hotels.  
Information about accessible features at your hotel needs to be clearly and prominently featured wherever relevant. For example, your hotel website's Rooms page and sub-pages should detail accessible room types and features.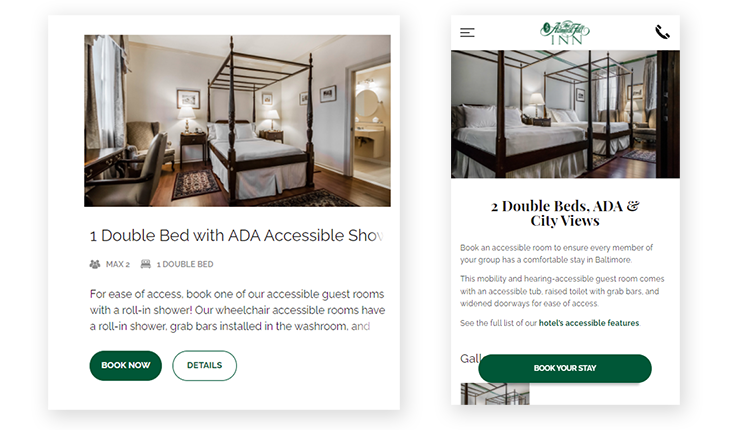 Consider creating a full Accessibility page, which you can include in your footer and link wherever relevant on your website (see above image, right).  
Your Accessibility page should gather all relevant information about your hotel. List in-room accessible features, as well as the arrival experience and accommodations for mobility around your parking, dining, and any other relevant amenities.  
Technical ADA compliance for hotels 
Beyond the writing itself, the technical design of your website needs to have been built with WCAG compliance in mind. Some of the elements of accessible web design include: 
Navigable by a screen reader as well as by keyboard 

 

Titles for all pages, images, and PDFs (for screen readers)

 

Alt text for all images 

 

Appropriate contrast between text and background

 
Easily identifiable interactive elements (e.g., links in a secondary color)

 

Good use of spacing for easy scanning

 
Given that hotels may be legally responsible for the compliance of their website, we highly recommend you use a dedicated hotel website builder that has built website designs for hotels ADA compliance. A DIY or drag-and-drop site builder could leave your hotel open to potential litigation.  
Accessible integrations 
Best practices shift over time. That's why some hotel website providers, including Leonardo, rely on partners to keep their websites up to date on behalf of their partner hotels. A third-party integration increases the accessibility and usability of your website without additional work. 
Leonardo has partnered with Userway, which adds a small widget to each site. Clicking on the widget allows a user to change the website's design for improved accessibility. Userway helps ensure that hotel websites built by Leonardo are compliant with WCAG 2.1 from the moment they launch, without impacting site speed or performance. 
As the #1 accessibility solution trusted by brands like Disney and eBay, working with Userway means that Leonardo's hotels have increased legal protection and a competitive edge against hotels that may not be accommodating this essential market. 
Launch an accessible, revenue-driven website
Leonardo builds strategic websites that are built with accessibility in mind, from the code to the content. We take care of writing and building your website, backed by a custom SEO strategy that is proactively monitored and updated as needed. Learn more about our website building solutions. Or contact us for a short demo of how we can improve your web presence.