All
Why Usability and UX Matter For Your Hotel Website: An Inside Look From Our UX Manager
---
If you've ever used a web agency, or spoken to a Product Development geek like me, you've probably heard the terms "UX" and "Usability." But what do they mean, and do they really matter to you as an Hotelier, B&B Owner, Innkeeper or Property Manager? Well, if you ask your website visitors, they'd probably say yes.
As the UX Manager for Product Management at Leonardo, I am tasked with overseeing the overall design of Vizlly, our Multi-Channel Digital Marketing System, and the websites, apps and digital brochures subscribers can create with it.
A fundamental part of my role is ensuring that the website themes we design for our Vizlly subscribers provide an optimal end-user experience for travel shoppers (your customers). My team spends a lot of time understanding consumer interactions online, and what content travel shoppers are looking for during the shopping journey, to ensure we incorporate these elements into our website themes, so that our subscribers can create high-performing websites that convert. We consider everything, from the overall logic of a hotel website (is the path to conversion simple and easy?), to where to place the booking widget on each page.
In addition, we constantly monitor the digital marketing landscape to ensure our website themes remain current. For example, mobility has been a huge priority for us to ensure our customers can deliver an amazing mobile experience to their website visitors. We have two responsive website themes and one optimized theme in our collection.
This all means that you don't have to worry about the UX and Usability of your website. We've taken care of that for you. Still, it's important to understand the concepts of UX and Usability, to identify if there's anything more you can be doing on your website to improve conversions. Or, if you're not a Vizlly customer (yet), perhaps there's some practical takeaways in this article for improving your current website?
In this article, I'll define what "UX" and "Usability" really mean, why they matter to hoteliers, along with how Leonardo is using UX to help improve the performance of your website.
Why Does UX and Usability Matter?
First, let's start with why User Experience (UX) matters. Just as you would focus on the experience of your guests in-person, you want to ensure your website is an extension of that experience – an extension of your brand promise.
Your website is often the first point of contact between you and your guest and, as we all know, first impressions last. From the moment they land on your website, to the moment they check out of your hotel, you want them to have a positive experience.
Ensuring your website provides a good user experience not only keeps website visitors focused, but can also make you more money! A hotel website that is easy to navigate and intuitive to use helps move travel shoppers along the path to conversion. It influences everything from direct bookings, to your bounce rate, the number of unqualified inbound inquiries you receive (because visitors can find what they need on your website), your brand reputation, and even online reviews. UX plays into a lot of things that impact your bottom line.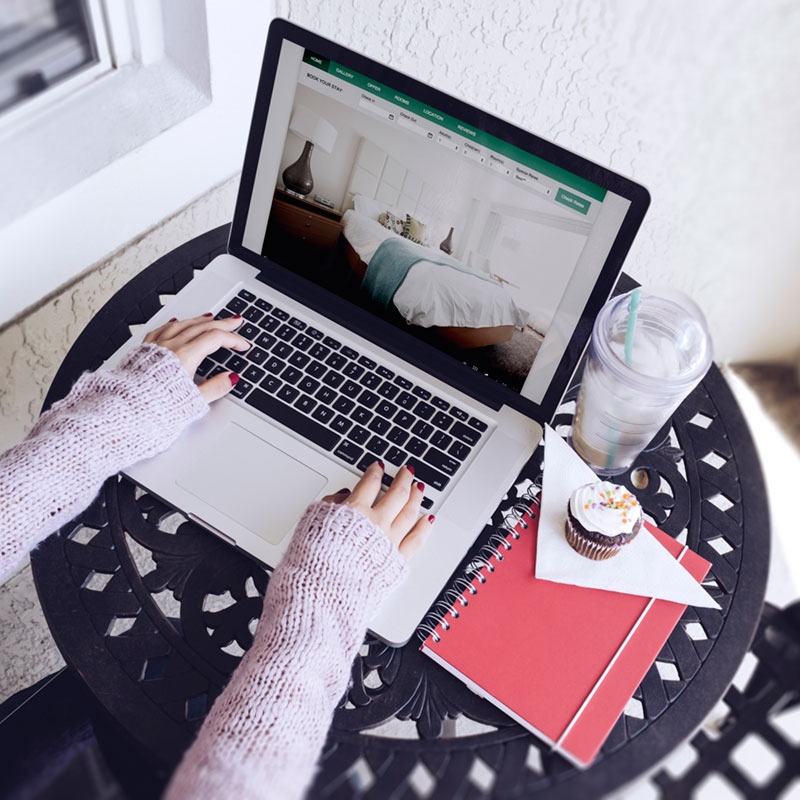 What is UX?
UX may sound overwhelmingly complex, but basically just describes the overall experience someone has using your website. A website that offers a good UX evokes positive emotions, which is important because positive emotions are a stronger driver of purchase intent than rational factors.
A good user experience often goes unnoticed or undetected. Ideally, you want your website to "stay out of the way" of your visitors' experience. You want them to think about is how great it will be to stay in your hotel, rather than how frustrating it is to navigate your website.
What is Usability?
One thing that can influence a positive UX is a website's "usability." Usability refers to how easy it is for a visitor to accomplish a desired task on your website. For instance, if a visitor is looking for things their family can do while they're in business meetings, can they easily find images of your games room or pool? Are they buried with other unsorted, untitled photos? Or are they easy to find and labelled clearly?
Usability is the art and science of keeping your website easy to use, while still showing off all the information you want your visitors to know in order to convert them.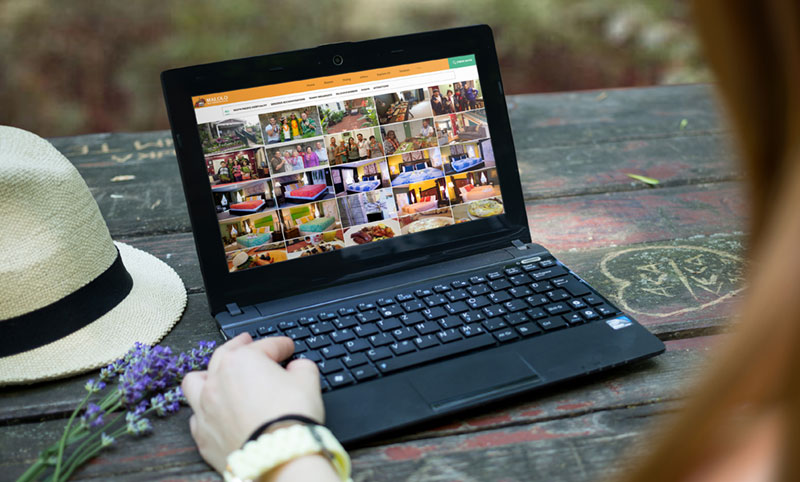 How Leonardo Uses UX
Now that we know what UX and Usability are, and why they matter, let me explain how Leonardo uses UX to help create a positive user experience on your Vizlly website.
First, we start with visuals. We coined a term many years ago, "The Future of Digital is Visual Storytellling" and this mantra drives our approach. Each of our website themes are visually-driven to help you elicit a positive emotional response from visitors. 93% of people say that visuals are the most important influential factor in their purchase decision. A website creates a virtual experience of your hotel, to help visitors feel like they're already there.
We ensure there is a clear call-to-action on every page of your website. This may be a booking widget, or something else depending on the page. But it's always in clear view to help move visitors down the path of conversion.
We help keep important information in plain sight. The decision to book is based on a combination of how the hotel looks, what other people think about it, and how expensive it is, so we provide tools to help you address each of these. For example, you can plug-in a TripAdvisor widget for visitors to see online reviews without having to leave your site.
Our website themes (and Vizlly in general) are designed to showcase the information travel shoppers look for when searching for hotels – visuals, rooms, unique features and deals. By keeping your website focused on what visitors actually want to see, you improve your chances of conversion.
Vizlly subscribers can choose to use one of our mobile web themes to create a seamless user-experience across any device. Our responsive web themes ensure your desktop website looks and works the same on any mobile device. Our optimized web theme includes the ability to customize and tailor content for mobile devices (e.g. mobile-only special offers). A good mobile experience is important given that an estimated 70% of all online travel bookings will be made on mobile devices by 2019.
Key Takeaways
UX and Usability are both essential to the success of your hotel website, and the overall guest experience. You want to try and "stay out of the way" of your visitors' experience, to create a clear path to conversion. There is definitely an art and science to it, which can be difficult to achieve on your own. That's why a multi-channel digital marketing system like Vizlly makes sense. It's built with UX and Usability in mind (it's what I do day in, day out), and is an easy and cost effective solution to increase your website's performance and drive online conversions.
To learn more about UX and Usability watch our webinar: The Science Behind a High-Performing Hotel Website, available now on-demand.