All
Your Biggest Web Marketing Challenges and How to Solve Them: Part 1 of 3
---
We've all had those moments where we just wish something would magically fix or improve itself, those moments where it seems like there just aren't enough hours in a day, those moments where we just don't even know what to search in Google to help us solve our problems.
Let's face it – unless you're Mark Zuckerberg of Facebook then not everything surrounding technology will be second-nature, especially web marketing.
During our monthly webinar events, we always start off by asking a poll to learn more about the challenges and opportunities facing today's hospitality professionals.
Last month, we asked: what is your biggest challenge with visual storytelling? The results were:
Knowing what type of content travelers want to see – 35%
Keeping content updated and fresh – 32%
How to stand out on social media with visual storytelling – 30%
I don't know how to create my story – 3%
The results revealed what we long expected: telling your story, especially on one of the most important sales channels – your property website – is challenging. But it doesn't have to take up all your time or energy.
Based on that webinar poll and a few other insights we've gathered from our customers, we've listed some of the biggest challenges below – and how to solve them.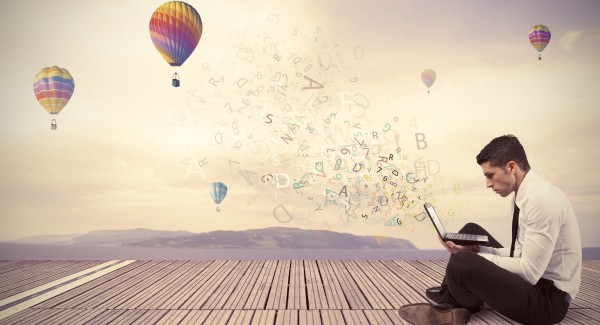 Problem: How Do I Drive Website Traffic?
Solution: A great way to drive website traffic is to create relevant content that is tailored to what travel shoppers are looking for. Research shows travel shoppers are looking for three things: what your rooms look like, what unique features your property has and how they can get a deal with special offers.
However, keep in mind that what the travel shopper is looking for depends on what demographic they are – business travelers will be looking for something different than Millennials, leisure travelers, group travelers, female travelers, adventure travelers or wellness travelers (to name a few). Take a look at our complete guide to targeting your ideal guest for more information.
It's not only important to create relevant content – you have to make sure that the content is being updated regularly and consistently. This is important for both travel shoppers and SEO (search engine optimization) rankings. As Marco Braggio, an SEO expert who frequently works with hospitality professionals, notes, the key is creating relevant, high-quality content that is appealing to your demographic (travel shoppers) and search engines.
Need content ideas? Think about your property's unique story – there's plenty there. Take advantage of local attractions, unique features of your property, special offers and your most unique asset: your staff. Posting behind-the-scenes, day-in-life and other interactive content to your website, blog and/or social media is a great way to engage with travel shoppers and drive them to your website.
A great example of driving website traffic through content is from the "Explore Williamsburg" page on the Cedars of Williamsburg Bed & Breakfast's website. The Cedars of Williamsburg B&B added a lists of things to do while guests are in Williamsburg. The lists are grouped into activity type – fun, relaxation, curiousity – and also feature great visuals beside each acitivity.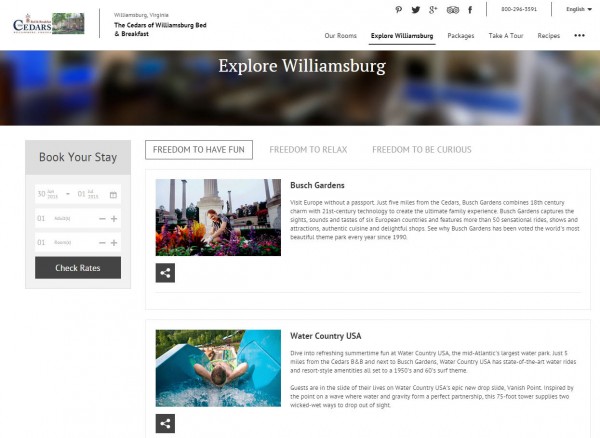 Problem: How Do I Update My Website With Fresh Content?
Solution: Just like you, your property is dynamic and its story is always updating, improving and growing. This will help you ensure that your website is always updated with fresh content. Think about what sets your property apart from the competition and what makes it unique – this is your property's story and it is all you need to create and base your fresh content on.
The DoubleTree Resort by Hilton Lancaster are excellent at keeping their content fresh. Take a page from their book and update your website with seasonal offers and promotions, summer photos, winter holiday content and more – just like they do. Since it is summer now and the weather is warmer, they have a great photo of their pool on the homepage of their website.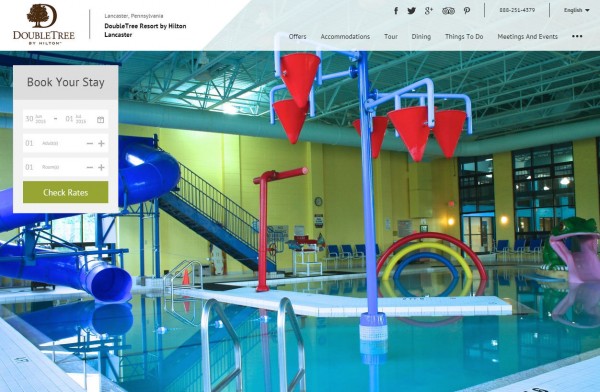 A great way to add substance to your story is by reaching out to local attractions and associations for events and content ideas or pieces. If your property has a blog, feature these local attractions or have guest bloggers contribute regularly.

On social media, you could consider "a day in the life" piece, where a funny staff member or a local community figure takes over the account for the day. Is someone relatively famous staying with you? Consider featuring them on your social media as well.

This is what The London NYC Hotel did when a popular blogger, Jessica from the Dining Traveler, stayed with them for a week. Jessica posted photos from her perspective while visiting New York City – it was an excellent way to engage travel shoppers and show them an insider perspective at the hotel.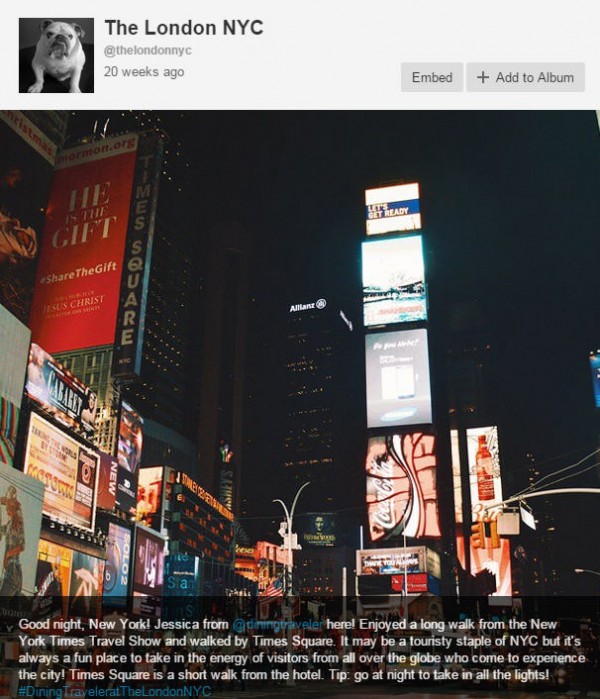 Problem: How Do I Know What Type of Content to Feature on My Website?
Solution: If you want to convert lookers into bookers, then the content on your website needs to be appealing to travel shoppers – showing them the type of experience they can expect to have and enticing them to book.
More and more, that type of content is visual – because you simply can't express in words what you can with a compelling image or video.
In fact, 93% of people say that visuals are the most influential factor in their purchase decision. Visual content is not just photos, it is (and should be!) a mixture of photos, videos, virtual tours and more – offering multiple product views and other alternative images leads to 58% more web sales.
As for the actual content within your visuals, be sure to include the top 10 images that travel shoppers want to see (number one is rooms!) using both professional photography and user-generated content (UGC). Using UGC is a great way to show the personality of your property and its staff and an especially creative way to share your story.
Regardless of what type of content you create, always be sure to follow best practice guidelines when making additions to your website. This includes ensuring that all media is high-quality, creating snackable videos that are 12-45 seconds in length, using a combination of media that reflects your brand identity and complementing your multi-media with carefully written descriptions and attention-grabbing captions to add context.
The Ashley Inn and Suites Lincoln City deserves an A+ when it comes to following these guidelines – in the galleries on their website there are both high quality videos and photos accompanied by snackable captions, all put into user-friendly categories to make the travel shopping experience enjoyable and efficient.
After the implementation of a visual-first website, the Ashley Inn and Suites Lincoln City was able to increase occupancy rates by 14% – in just 18 days! This more than tripled their ROI. They give travel shoppers what they want – visuals of rooms, features and special offers – and that's why they've seen such success. It may not be rocket science, but it works: telling a better story, through compelling media and appropriate descriptions, gives travel shoppers an idea of the experience they can have, making them confident to book.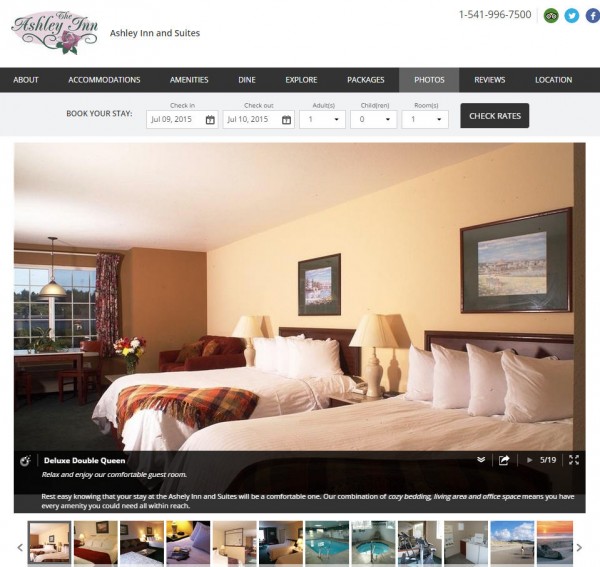 Problem: What Type of Web Template is Most Effective?
Solution: First things first – make it easy for travel shoppers to find what they're looking for. Clearly provide maps, contact information, room photos and descriptions, a booking button and social sharing links. By clearly indicating these items on your website (both desktop and mobile), travel shoppers will not leave your website in frustration.
A great and easy way to create your own visually-compelling websites that drives bookings is by using a Multi-Channel Digital Marketing System like Vizlly. With Vizlly, hospitality professionals can create and publish websites, mobile websites, social media apps and digital brochures for third party travel websites – telling a consistent story across all channels travelers use to shop for accommodations online.

Problems? Solved.
This blog was created to help you solve some of your most common web marketing challenges. Have a question that wasn't answered in this blog? Let us know in the comments and we will be sure to get back to you with some helpful information!
This is part one in a three-part series discussing web marketing in the hospitality industry – stay tuned for part two!