Customer Stories
How a Website Helped this Bed & Breakfast Stand Out from the Competition
---
A unique path led Paige Stephens and her husband into the world of hospitality. Their hotel adventure started with the purchase of a beautiful bayside property. After they began to fix the place up, they decided to turn it into a traditional bed and breakfast in 2009. Soon after, couples also began approaching them to host weddings at their beautiful property. They learned on their feet about what it takes to run an inn and an event space in the ever-changing world of hospitality.
Bay Tree Manor serves families and couples all year round, primarily focused on the weekend crowd. They rely on repeat customers who come year after year as well as the ever-essential word of mouth. However, the digital marketing landscape for hotels is always changing, and they were losing money to high commissions in 2018. They realized they needed a direct booking channel they could manage on their own, which would help bring more visitors to their website and inn.
How a website helped Bay Tree Manor
Paige realized the best way to capture direct bookings as an independent hotel was to boost their online presence with a standalone website. Relying on third-party listings was no longer sufficient to capture new customers.
"People aren't going to look forever," Paige told us. "As soon as they know they want to go somewhere, they're going to look and see what is available as they search. People want a quick transaction."
As Bay Tree Manor is neither owner's full-time job, all their technology needs to serve multiple purposes to take time off their busy plate. When they decided to invest in a website solution, they needed a service that took care of the heavy lifting.
With Vizlly, the website is hosted and built by our proprietary content management system. Then, every page of the website is written as part of the hotel's tailored digital marketing strategy. Most importantly for Paige, maintenance and updates are handled by the team at Leonardo.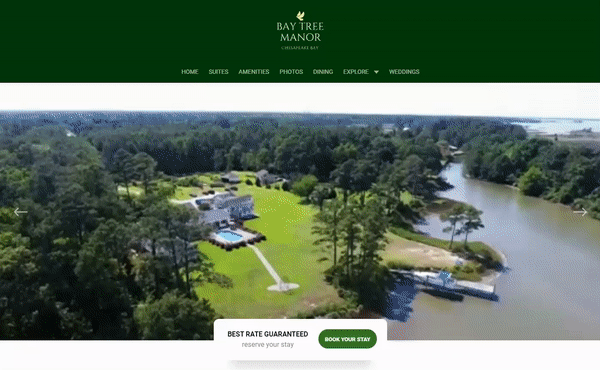 The website features persistent book direct reminders for travel shoppers and showcases their rooms and amenities. After launching the new website, Paige has seen:
Increased occupancy and bookings
Decreased OTA commissions
An uptick in event inquiries
Promoting a Unique Event Space
When they opened the bed and breakfast, they began to receive inquiries about hosting weddings at their property. With their view of the Chesapeake Bay and natural landscape throughout their property, they had couples coming directly to them to ask if their scenic location was available for weddings. As this part of the business grew, they built a covered pavilion to meet the demand.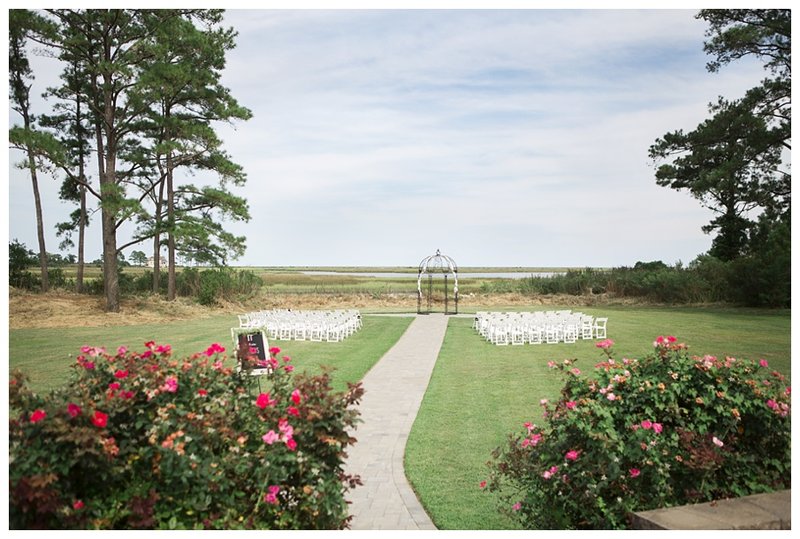 On their new website, they have a page to promote this service. It features a gallery of photos that makes it easy for couples planning a wedding to visualize their special day in the space. The text provides details while also targeting keywords that bring relevant traffic to the Bay Tree Manor website. By boosting local awareness with a dedicated wedding landing page, Paige is seeing the results.
"The website brings couples directly to us much quicker than before. We are now almost completely booked for weekend weddings through the 2020 season. It has really taken off."
A Specialized Web Strategy for Small Hotels
Paige and her husband have day jobs and focus on running the bed & breakfast mostly on the weekends. That means that running a hotel website can't take up too much of their time. With Vizlly, their website maintenance and updates are taken care of. Whenever they have a question—for example about ADA compliance or adding new content—they can turn to their Customer Success Manager.
With Vizlly, Bay Tree Manor has more than a hotel website: they have a flexible digital marketing strategy, and a team that executes that strategy for them. Learn more about Vizlly.