Product Updates
Leonardo partners with Asksuite's AI-driven Chat and Reservation Assistant
---
Leonardo's Web Studio solution gives hoteliers beautiful, conversion-driven websites. We're partnering with Asksuite, the maker of the best hospitality chatbot to help our hotel partners convert even more visitors into guests. Asksuite has been voted the #1 AI chatbot for hotels for four years in a row in the Hotel Tech Awards while maintaining a 98% recommendation rate with 400+ reviews. 
Leonardo uses a proprietary search engine optimization strategy to boost website traffic for hotels looking to revamp their direct booking. We're working with Asksuite to implement their booking assistant on hotel websites to take our hotel clients' direct booking potential to the next level.
"We're excited to officially partner with Asksuite to help hoteliers make the most of their website traffic," explains Ian Walker, Vice President of Digital Services at Leonardo. "The current hospitality reality is staffing shortages coupled with increased demand. Technology companies like Leonardo and Asksuite are in a unique position to help hoteliers increase direct bookings without increasing staff resources. With the option to add a chatbot to our website solution, we can help hotels engage guests and convert more customers." 
Asksuite's award-winning assistant automates customer interactions using artificial intelligence to answer frequently asked questions and make bookings. Their AI Reservation Assistant scales to the needs of any hotel, from small inns to large resorts.  
"Partnering with technology providers like Leonardo helps us better integrate our AI Booking Assistant to hotel websites," explains Rodrigo Teixeira, CEO at Asksuite. "By working together, we can fully integrate our chatbot into the website interface to deliver results in the form of increased booking and guest satisfaction."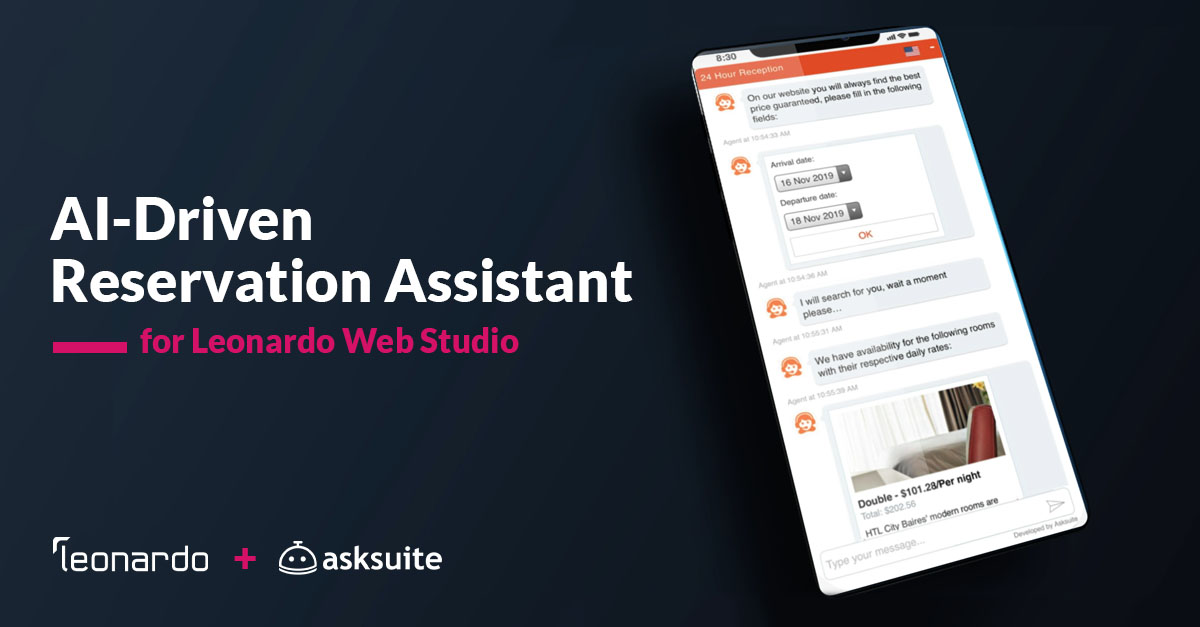 About Leonardo
Leonardo is the hotel industry's content expert, with a technology platform that helps hotels, hotel brands and travel channels source and manage descriptive content. Leonardo has been a hospitality market leader for 20 years and has engaged partnerships with global hotel chains, leading travel websites, and thousands of hotel properties. For more information about Leonardo, visit leonardoworldwide.com.
About Asksuite
Asksuite is a global leader in AI-powered omnichannel service for hotels and resorts. The company's mission is to make Reservation and Sales teams unstoppable by turning service requests into direct bookings and revenue. Asksuite's platform provides centralized control of all hotel communication channels with maximum automation. Asksuite has won #1 Best Livechat & Chatbot by HotelTechAwards for four years in a row, consolidating its position as a worldwide reference for hotel tech solutions.