Last week Leonardo employees competed in our second Hackathon. Hackathons are an excellent opportunity for employees across all departments to come together and brainstorm new ideas that help solve business challenges and continue to improve our lineup of hotel marketing solutions.
The 7 teams competing in the Hackathon were tasked with creating ideas that either improved the performance of our products and processes, or increased the flexibility of Vizlly-powered websites. Teams were judged not only on the business potential of their ideas, but also on technical difficulty, implementation, creativity and their pitch.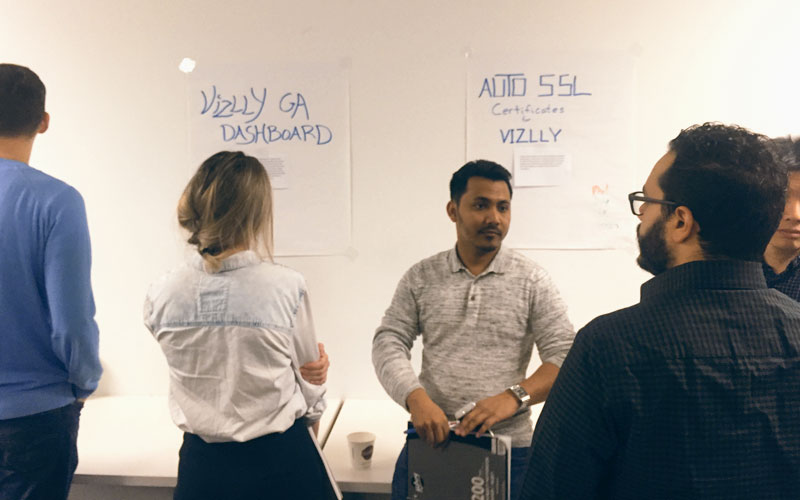 Here are the ideas our Hackathon teams worked on:
Cat.Scan
Cat.Scan was an idea that used an open API to automatically scan images as they're uploaded to Vizlly. The image scanner automatically and accurately assigns an OTA category to the image; for example, guestroom, restaurant, or pool. This would save hoteliers from having to relabel their images once uploaded, as well as ensure better accuracy when distributed to third-party channels.
Animaniacs
The Animaniacs worked on a project that would allow for animated elements to be added to images on Vizlly websites. This technology, known as cinemagraphs, could be used to help catch the attention of travel shoppers and highlight special offers.
Security is Key
The Security is Key team used an open API to automate the implementation of SSL certificates for Vizlly websites. Websites that have SSL certificates are not only more secure, but are also ranked higher by Google on search engine results pages.
Hackalytics
Hackalytics looked to improve Vizlly's website analytics by pulling information from Google Analytics directly into the Vizlly interface. This would give customers a better snapshot of their overall website data/performance, to help adapt their digital marketing strategy.
Vizlly to Go
Vizlly to go is an app version of the Vizlly interface that would allow customers to easily add and update website content on the go. This idea would be especially useful as a way to update images of your hotel thanks to the high-quality cameras that come with today's smartphones.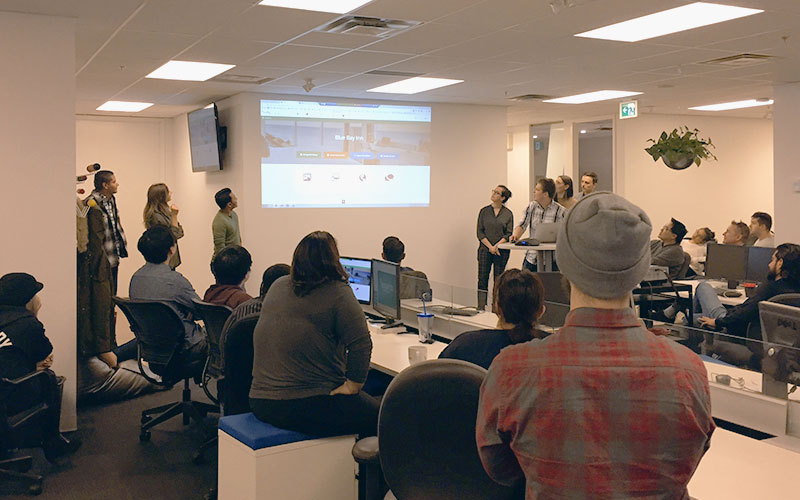 Mobias
The Mobias team worked on improving our Outbound Media Synchronization process to online travel websites. The team was able to reduce the 30+ processes currently being used into one simple process, greatly improving efficiency, while increasing functionality to include selective distribution.
Vizlly Search Engine
The Vizlly Search engine is a search engine that sorts through Vizlly hotel websites. You can search by location, name or services. This product would be of great benefit internally, especially for customer-facing departments, reducing the number of process currently being used.
So, Who Won?
Each Hackathon team was able to build a working prototype to show to the judges during their pitch. With that said, there is still some work to be done before each idea is "product-ready." The good news is that every project will be evaluated for possible inclusion in our Road Map, beginning with our Hackathon winner: Security is Key.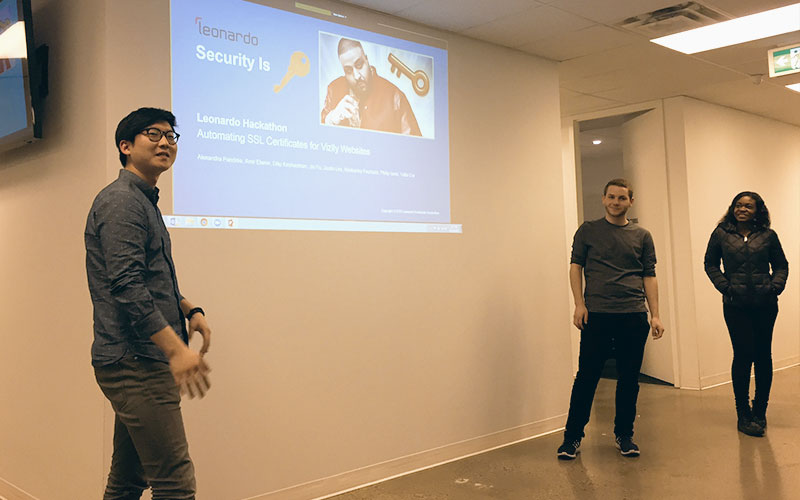 The judges were delighted with the creativity and innovation shown during the Hackathon. "It is amazing to see what can be accomplished in such a short amount of time when our employees work in this creative and collaborative environment," said Paolo Boni, CEO of Leonardo.
Congratulations to the Security is Key team! Your idea and presentation was well deserving of the top honor. We can't wait until the next Hackathon to see even more great ideas come to fruition!