All
5 Reasons Why Every Hotel Should Have Its Own Website
---
Most leisure travelers make their final decision on a hotel by visiting its website.
Hotels that are part of a larger brand may not have a website to call their own but rather only have a page extension on their brand's site. Or you may have a very simple landing page without a lot of detail because launching a full website seems like too much work.  
Your website is an exceptional way to showcase your hotel's individuality and put forth the best representation of your hotel online. 
Here's an analogy to help put this into perspective if you're a branded hotel, or relying on third-party channels to get your name out there. Imagine being born into a very distinguished and reputable family. Your family name can give you a leg up in life but you will also want people to understand who you are as an individual. The same can be said about a branded hotel. Don't rely on a brand site, or on your representation throughout the web. Solidify your digital identity with a fresh website. 
With the rise of social media, it can sometimes seem easier to develop your presence on these channels. Designing, building, and launching a new website sounds like a daunting task. While having brand recognition and a presence on other sites is an important driving factor, keeping your website up to date is vital to driving bookings, revenue, and increasing ADR. 
Here's a look at the benefits that stem from creating and updating your own website. 
1. Tell Your OWN Story With Your OWN Visuals
One of the best reasons for your hotel to have its own website is the fact that you can display all your hotel's visuals much more prominently. This is the opportunity to personalize your story with fresh and vibrant images. A visual-first mentality is a great way to represent your property and let your imagination run wild so you can have fun with your hotel's narrative. 
Bold images and video are the quickest route to evoke an emotional response from your audience – and capture that booking.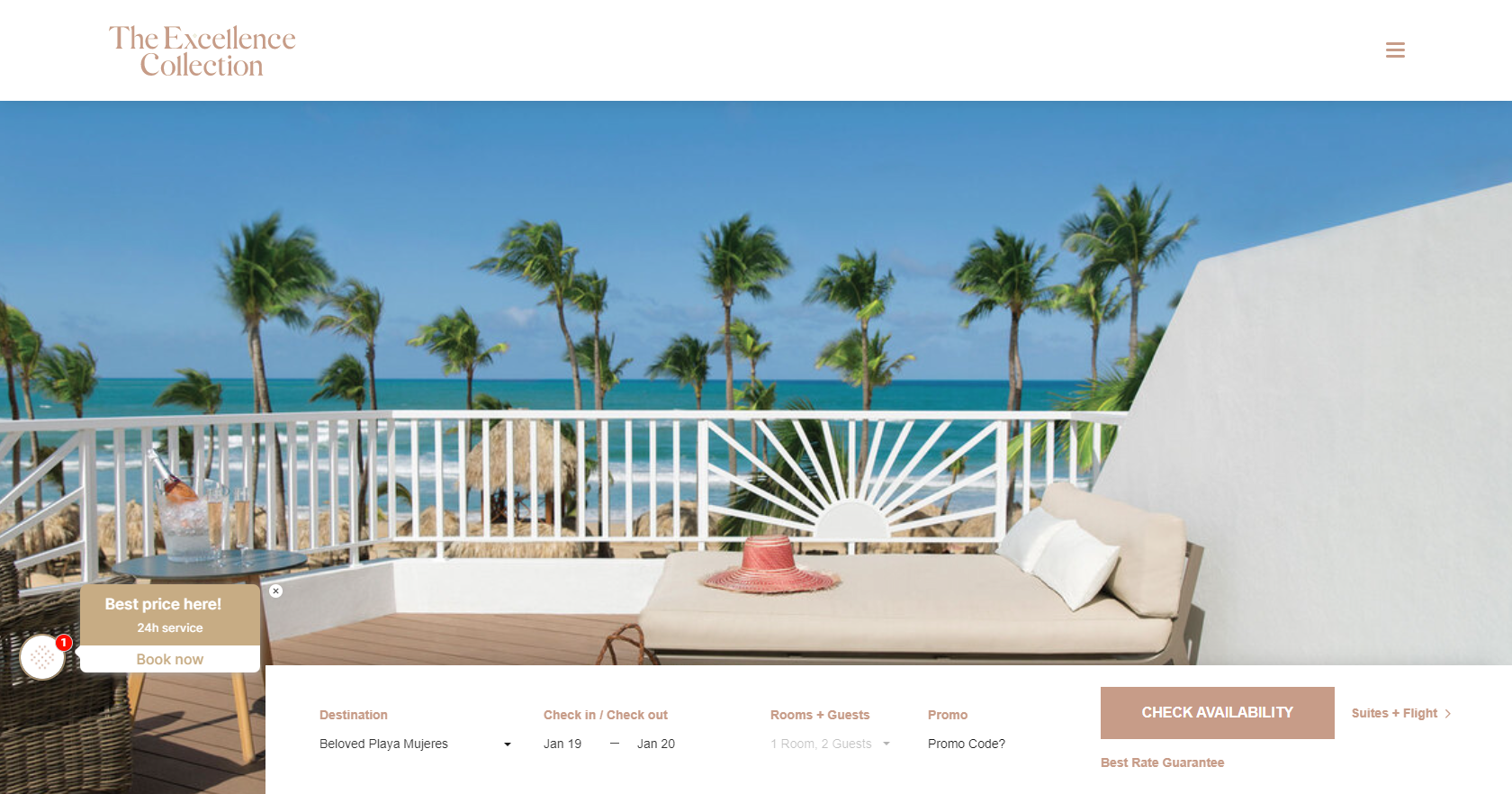 The Excellence Collection

website helps

guests start imagining their vacation with striking visuals 

 
2. Customizable Look and Feel
Having the creative freedom to determine what kind of experience you want your visitors to have on your site plays a massive underlying factor in your hotel's originality.  What's more, according to the Stanford Persuasive Technology Lab, 46% of people said that a website is their #1 criteria for determining credibility. A dated website will cost you bookings.  
You need to include key information travelers are looking for (such as your location, contact information, and a link to your booking engine), but contemporary websites should be an engaging and dynamic experience.  
The best hotel websites walk their own path while still following SEO and user experience best practices. Leonardo customers, The Inn at Leola Village, for example, use their site to showcase the unique room types that sets their property apart. 
Using our website building services and customizable designs, their website has dedicated pages for each room, which a guest can easily find from the top menu.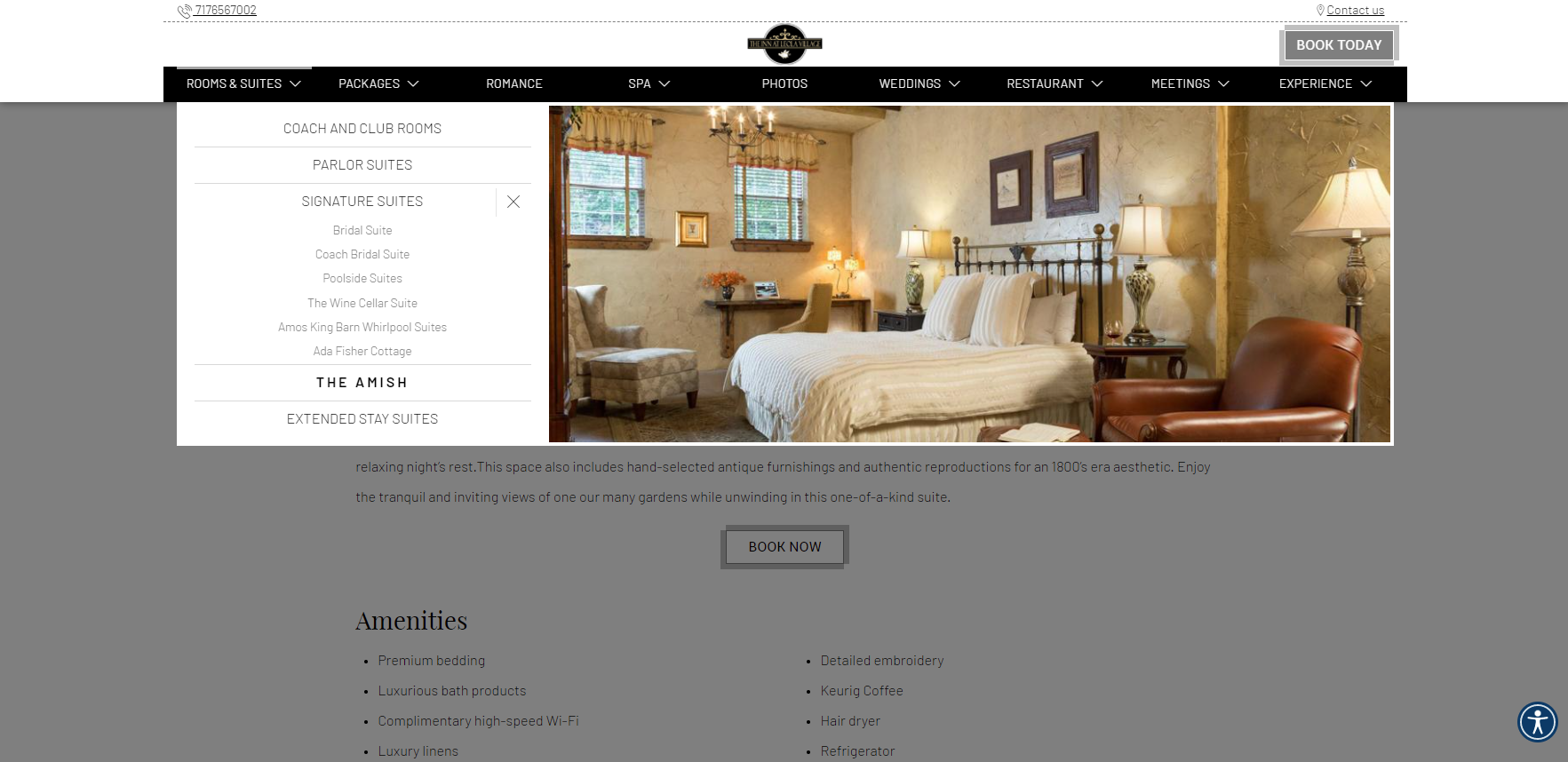 The Inn at Leola's website
showcases their
unique rooms and suites
3. You Can Amplify Your Hotel's Location
Amplifying your hotel's location means getting creative and using the area around your property as a selling point. Most online travel agents do not allow non-hotel photos in your listing. This is one of the greatest benefits to having your own website: the ability to source images from all things local to help add substance to your story. 
Local events and attractions, the surrounding city and neighborhoods, and your connection to them all play a key role into what differentiates your hotel from the competition. A hotel near you may be close to the same attraction, but are they using their website to market that fact?  
Unique photos customized to your story ties into the entire travel experience that prospective guests are looking at when deciding upon a hotel for their journey. 
Hotel Café Royal highlights their central London location as a key selling feature throughout its website. 
4. Stronger SEO Capabilities
Updating your website to meet search engine best practices is essential to driving more direct revenue. If you're relying on an out-of-date site, brand representation, or third-party channels 
With your own website, you have much more control over the technical elements and content that allow your page to rise in the rankings. Improve your keywords, content, headers, social media links so more travel shoppers can find you and book. If you're starting from scratch, you'll need a full performance audit and refresh.  
Most hotel website builders require hoteliers to provide their own content. Leonardo knows that you're likely too busy and don't have the resources to research and create a website strategy from scratch. We provide SEO and content services including: 
Competitive analysis 

 

SEO strategy for each page

 

Website designs built for search engines

 
PPC and paid search campaigns

 
Learn more about our digital marketing services here.
5. Unique offers and promotions 
Your hotel website can promote special offers, promotions, and up-sell opportunities that guests can't find on third-party channels. What's more, your website has unique opportunities you're missing out on if you rely too much on OTAs.  
Create eye-catching pop ups that promote the value of booking directly, or install a widget that directly compares your direct rates to third parties.  
A dedicated page for special offers is a great way to continue showcasing your unique story. Even if a guest does not book one, visually-driven packages that tie into your location, events, or unique amenities tell your unique story and market your hotel.  
Added Responsibility That Comes With Having a Vanity Website
It is important to note that your own website comes with responsibilities and maintenance. Running a website is not a one and done project where you set it and forget it. You need to regularly update the content, make sure all links are working, provide fresh and seasonal images, all while monitoring your analytics to make sure you know what is and isn't working with your audience. 
That's a lot of work. Leonardo's website services include both the initial research, launch, as well as additional monitoring and maintenance.  
Your website is the center of your hotel's web presence. Everything stems from that like major highways leaving a city center. Your website is where guests will look to for information or to validate their decision to book, whether it's direct or indirect.  
Leonardo has two website building platforms, with flexible solutions that fit any hotel or hotel group's needs. For a demo of our services, contact us today.