All
Best Practices for Displaying Special Offers on Your Website
---
Special offers are a key ingredient in your overall visual storytelling recipe. Their function helps accentuate your story and ultimately plays a major role in driving direct bookings.
A few weeks ago, we published an article about how to target travel shoppers using special offers on social media. Hoteliers have the opportunity to take advantage of promoting their own unique special offers that can help drive bookings and traffic back to their site. Now we can cut out the social middleman here and talk specifically about how special offers on your hotel's website, combined with your story, can help skyrocket your direct bookings.
Similar to our last installment in the "special offers" series, American marketing consultant and bestselling author, Jay Baer provides the perfect segue:
"The companies that succeed and break through the pile of social flotsam will be those that base their social efforts on humanization and storytelling, not on post-modern couponing and eyeball purchasing. The winners will focus on people, not logos."
Much like special offers promoted on social media, if they are basic and generic "Get 10% off" discounts, then you lose out on creating an authentic connection with travel shoppers. The best hotels design every special offer with their story in mind and all avenues leading back there.
4 Aspects Travel Shoppers Look For in Special Offers
Travel shoppers want to save money and you want to drive direct bookings. So if you want to effectively compete with OTAs, then take a page from the Godfather and give them an offer they can't refuse.

Shoppers want to envision how this offer will enhance and enrich their overall experience at your property. Special offers that save shoppers money are obviously great, but to make your story stand out, design packages that target the individual and see how it does wonders in terms of customer loyalty. See how the DoubleTree Resort by Hilton Lancaster focuses on the human element and effectively targets the travel experience rather than on simply lightening the wallet.

What kind of offers will you have in the future? If you frequently hold seasonal promotions, travel shoppers can come to anticipate this and are more reluctant to take advantage of spontaneous deals. These are also a great way to build up your email marketing rolodex and catch the spur of the moment, impulsive shoppers.
This goes without saying, but shoppers truly value the connection back to your hotel's story. They want that authentic feel linking back to your narrative and who you are. If you are just that hotel that spits out "Get 10% off this weekend" deals, then that's all you will ever be in the eyes of those searching for hotels. However, if you provide an experience in the form of a comprehensive package, then this helps build loyalty points towards your hotel.
How to Create a Tremendous Offer
The Holiday Inn Chicago Mart Plaza River North have created an exceptional special offers and packages section to their website that is aligned with their overall story. We'll highlight their work as a best practice case study as we break down the anatomy of prominently displaying special offers on a hotel's website.
First off, you need a compelling offer that is enough to stand out and evoke an impulse decision from a travel shopper. They need to be "special" enough to warrant extra consideration along the shopping journey.

Pull shoppers in with catchy and concise headlines with important keywords They do a great job providing a detailed description to accompany the captivating headline, showcasing not only how romantic an experience they offer, but also how the city of Chicago can add flavor to the escape.

A clear call-to-action with easy-to-follow directions makes the process simple for the shopper. They do a great job of highlighting the key features of the deal and make the booking process simple.


A strong use of visuals combined with a vibrant color scheme can certainly go a long way. Be creative and have some fun with the design. Holiday Inn's brand colors are traditionally green, but have thrown in a splash of purple to make for a dynamic color contrast. Purple is universally known as a strong color in marketing, used to convey integrity, sincerity, creativity and quality.


Place your offer where travelers can easily find it – on your website homepage, a dedicated landing page, or an identifiable tab at the top of your website. If they are tucked away on a page that takes three links to find, then you're banking on a patient travel shopper to keep clicking through. Notice how the Holiday Inn Chicago Mart Plaza River North highlight their special offers on the main page directly underneath the massive visual above it? What also makes their offers so lively is the fact that no matter what link you click on their site, the lower hemisphere of "Top Reasons to Stay" and "Specials and Packages" always remain present for consistency and to optimize its full potential.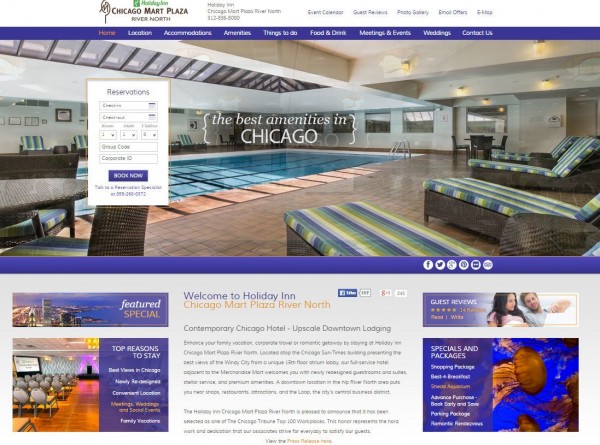 Take your targeting to the next level by checking out our other blog in this series: How to Target Travel Shoppers Using Special Offers on Social Media.