Blog
Does Social Media Help My SEO?
---
SEO, three little letters that are immensely important to the success of your hotel. Search Engine Optimization (SEO) involves maximizing the number of visitors to your website by ensuring it ranks as high as possible in search engine results for specific search terms. Many things impact your search rankings, but what role, if any, does social media play?
Let's Start With a

Holistic View of SEO

SEO can essentially be broken down into 2 categories: on-page and off-page initiatives.

On-page initiatives relate to your individual website; the content it contains (text, images, video) and it's overall performance (e.g. site design, user experience, page speed, etc.).

Off-page initiatives relate to any activity not on your website that helps improve your search rankings; things like link building and brand mentions, for example.

In this article, we'll focus on an off-page SEO initiative; specifically what impact social media has on your SEO.
Do Social Media "Likes"

Improve My SEO? Google uses over 200 different ranking signals

to determine the ranking of websites on their Search Engine Results Page (SERPs). They will never give away the complete list of signals – it's a trade secret. However, every so often Google gives us little pieces of information about their algorithm.

In 2014 Matt Cutts, then head of the web spam team at Google, announced that social signals, such as likes and followers, are NOT part of Google's ranking signals. But just because Google doesn't use social signals as part of their ranking algorithm doesn't mean that social media is useless.
Are Social Media Pages

Indexed by Google?

In the same video above, Cutts says that any public social media page, tweet or status update can be indexed. But the exponential growth of webpages on the Internet makes it near impossible for Google to index every single one. Yes, not even Google can keep up! It's estimated that only

0.004% of the internet has been indexed.

While Google isn't spending time indexing every single tweet on the Internet, they will index your hotel's social media pages. This means your social media pages could rank on SERPs when someone searches for your hotel, increasing your presence on page 1 (and hopefully pushing a competitor to page 2).
Make Sure to

NAP

To help your social media pages rank, you need to pay attention to your NAP, an acronym for

Name, Address and Phone number

. Your NAP must be correct and consistent everywhere online – on your website, business directories, your Facebook page, and any other social media accounts you own. Google and other

search engines cross-reference your NAP

across a variety of websites to validate that you are a legitimate business.

Your NAP also influences your organic rankings for local geo-targeted searches, like "hotels near me." Local searches can help you drive last minute bookings from travel shoppers in need of a place to stay. They can also help you drive ancillary revenue from hotel amenities that appeal to non-guests, like your hotel restaurant or spa.
Referral Traffic
One of the major off-page signals Google looks for to determine your search rankings is backlinks. Unfortunately, backlinks from most social media channels are
nofollow links
and won't boost your SERP rankings, but that doesn't mean you should stop using social media. On the contrary,
sharing content on social media is an excellent way to drive referral traffic to your website
, which is the entire point of SEO to begin with.
So keep producing great content for social media that's shareable and "click-worthy." It could be a special offer, information about your local destination, a travel tip, or something else. Encourage your followers to visit your website for all the details.
More Reasons to

Care About Social Media

When we think about SEO, we typically think about optimizing our website for Google. It makes sense, seeing as Google controls 

77% market share of searches

among traditional search engines. However, Facebook is quietly emerging as a major search engine too, with 

2 billion searches performed per day of its 2.5 trillion posts and pages. That's over double the amount of searches made on Bing.

Optimizing for Facebook search may not be considered a traditional SEO practice, but it's one of the biggest benefits of having a Facebook page, and can significantly increase the likelihood of travel shoppers finding your hotel.

The other advantage of social media, as mentioned earlier, is that you can optimize your social pages to start ranking on SERPs. If a travel shopper searches for a hotel and both your website and Facebook page appear in the results, you're increasing the likelihood that they will click on one of your websites instead of your competitors.

That's exactly what The Flanders Hotel is seeing. As you can see in the image below, both their website and Facebook page rank in the top 3 Google search results, compared to their competitor who only ranks for their website.
Use the slider to view search rankings for The Flanders Hotel (left) & The Beach Club Hotel (right)
How Does Vizlly Help

Convert Facebook Traffic?

Of course, having your Facebook page rank in SERPs won't help generate revenue, unless you have a way of converting this traffic. That's why we created

Vizlly Facebook Apps

, to help hotels capture direct bookings on their Facebook page and finally be able to measure their Facebook ROI.

With Vizlly's Facebook Apps, you can showcase the unique features of your property, special offers, photo galleries and room type information, and integrate these apps with your booking engine to convert travel shoppers directly within the Facebook platform.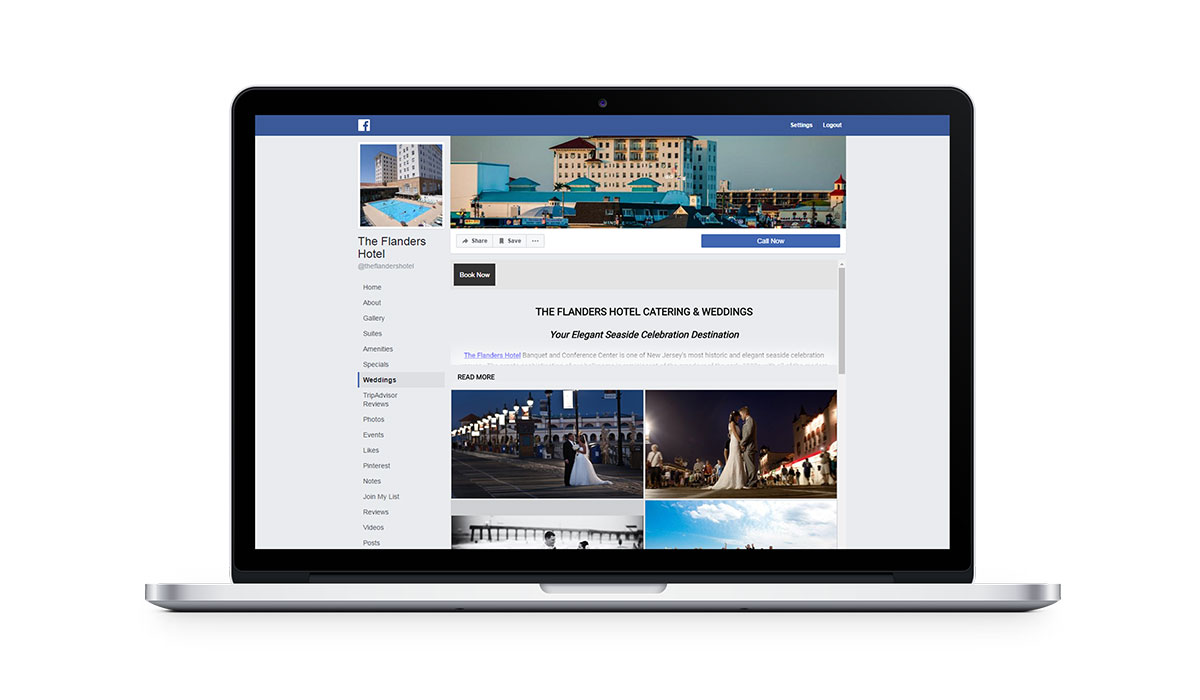 Request a demo of Vizlly to see how we can help drive more qualified traffic to your website and turn your Facebook page into a direct booking channel.