Blog
Search Strategies to Protect Your Branded Keywords
---
When hotel marketers think about their SEO strategy, they usually think about what generic keywords they want to rank for. For example, "hotels in San Francisco." But in the process, they may be overlooking the most important keywords of all – their own. In this article, we explain how to "protect your base" and rank strongly for your own branded keywords. Because if you don't, your competitors will.
Branded Keywords
and the Travel Shopping Journey
When a travel shopper starts planning a trip,
Google is usually the first place they go
. As they narrow down their hotel choices and get a better sense of what they're looking for, general searches like "hotels in San Francisco" turn in to long-tail searches, like "hotels near Fisherman's Wharf San Francisco."
It's important to optimize your website for long-tail keywords because they indicate travel shoppers are further down the booking funnel. They've identified their hotel selection criteria and are closer to making a booking. Long-tail keywords therefore help drive qualified traffic to your website.
With that said, it's unlikely travel shoppers will book on your website the first time they visit. A study by Fuel & Flip.to found that consumers visit hotel websites an average of 3.4 times before making a booking, which is why branded keyword searches are so important.
When a travel shopper is ready to book, they will likely do one last search that includes the name of your hotel; a branded search. Paying attention to your brand keywords is well worth the time and effort because they have been found to convert more than 2x higher than non-branded keywords.

Branded Keyword

Competition

Unfortunately, your competitors and the OTAs know how valuable your branded keywords are and will try to rank for them.

The OTAs have the advantage of a seemingly endless budget. In 2016 alone, the Priceline Group spent $3.5 billion on PPC ads. You can bet that some of that money was spent on PPC ads for your branded keywords.

This ends up crowding the Search Engine Result Page (SERP), pushing your website further down the list, and increasing the chances of someone clicking through to an OTA to complete the booking. Travel shoppers don't necessarily care which site they book through, so long as the price is good and the booking process is easy. So, it's important to maximize the likelihood that they click on your website and book directly through you in order to reduce your OTA commissions.
Ways to Rank Higher for

Branded Keywords
1. Start Running SEM & PPC Ads
The fastest and easiest way to get more exposure at the top of SERPs is to run your own ads. With Google AdWords, you can have your PPC ads up and running in a matter of hours. If you have the marketing budget for PPC ads, it is certainly recommended that you target your brand keywords.
A recent study conducted by Nielsen Research found that when a brand name appears in both organic and paid search results, the brand receives 92% of total clicks. When the brand only appears in organic results they receive 60% of clicks. In short, PPC ads bolster your SEO efforts.
Keep in mind that just because you bid for PPC ads, doesn't mean they will appear. Google limits the number of ads above organic search results to a maximum of 4. Your Ad Rank is a combination of your bid amount, expected click through rate, ad relevance and landing page experience. You will likely need to do some testing with your ad copy to see what is most effective. Google also provides you with estimates for how much you will need to spend for your ad to appear at the top of the page or in first position.
When working out your PPC budget, don't forget to run ads on both desktop and mobile. Travelers are increasingly turning to their mobile devices to research and book travel. You can also be strategic with your spending. A study by Google and Sojern found that hotel bookings made on desktop were highest from Monday to Friday, while hotel bookings on mobile increased on Saturday and Sunday. Plan your PPC budget according to when travel shoppers are most active on different devices.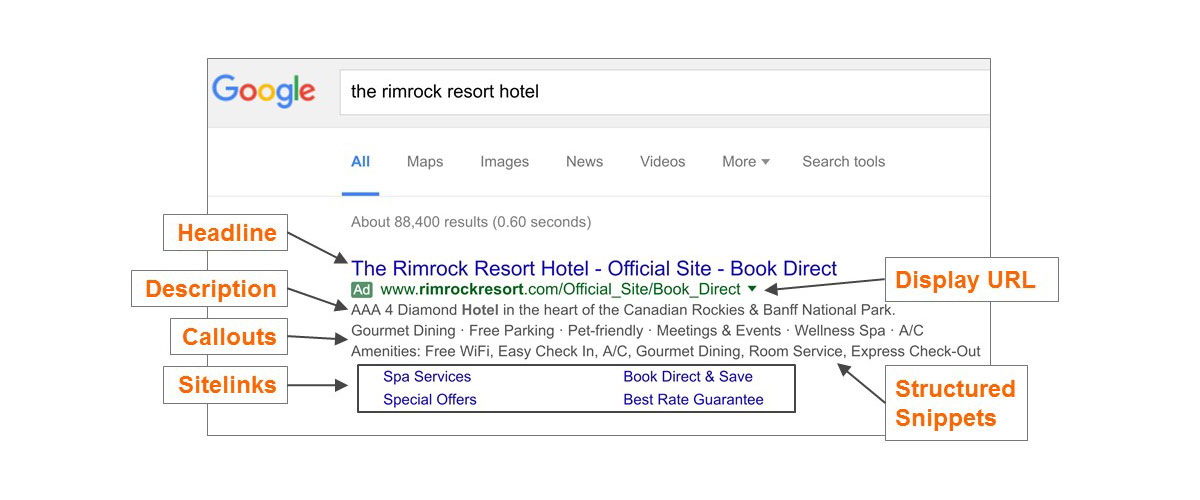 [heading]
The different aspects of a Google AdWords PPC Ad
[/heading]
2. Improve Your Organic Rankings
Another critical thing to pay attention to is your organic ranking for your branded keywords. To improve this, you need to look at the content on your website. Make sure you use the full name of your hotel in text copy. In fact, Google wants you to use your full brand name. Your name, along with your address and phone number (
also known as NAP
), are the 3 ranking signals Google looks for – on both your website and others – to validate your business.
If you look at the search results below for the term "Holiday Inn Express & Suites San Francisco Fisherman's Wharf," their branded site ranks third organically (4th if you include PPC ads). That's likely because they dropped the word "suites" from their contact information, while TripAdvisor and IHG use their full name, including the word "suites." This demonstrates that a consistent NAP and using your full brand name is important to organic rankings.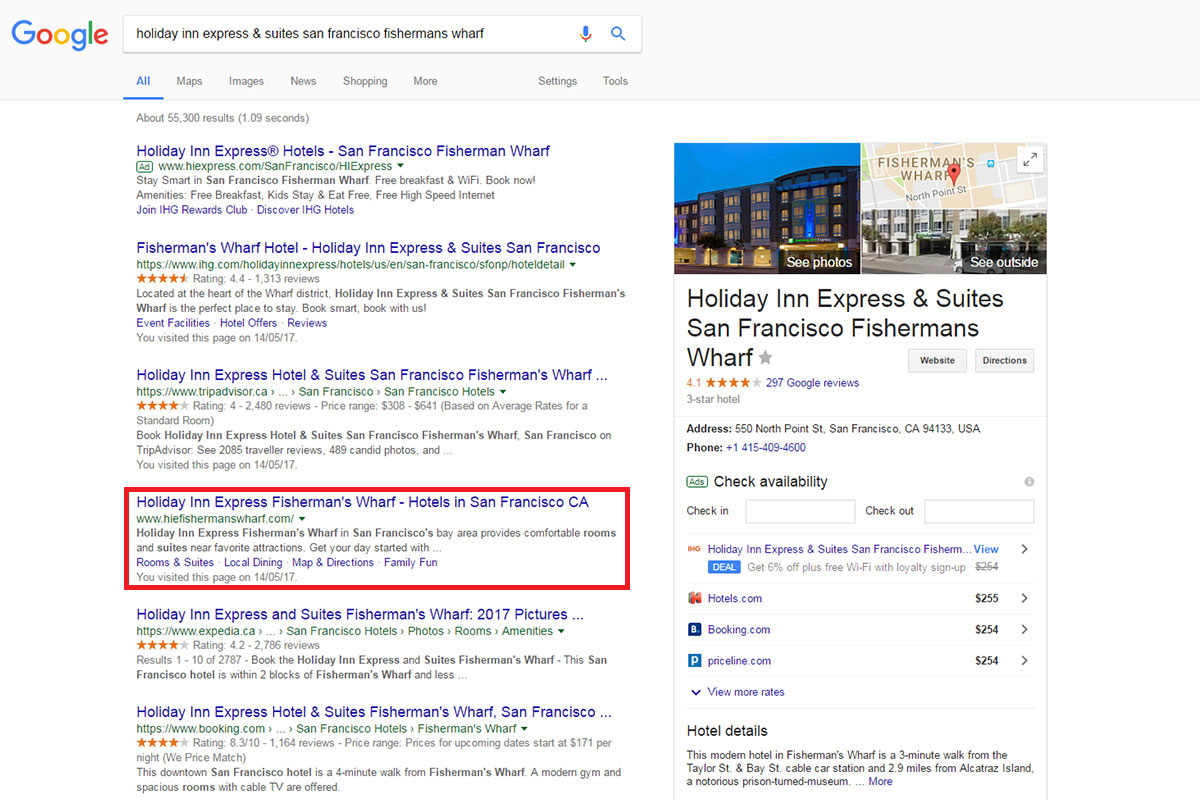 3. Increase Your Presence on Page 1
Another way to protect your hotel's branded keywords is to increase your presence on page 1 through other websites you control. For example, a standalone restaurant website, or your hotel's Facebook page. There are things you can do to
optimize your social media pages for search.
This increases the likelihood they will rank on page 1, thereby pushing your competitors off the page.
The Copperwynd Resort and Club in Arizona has capitalized on this strategy. If you look at the search results below for their branded keywords, 2 of the top 4 results link directly to their website or Facebook page, increasing the likelihood that travel shoppers will book through a direct channel.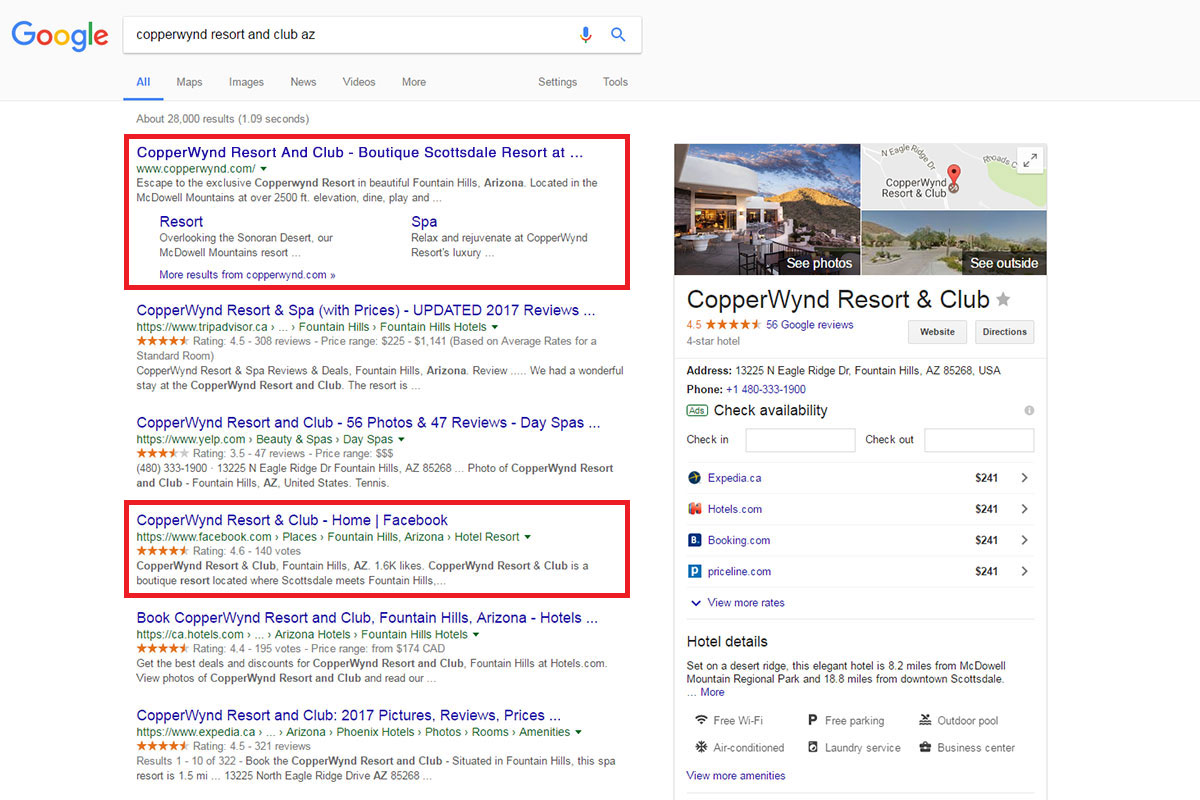 Increase

Facebook Conversions

Of course, having your Facebook page rank on page 1 is great for protecting your branded keywords. But if people click through to Facebook, how do you convert this traffic? You could hope that they click from your Facebook page to your website, but there's no guarantee.

That's why we created Vizlly Facebook Apps. They act as an extension of your website, to capture direct bookings within the Facebook platform. With Vizlly Facebook Apps, you can showcase the unique features of your property, Guest Room types, your Photo Gallery (including descriptive text), and much more to tell your unique story. Best of all, these apps integrate with your booking engine so you can capture direct bookings and finally be able to measure your Facebook ROI.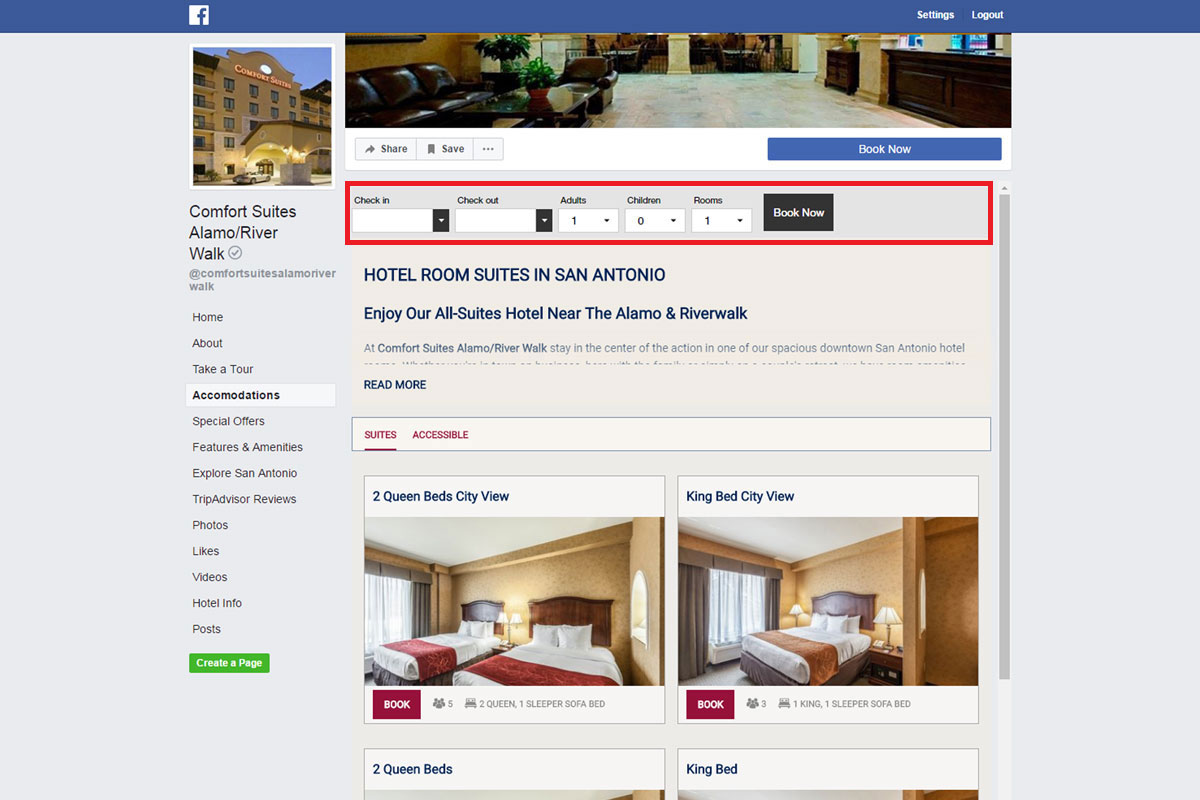 To learn more, request a demo of Vizlly.