Blog
Calculating the value of descriptive content: how your photos and hotel details affect revenue
---
Hotels have many ways of measuring and evaluating revenue from every source. Your CRS makes it easy to calculate the value of a specific booking channel, whether it's an OTA or direct. With a few clicks, you can see exactly the ROI you're receiving from rates on different channels. But it's a lot harder to quantify the value of your descriptive content.
When we say descriptive content, we mean everything that's on your third-party listings that is not the rate:
Your hotel photos
Amenity lists
Long or short property descriptions
Exact geo coordinates on embedded maps
Policies (check-in and out times, pets, parking, etc.)
Increasingly, guests care as much about their overall experience as they much as they care about finding the lowest possible rate. Descriptive content is your way of highlighting the experience that your property provides. Incomplete or inaccurate content will lose you bookings.
Let's break down some of the value of these areas within your property's listings.
Photos
According to a 2021 Expedia study, bad photos are the number one reason travelers rule out a property. Having bad photos on even one third-party channel will cost you bookings on that channel.
Managing and updating photos on every single channel across the global travel network is a lot more than most hotels have time for these days. That's what makes a solution like Content Manager so valuable. Update your photos and descriptive content across hundreds of channels from a single source, powered by our industry-leading integrations to those channels.
Amenities
Travelers are taking longer trips. According to the same Expedia study, travelers are booking longer vacations than before. Those travelers are even more likely to prioritize experience over cost. 70% are willing to pay extra for the right amenities.
Your amenity lists are more important than ever. Inaccurate amenities can be costly. One example from one of our customers is that they discovered that booking sites had them listed as having an electronic car charging station. This led to customers booking and arriving, only to find they could not charge their car at the hotel, and the hotel ultimately had to refund their entire stay.
Learn how to do some spring (or any time of year, really) cleaning on your channels to make sure the amenities listed on travel channels are accurate. Read our blog: Distribution spring cleaning: clean up your travel channel listings before the summer high season.
Automated solutions, like our Content Verification tool, audit your listings for descriptive content accuracy and identifies areas for improvement to ensure you're being seen by as wide an audience as possible.
Geo coordinates
Did you know that many OTAs use your geo coordinates (including latitude and longitude) in their algorithms? It is difficult to store and organize addresses consistently. Many travel channels use geocoordinates to deliver location-specific results. Some channels use geocoordinate to match content from different sources. Correct geocoordinates increase revenue by increasing search results and accuracy.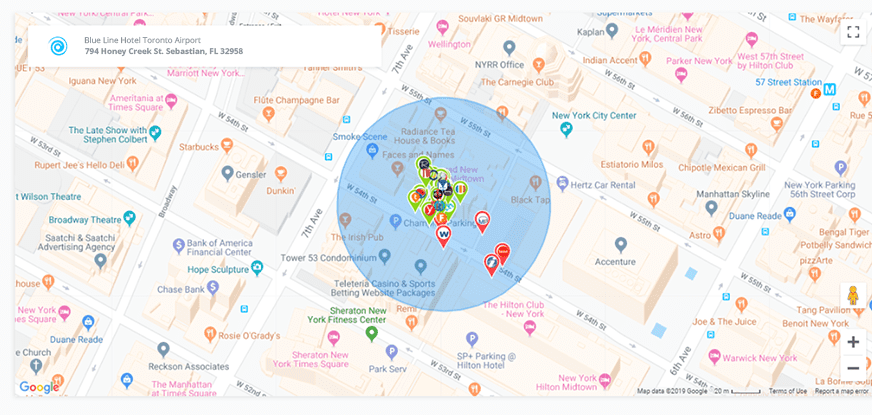 Above is an example from our Content Verification tool, which allows us to check coordinates for a hotel across channels. This hotel has all of its geocoordinates within the acceptable range (blue circle) for relevant search results. With the correct geocoordinates, this hotel has better visibility across every channel.
Using the billboard effect
The "billboard effect" is based on a Cornell University study, which demonstrated how third-party listings improve direct bookings. The original study measured the overall increase in direct bookings that hotels saw after having their hotel listed on Expedia, vs having it deleted from the OTA. It is hard to imagine that any hotel is not listed on the site now – but the overall impact is still there.
More research from Expedia shows that Americans make 140 visits to travel sites before booking. This includes hotel websites, OTAs, airlines, and general travel guides. 65% of direct bookers visited an OTA first. Fresh and complete content on external channels helps your internal ones as well.
In this article, we've looked at the revenue impact of photos, amenity lists, and geocoordinates. Through the billboard effect, all the descriptive information on your listing—including property descriptions, accurate nearby attractions, and policy details—can lead someone to a direct booking.
Simplify management and distribution of descriptive content with automated solutions. Leonardo's suite of solutions helps individual hotel properties, management companies, and hotel brands maintain and update third-party listings from a centralized source. Learn more by contacting us today for a personalized demo.