All
Free Resources for the Hotel Marketer: The Best of our 2015 Webinars (Part 2)
---
Last month we published a summary of the first six months of our 2015 webinar series.
Our 2015 webinars focused on digital marketing strategies for hoteliers and, more importantly, practical ideas that you could implement immediately to start seeing results.
Raising awareness of digital marketing tools and techniques is at the core of what we do here at Leonardo. We believe that all ships rise with the tide and we are grateful that so many industry thought leaders and marketers on property feel the same way, graciously offering their time and support to help make our webinar series a success.
Not to leave anyone hanging, here's a summary of what we covered in the second half of 2015. Browse and watch any of our webinars on-demand, or pay it forward and share with your colleagues.

July 2015 – How a Rich and Engaging Mobile Website Drives Bookings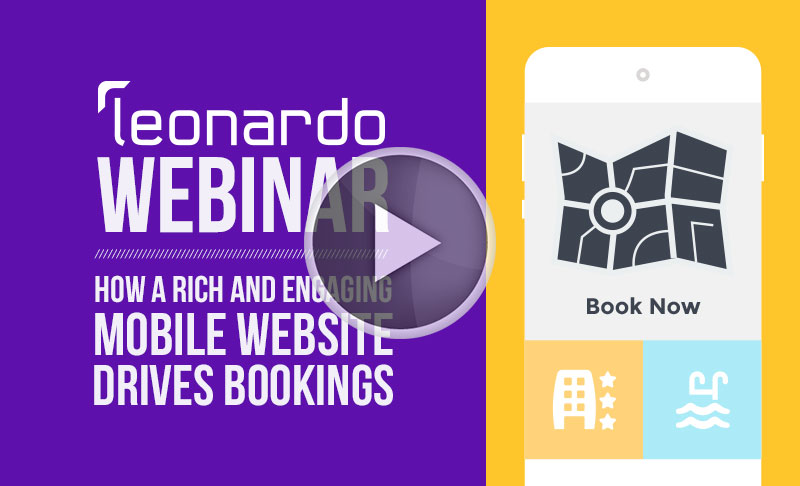 There wasn't a better time to talk about mobile than when many of us were on vacation, using our mobile devices for directions, restaurant suggestions and naturally, researching the best options for last minute accommodations. We were joined by Robert Cole, Founder of Rock Cheetah and Bernard Augustin, the Assistant GM at J House Greenwich.
Here's what these two thought leaders had to share:
Robert
Mobile is massive; three quarters of the planet has a mobile device
Why context and content has never been more important
Insights into mobile user profiles & behaviors
How consumers want assurances that their choice is the best one for them
Bernard
How J House developed their story with beautiful images
Mobilegeddon's impact on hoteliers
Trying to outspend the OTAs? There's a better and more realistic strategy
Efforts will be rewarded quickly when the right solution is implemented
August 2015 – How to Convert Website Visitors into Guests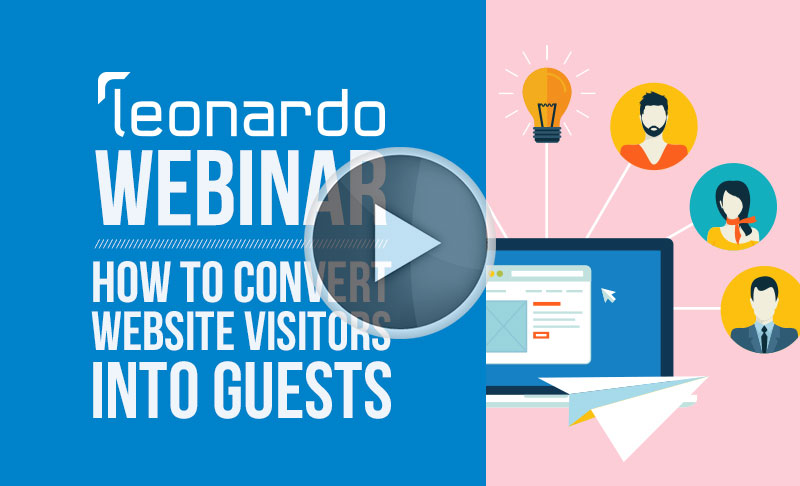 This webinar focused on the question top of mind for every hotel marketer: How can I improve my website conversions to drive more direct business? To answer this critically important question we had the pleasure of welcoming Daniel Zelling, Visual Storytelling Evangelist and Co-founder of Digital Amenities, and Matthew Baron, General Manager at Hampton Inn & Suites Bolder North to lead the discussion.
Their insights included:
Daniel
What we can learn from Airbnb
Showcase the experience & emotion in your stories
What social media has taught us
People connect with people, not brands
Matthew
How Hampton Inn is using visual storytelling to convert website visits into room nights
Why visual storytelling is important to their website success
How Hampton Inn & Suites Boulder trolls 3rd party channels for direct bookings
The role that mobile plays in their success
Don't miss out on the all the details. Listen to the recorded version here.
September 2015 – Clear Path to Conversions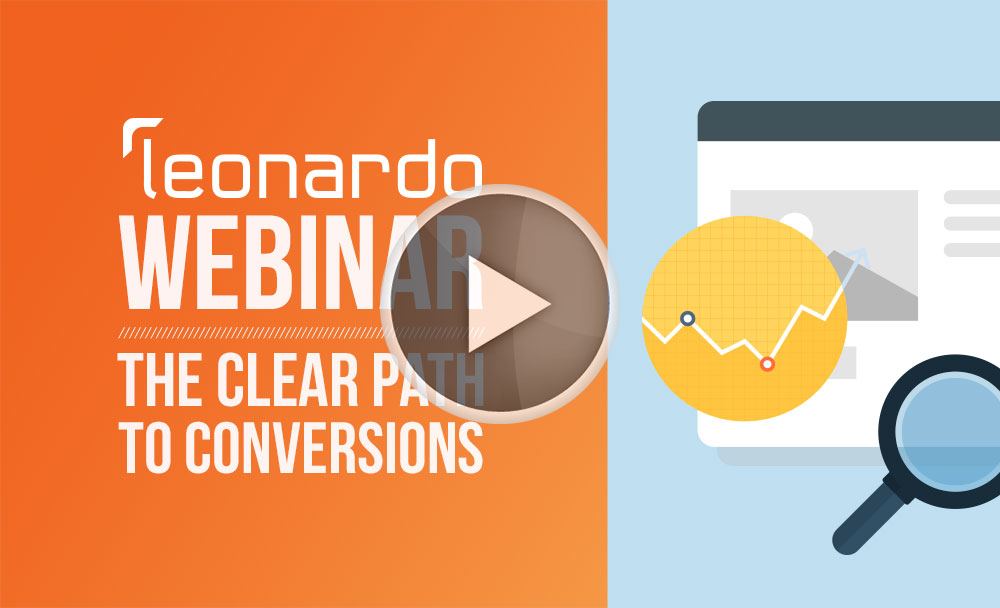 Consider this – marketers have less than 10 seconds to capture a hotel shopper's attention and give them a reason to consider your property. Less than 10 seconds!
Most people who arrive at your website for the first time are not ready to buy, but there is a huge opportunity to engage with them and secure that "top of mind" position as they move from site to site evaluating their options before booking.
This month's educational webinar featured practical tips on how to compel hotel shoppers to make their purchase at your "cash register" (a.k.a. the booking engine on your website).
Industry expert Scott Yankton, President of Yankton Consulting, and Cristobal Galit, eCommerce Executive at the Doha Marriott Hotel were featured panelists for this event.
Here's a glimpse of what they shared.
Scott
Make it simple for people learn why your property is the right choice for them
What others think matters; embed reviews right into your site to keep guests close to you
Advertise notable awards and certifications to instill confidence
Amazing images strengthen the story so use them to create a connection
Cristobal
Integrate booking widgets everywhere
Blanket the online travel landscape with your story
Directly pass reservation parameters to the booking engine
23% of those who encountered a mobile site that wasn't optimized actually pushed through to make a booking
Check out more details by watching the webinar on-demand.

October 2015 – 2016 Digital Marketing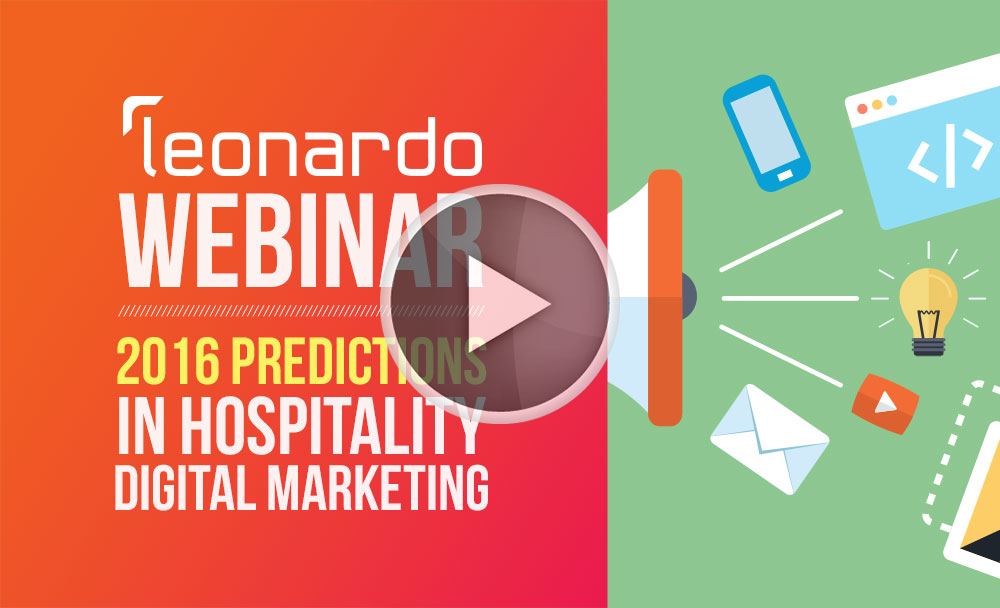 Every year we host a web event to discuss our predictions for the year to come. The expert consensus was that we'd see more of 2015's themes continue into 2016. Focus areas for most hoteliers would include content marketing, mobile, social, big data and the ongoing quest to personalization.
With so much to discuss, we had 3 well respected speakers; Tim Peter, Founder of Tim Peter and Associates, Charlie Osmond, CEO of Triptease, and Kinnari Desai, AGM, Kinnari Hospitality Group.
It's hard to recap their words of wisdom and do it justice, but here goes:
Tim
Invest in content quality and velocity: Snackable, shareable, sharp
Grow your reach beyond Google and metasearch – they're the same thing
Use data to learn and grow
Guest experience drives rate and return
Charlie
Put marketing trends into perspective
Start simply with segmentation to target and personalize
Are you really forced to hike prices because of OTA commissions?
Tips to secure direct bookings
Kinnari
RevPar and ADR are on the rise, time to revv up your digital storytelling
Remodeling means "adapting" your story to maximize the investment
Next 18 months is critical; make sure your websites are modern and competitive
We're nearly half way through 2016, so this one is still worth a listen.
November 2015 – Social Media Tips for the Advanced Hotel Marketer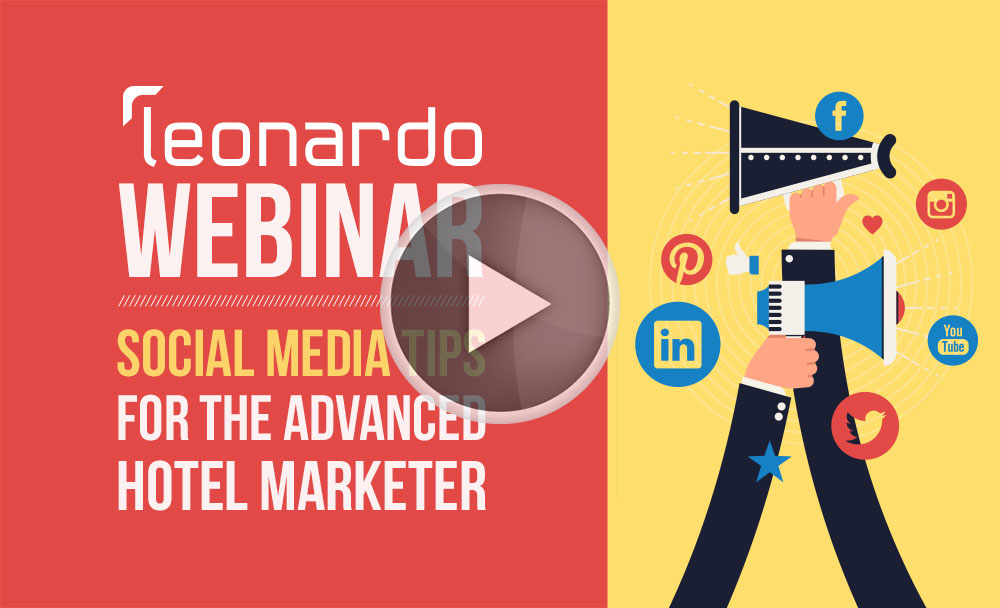 There were a lot of legitimate reasons to listen to Daniel Craig, Founder and CEO of Reknown, and Morgan Kunse, Social Media & Marketing Community Manager for two Joie De Vivre hotels, the Saguaro Scottsdale and the Saguaro Palm Springs. Especially, considering these facts:
Hotels that actively engage in social media reviews grow occupancy at double the rate of properties that don't
Properties that responded to feedback in less than a day on average had occupancy rates 12.8% higher than properties taking longer than two days
And qualitatively speaking, engaging thoroughly and promptly with all kinds of customer feedback shows frontline employees what they need to do to deliver better experiences
Here's what Daniel and Morgan had to say on the subject.
Daniel
If you haven't changed your social media strategy since 2014, it's stale
Convince someone to take an action like bookmarking, watching a video or tagging your property
Integrate the 3 types of social media content to develop a stronger and more holistic presence
You can be social and clever like Press Hotel did with their 6 word contest to lure people into their storytelling world
Morgan
Be true to your personality & brand otherwise it comes across as fake
Ask someone for their input, whether that's an Instagrammable moment or a written review
Be respectful

Don't "judge" or discount their feedback
Respond within 24 hours
Thank you goes a long way – whether it's a compliment or criticism

Keep your eye on the ball, finger on the pulse, foot on the base with tools like Hootsuite or Buffer; make social media tracking a part of your daily routine
This was a fascinating one. Give it (another) listen.
December 2015 – 4 Steps to Win Business From Competitors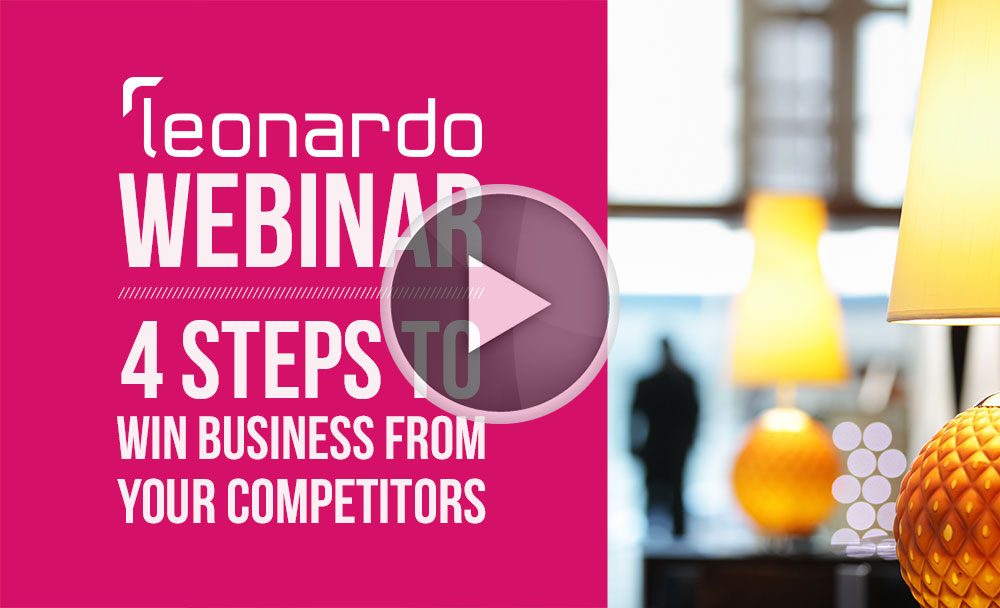 We closed out 2015 with a webinar explaining how Vizlly, our digital marketing system, offers hoteliers a better way to market online because it's purpose driven, designed for performance, very affordable and easy to use.
This was really more of an educational event rather than a "sales pitch" because our speakers, Elana Palmer, VP Global Sales for Leonardo and Randy Howat, VP, Inns of Distinction, clearly laid out the top business challenges facing hotels and spoke specifically as to how Vizlly addresses each of them.
Here's a summary of their presentation.
Elana
The #1 challenge we hear is "how can I shift market share and better position my property"
How can I understand my market better; what do hotel shoppers care about?
Zero in on the property's value proposition
Develop a better story
Randy
Recapped the challenges the digital era brought to us

Growth of the web and OTAs
Growth of reward programs
Ultra-competitive market
Revenues began to decline

Reviewed five steps to tackle these challenges
Big picture results included single digit dependency on OTAs, control over their destiny, YoY growth, little to no franchise fees, and an increase in wedding sales
If you share some or all of these challenges or objectives, listen to the full recording and learn how Vizlly can help solve them.
I hope you enjoyed our webinar series in 2015, and are continuing to find value in these events this year as well. Thanks to your participation, we're able to make our educational content even better.
To that end, if you'd like to send me a personal email with your comments and/or recommendations on our webinar series, I'm all ears (or eyes).