All
Cut a Larger Slice of the Booking Pie: How PPC for Hotels Competes with OTAs, a Conversation with Md Nizam Uddin
---
PPC for hotels can be a powerful tool to generate revenue and brand visibility. In search engine marketing, PPC, or pay-per-click advertising, is a method and strategy where you pay to reach the top of search results.
The basic system is simple: you "bid" on a keyword (e.g., hotel near LAX airport) to show your hotel ads in results for that keyword, and then pay every time someone clicks through to your website. From there, it gets much more complicated.
Bids should be placed strategically based on competitiveness, you need to track conversion rates, trends, and monitor the larger strategy. You may need to make adjustments to the strategy based on performance, including re-writing the hotel ad, in order to maximize your ROI.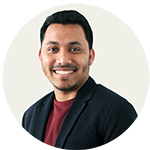 To learn more, we sat down with Md Nizam Uddin, Director of Digital Marketing & Agency Services here at Leonardo to chat about PPC basics.
---
What's the first thing hotels should know about PPC?
If you're not bidding on your brand name, someone else probably is. For branded hotels, their brand is taking care of driving traffic for their hotels' names with PPC ads. But for independent properties, if you aren't doing PPC ads, someone else probably is. OTAs might be bidding on your hotel's name and showing up for results above you in the paid ads section.
Someone searching for your hotel by name has most likely done research and is ready to book. You want them on the path to book direct. Investing in PPC is another way hotels can compete with OTAs.
How are OTAs using PPC?
It depends on the area. In big, primary markets OTAs will bid on specific hotel names to capture bookings of shoppers who are looking for a hotel by name. In secondary and tertiary markets, they are more likely to bid on higher-level keywords.
When there's low search volume, OTAs go general rather than specific. General can mean "hotel in Raleigh NC," vs the specific name of a hotel. Unless they are bidding on specific hotel names, they will always direct people to a list of hotels in the area.
Would a hotel's website stand a better chance against OTAs for the hotels name as a keyword?
Yes and no. For Google, "content relevancy" is key. That means how relevant the content on a website is to the keyword a user searched. For a 'branded' keyword—that is, your hotel's name or a variation of it—a hotel's entire website is dedicated to that keyword, so it is very relevant. However, that doesn't guarantee you will outrank an OTA. The Google Ads platform looks at many factors who to decide whose ad goes to the top of search results.
We've talked a lot about SEO in the past—what is the difference?
SEO is a strategy to get more results based on 'organic' performance, which are the unpaid results. It's a long-term investment and longer lasting strategy. On the other hand, PPC is a way to quickly boost your website's organic strategy. Once your PPC campaign stops, your hotel ads will no longer appear.
Every page of your website should serve a purpose, as dictated by your SEO strategy. Your website should be built to attract more organic results, and then use PPC to drive traffic to it faster.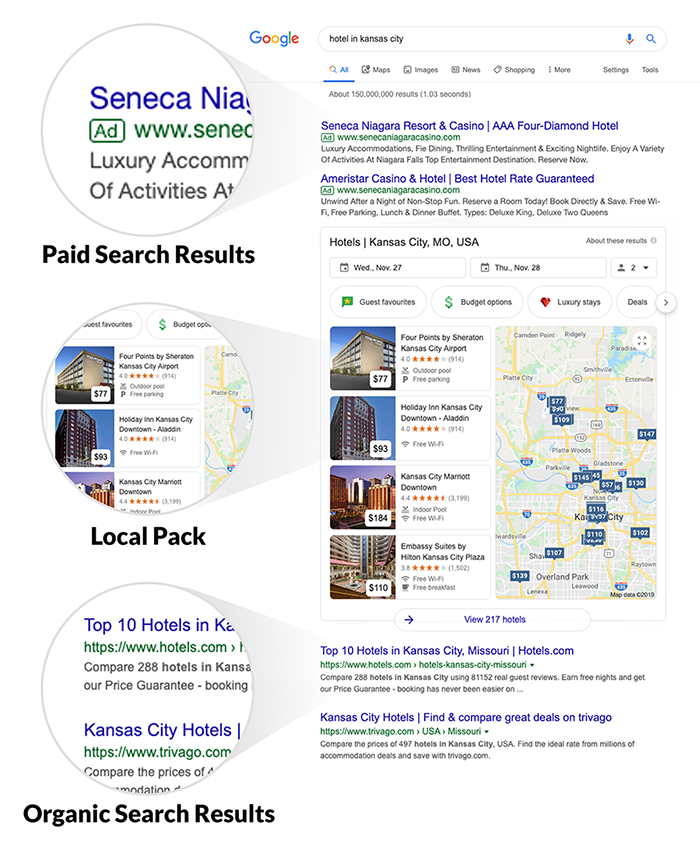 How does SEO and PPC work together?
PPC should shape your SEO strategy. For instance, bidding on keywords can reveal search terms you may not have thought to target. Google makes it difficult to see what keywords brings traffic to your website: with PPC you can see what keywords not only bring traffic, but which keywords result in a booking.
When you bid on a keyword, you set how close you want to match (phrase, exact, and broad). Broad match can reveal keywords that your prospective guests are searching for and using to click on your website. You can take those keywords and optimize your website to attract organic traffic and not pay for the clicks.
SEO is a long-term investment in your brand's visibility and status online. PPC is more specific, generates quick results, and it definitely helps for new hotels and new websites.
How should hotels use PPC advertising?
Hotels can use PPC in a lot of different ways. But you will get more conversions—and more value—if you use PPC to offer something specific. For example, drive customers to a coupon code or special rate that makes them feel like they've found a deal. Or, use PPC to advertise additional services your hotel offers (e.g. meeting rooms, wedding venue, spa, etc.)
PPC is a great way to promote hotel event spaces, spas, or restaurants. PPC lets you target a new market and generate visibility for those services. What's more, the value of each dollar spent on an event space PPC campaign can be much higher. It may make sense to focus your advertising spend on event space during high season, as a single event booking can yield higher ROI than multiple room nights.
---
Your hotel's PPC campaigns should be informed by an ongoing strategy tied directly to ROI. Leonardo offers hotel digital marketing services that work together to increase direct bookings and brand visibility.
Contact us today to increase direct bookings and lower OTA commissions.