Product Updates
Introducing: COVID-19 Communications Pop-up for Hotel Websites
---
Our technology partner, Bookassist, has launched a new feature that will help hotels and restaurants effectively communicate their COVID-19 related measures and updates.
No one will stay at a hotel or eat at a restaurant unless they feel safe in doing so. People will increasingly favour brands that clearly demonstrate a strong response to Covid-19. It is imperative that hotels address these hygiene and safety concerns clearly.
The dedicated COVID-19 popup enables hotels and restaurants to prominently display a public statement on the homepage of their website.
Triggered by clicking on an animated button, the popup will display updated COVID-19 related messaging to reassure guests as to their safety. It also features an optional link to another page for further details.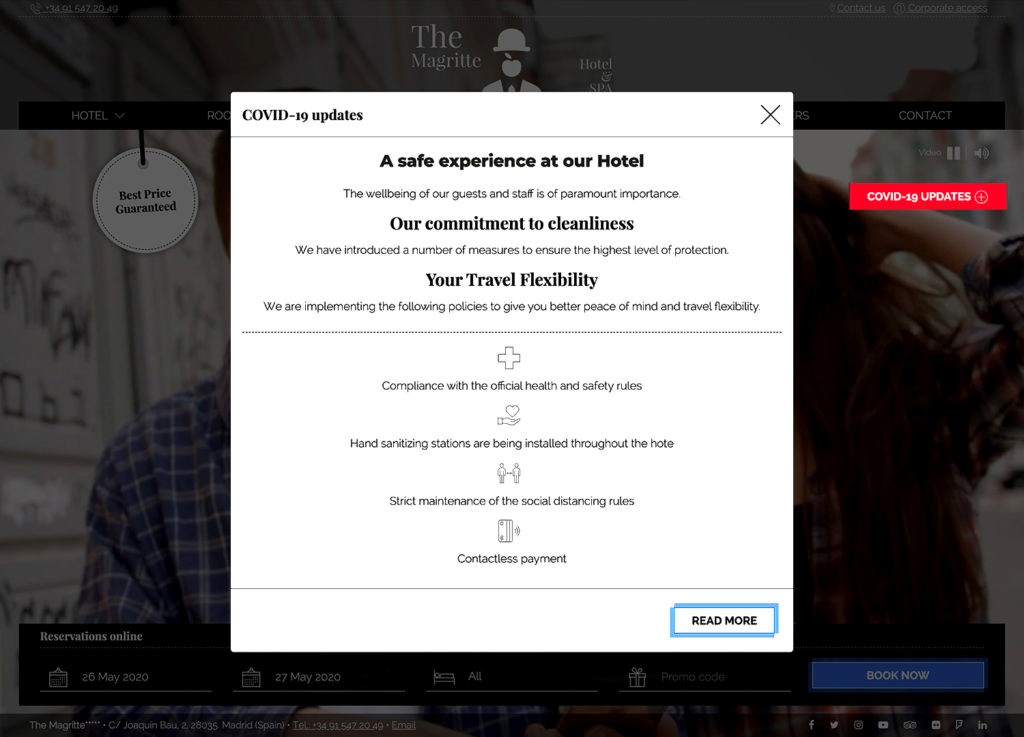 The popup highlights the exact steps that are being taken to ensure their safety and comfort. This pop-up makes it easy for hotels to share and update information around property-specific actions and policies. Using the new COVID-19 themed icons, hotel can promote front and center on their site:
Additional hygiene and cleanliness protocols
Social distancing measures
Flexible booking options
Policy updates

Not sure what to write? For writing a travel update, read our article on how to write a travel advisory.  For a general communications plan, we also have a guide on how to stay in touch with guests and what to say.
Adapting to the changing travel landscape
Our technology solutions and services help hotels adapt quickly to recover faster. We are working with Bookassist's award-winning Smart CMS to help hotels create online marketing strategies that meet traveler's changing needs.
Contact us today to learn how we're keeping our hotel website solution up-to-date and revenue-focused.
If you're a current Vizlly customer, reach out to your Customer Success Manager by e-mail or phone to learn more about how we can help optimize your website for recovery.