Product Updates
Introducing: In-app Reports. The data you need to take your distribution strategy to the next level
---
We've been the leader in hotel media distribution for 20 years: we understand the impact media quality and quantity has on bookings and revenue. To help our hotel chain partners, we're providing more insight into content performance data so they can make smarter, faster content strategy decisions.
We're excited to introduce in-app Reports, the newest feature in our enhanced Content Manager interface! Everything you need to know about property-level media is now available in two easy to read reports, so hotel chains can optimize their media on third-party listings to increase conversions.
Identify opportunities to improve media quality with the Media Report
Maintaining images for an entire hotel brand can be overwhelming. According to our customers, the first step to improving image quality across a portfolio of hotels is auditing. This is why we prioritized Reports as the first new feature release for our enhanced Content Manager platform.
Content Manager's Media Report provides an overview of media data that directly impacts revenue generation and brand integrity on third-party sites. It's more than pretty data visualization: the reports are based on real, current best practices and requirements provided to us by travel channels.
"We're using a stringent 'evidence-based product development methodology.' Every product and feature we design is based on three pillars; extensive customer input, industry trends, and our 20 years of knowledge in the Hospitality Industry," explains Robert Tadman, Head of Product Management.
Combining our industry knowledge with customer feedback, we designed reports so that customers can quickly audit photos and update your data based on the data points that impact display and revenue on third-party channels.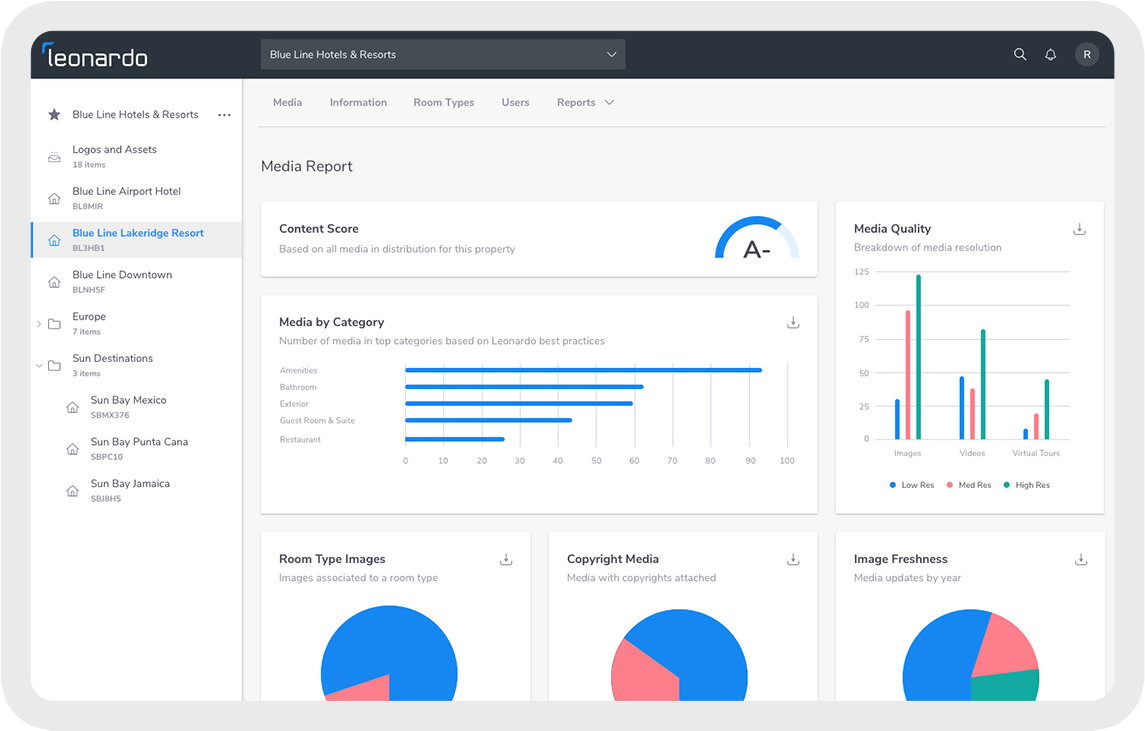 With the Media Report you can see your overall content score at a glance. You can also drill deeper into the data with a downloadable CSV file that breaks down how you stack up against industry standards. Your content score is based on these key metrics:
How your media categorization matches channel requirements
Your media quality (based on resolution)
The age of your media
How many images have room codes or copyright information
Each metric plays an important role in driving revenue from third party travel channels. Hotels with newer & higher-quality media receive increased visibility on these channels. Proper categorization, and room code data allows channels to increase personalization so that travel shoppers are presented with the right images at the right time to complete a reservation. While copyright information allows you to protect your brand integrity online.
"With the new Media Report, the customer now has the real-time pulse of the health and completeness of their content," says Robert Tadman.
Track media upload and distribution statuses with the Distribution Report
Content Manager's new interface has streamlined the media upload process. Quickly bulk upload images through a simple drag and drop interface, and add categories to every photo in a few clicks. But we didn't stop there.
The Distribution Report tells you when your newly uploaded photos will appear on the top revenue generating channels our customers value most.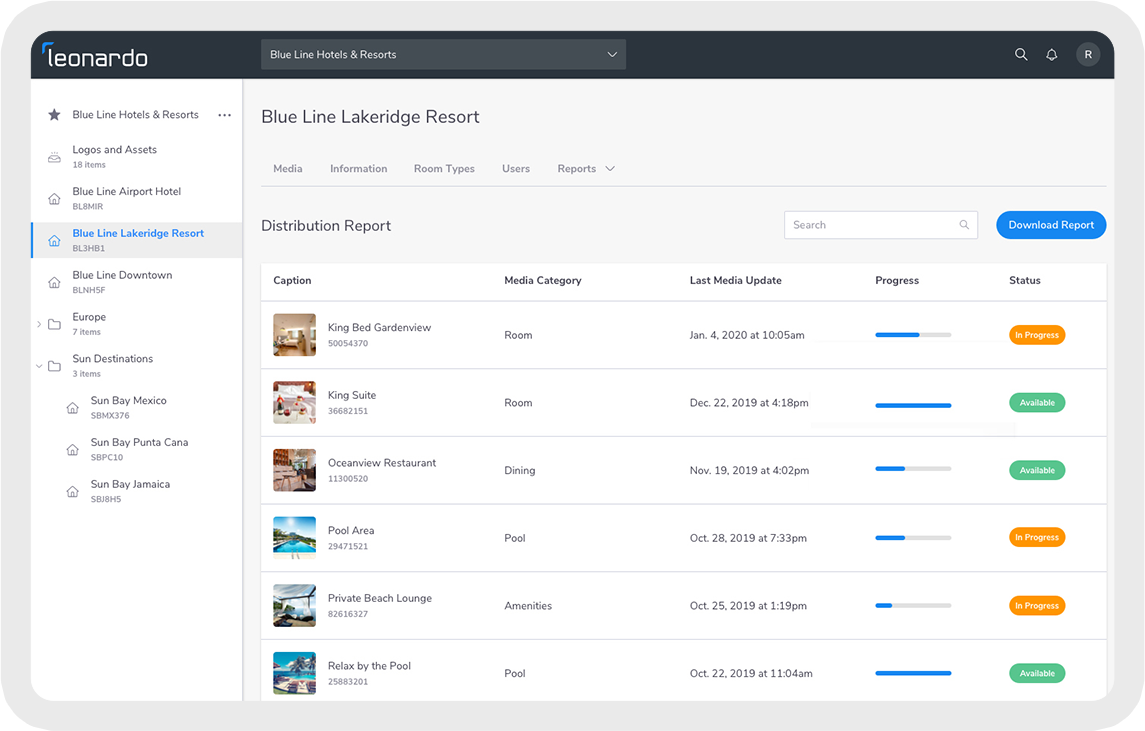 We used customer insights to determine the key channels hotel chains want more insight on. Using that information, we created a report for hotels to monitor newly uploaded media to see when it will appear on travel channels, based on our direct integration with them. The distribution report surfaces information about:
Media delivery status on five key channels (Booking.com, Concur, Expedia, TripAdvisor, and Trivago)
Expected delivery timelines on those same channels
Date each asset was updated
The caption and media category assigned to each media asset
Use the Distribution report to check in on the status of your media to see when it is scheduled to appear on travel channels to start converting travel shoppers into confirmed guests.
Start improving media management today
Meet the new Leonardo. Content Manager Reports is just the newest feature in our expanded suite of technology solutions, and we're just getting started.
If you need help improving your distribution strategy contact our team to schedule a personalized demo to see how Content Manager can help you increase revenue, simplify workflows, and protect brand integrity.