All
Our technology partner swept 4 categories at the 2020 HotelTechAwards
---
Leonardo recently partnered with Bookassist, a fellow Jonas Hospitality Company, to take our website solutions to the next level. We work with Bookassist, using their content management system to build dynamic, conversion-driven hotel websites.
We are very excited to share that Bookassist, took the #1 spot in all four categories their technology was nominated in at the 2020 HotelTechAwards, including Smart CMS, Bookassist's website builder!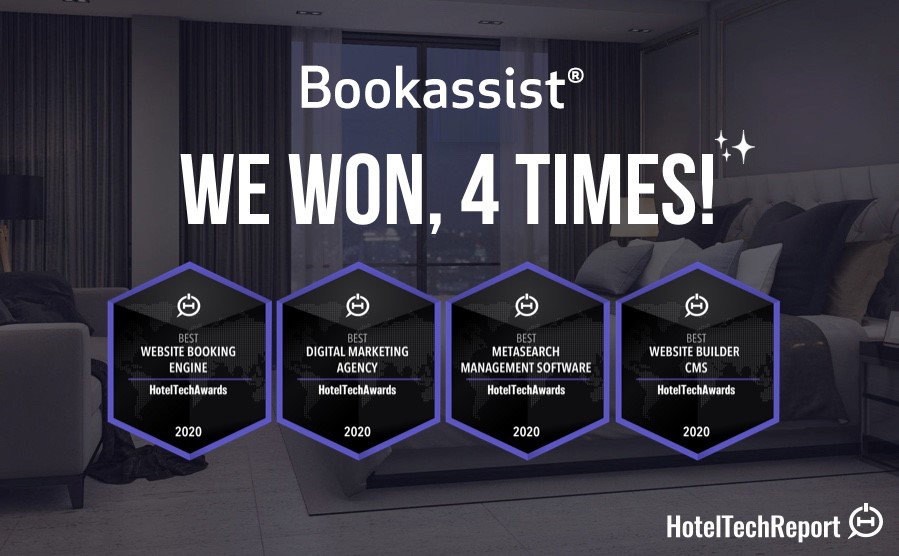 Leonardo + Bookassist: the perfect mix of service and technology
Through products and partnerships, Leonardo has put together a suite of solutions that help hoteliers create impactful web experiences. For products we're not building in-house, we're partnering with the best. And it's not just our opinion: Leonardo's hotel property website solution is powered by the industry's best content management system, as voted by real, verified reviews. To help hoteliers stand out, we pair this easy-to-use system with our digital marketing services and support.
At the core of our hotel website solution is a Customer Success team that builds and launches a website tailored to your local area, specific hotel story, and vision. Every customer works with a dedicated team of digital marketing specialists who puts their hotel first:
Customer Success Manager: account manager to understand your needs and help you achieve your goals
Content Specialist: a writer who tells your hotel's story and builds your site according to SEO best practices
SEO Specialist: a strategist who creates an SEO plan that ensures every page of your website is designed to convert
In addition to using Bookassist's Smart CMS, our services provide the additional marketing boost customers need to increase direct revenue. Leonardo's SEO and copywriting services create and launch strategic websites, with add-on PPC search engine marketing for customers looking to edge out the competition.
Get the best website solution on the market
Leonardo + Bookassist is powerful combination of state of the art technology and proactive marketing services. Stay on top of the combination and hit the #1 spot in relevant search times. Grow your traffic, see higher conversions, and drive more direct revenue.