All
Partnership between HotelPORT and Leonardo will transform the quality and accuracy of hotel distribution
---
Leonardo's goal in 2020 is to provide the technology solutions that will shape the future of distribution and content management through in-house development and strategic partnerships with the top companies in the hospitality industry.
We're working with companies that have compatible technologies and visions: to centralize content management and streamline digital marketing for hotels. Our newest partner, HotelPORT, has built PropertyVIEW – a content verification and management system that helps hotels regain control over their online presence.
PropertyVIEW Content Monitor is the perfect complement to our new and upgraded Content Manager. Leonardo's Content Manager simplifies the sourcing and distribution of content, and PropertyVIEW verifies the quality and accuracy of content once it has been distributed.
With a growing global distribution network, so-called "static" content (descriptive information and hotel media) is anything but static. We both understand that hoteliers have a lot on their plates, and so we are working together on solutions that make third-party listings easier to manage.
This shared partnership benefits hotels by:
Streamlining descriptive content updates, management, and maintenance
Reducing the number of extranets hoteliers have to manage
Minimizing errors on third-parties due to staffing turnover
Creating more seamless media distribution with proactive verification of results
Helping to quantify the impact of content on revenue
Intuitive content verification platform
HotelPORT's PropertyVIEW platform uses artificial intelligence to verify hotels' information on third-party channels. It pulls hotel data including: name, address, geo-coordinates, amenities, contact details, website link, and photos from key channels into a single, easy-to-use dashboard. A team of Content Analysts audits the results and proactively facilitates updates if any inaccuracies, errors or omissions are found.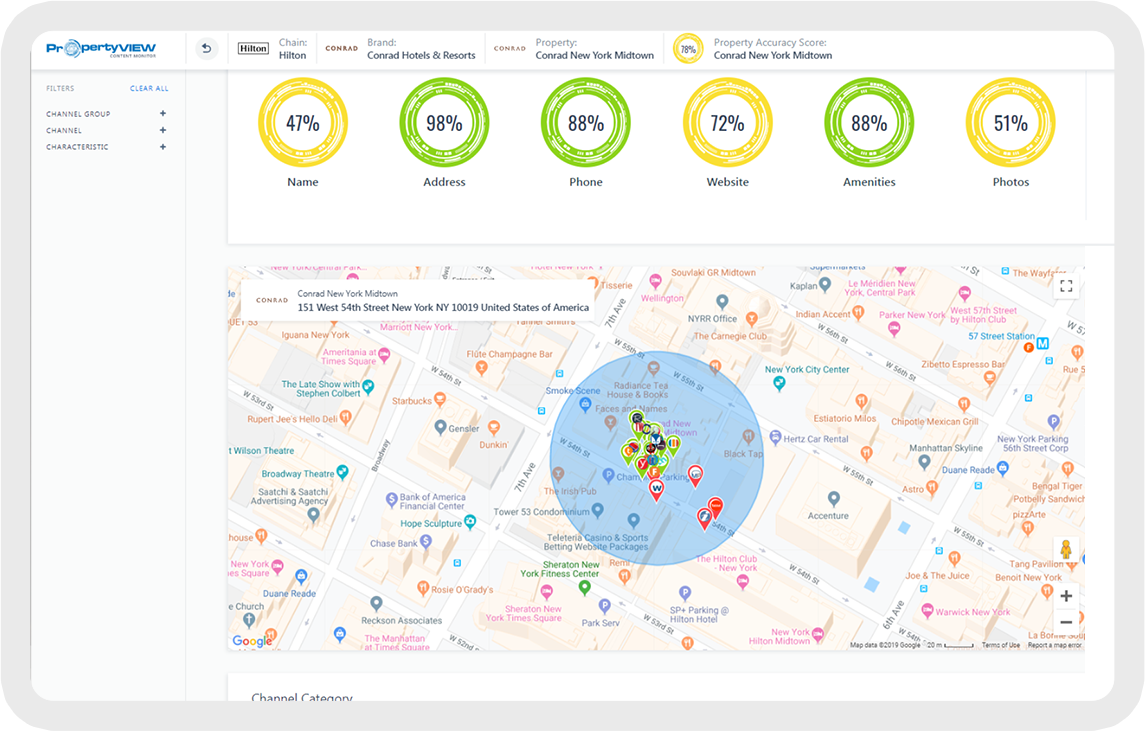 This central verification hub is comprehensive and scalable for individual properties, hotel groups and chains. From one interface, you can analyze listings by channel type across an entire portfolio. At a glance, you can see a clear picture of all of your hotels' accuracy on OTAs, metasearch engines, directories, and more. Or, dive deep into the accuracy of one hotel's amenities or descriptive information as listed across the web.
"This is the type of partnership that will be transformative for the travel industry. With Leonardo's brand-approved media, coupled with HotelPORT's proactive monitoring and auditing technology, we can see granular, quantifiable data." says Fred Bean, CEO of HotelPORT, a division of Rebel Travel. "This partnership has the power to change the way hotels manage content, and the way that content performs and drives revenue."
Hotel Media Distribution Made Easy
Leonardo's system centralizes content into a single source of truth. At the core of this is Content Manager, an intuitive platform for hoteliers to upload, approve, edit and categorize media, which is then distributed to our extensive network of third party channels. Our partnership with HotelPORT is built on the vision that hotels need centralized technology that acts as the definitive truth for their third-party listings.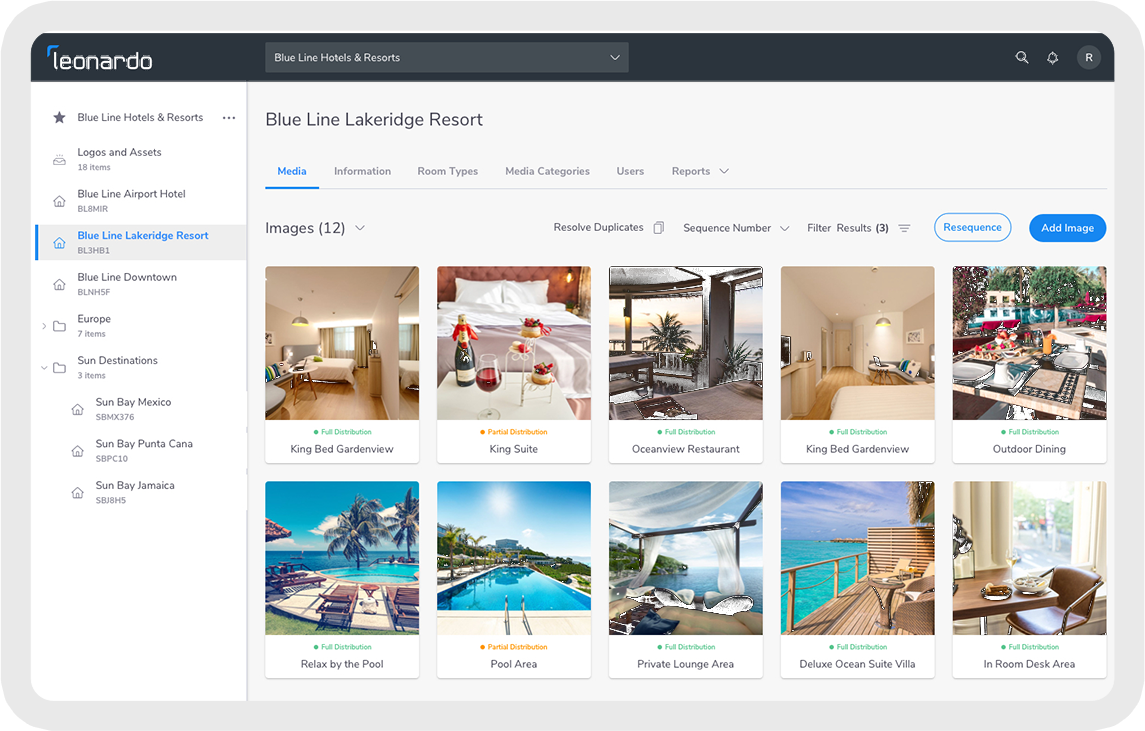 Leonardo's solutions work together to accomplish the specific goals of hotel chains, groups, and individual properties. All of our solutions, from Content Manager to Media Library and hotel websites are built to optimize workflows and expand our customers' online visibility. The addition of PropertyVIEW rounds out our product offering to provide hoteliers with a complete set of digital marketing tools to protect their brand integrity online.
"This partnership makes it easier to see the direct impact content management and accuracy has on revenue. As a strategic partner, HotelPORT's content verification platform is a perfect complement to our distribution solutions," says Milos Krsmanovic, VP Global Sales at Leonardo. "Working together allows Leonardo to verify, monitor, and correct our distribution services. This provides hoteliers even more accurate third-party display with the ultimate focus to increase revenue, simplify workflows, and protect brand integrity."
We are excited to work with HotelPORT as strategic partners committed to advancing hotel distribution technology. By working together, we can provide individual properties, global hotel chains, and everyone in between with innovative solutions to make sure a hotel's story is consistent, impactful, and revenue driven.
Get in touch with us to find out how Leonardo + HotelPORT can improve the quality and accuracy of your listings on OTAs, metasearch engines, and beyond.