Google Analytics 4 (GA4) is the latest version of Google Analytics, the industry-standard tool for tracking and monitoring web traffic. This new version has a host of new features, but it's an increasingly important topic for hoteliers and hotel digital marketers to understand because Google is discontinuing its older analytics tool.
As of July 2023, Universal Analytics (UA, the previous Google Analytics system) will stop collecting data. Historical data will be available until July 1ST 2024. If your hotel is using Google Analytics to track web success, you must switch over before the cutoff date.
The benefit of GA4 for hotels
GA4 should give your hotel better tracking overall once installed. It includes a wider variety of more precise metrics to measure your website's performance. While the current platform is built mainly around desktop web sessions and page views, GA4 is built around event tracking. "Events" includes a much wider range of things, such as clicks and scrolls, to better measure engagement overall across devices.
Given that these measures are so different, it will be difficult to compare metrics between the two systems. As the saying goes, it will be like comparing apples to oranges. Working with a trusted expert will ensure no data is lost and your success continues.
They have also updated e-commerce tracking, allowing you to add more parameters to see the value of your website.
The other benefit is that GA4 has added security. It is built with privacy in mind to meet increasing data security standards. As we discussed in our Top Trends for 2023, Google is moving away from third-party cookies. This new Analytics product reflects that fact, with increased security protocols such as no longer relying on or even tracking IP addresses.
In addition to privacy, it's built with machine learning and AI features. GA4 promises predictive analytics that can be used to identify the types of guests most likely to book a room to better tailor your marketing efforts. As a relatively new product, these features are still being tested by our hotel digital marketing experts.
The other reality is that Google Analytics 4 is mandatory, meaning that hotels must as soon as possible in order to start tracking their data in this new system.
How to switch your hotel to GA4
There are a few ways to switch over to GA4. One is to use the Set-Up Assistant that Google has created which will walk you through the process.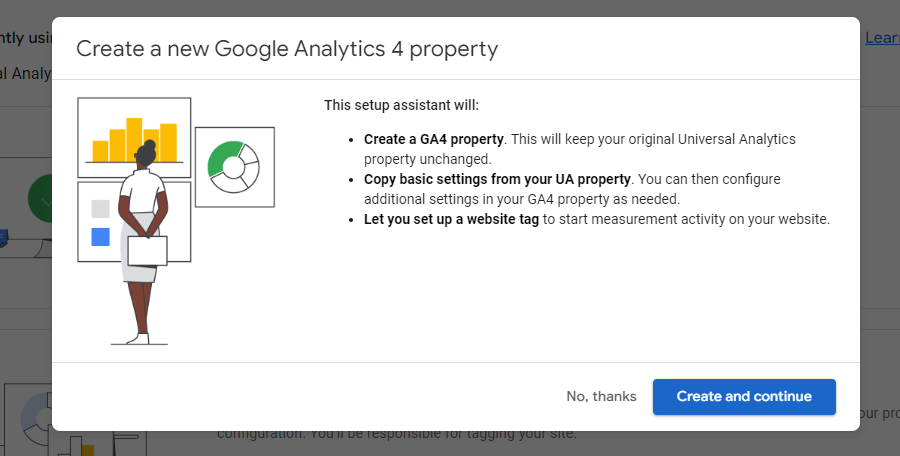 Whether or not this setup wizard works for you depends on how your website was built, as well as what you're tracking and how. It may be as simple as following the on-screen instructions or may require some more technical updates to your website to get the system working properly. As one of the biggest differences between the two systems is in e-commerce reporting, this component may require a more thorough technical setup.
If this wizard does not work for you, you'll need to do some more troubleshooting such as installing the new code manually to your website's header and redoing e-commerce analytics integration.