Best Practices
How Hotels Can Leverage Google's EEAT Principles to Boost Direct Bookings
---
In today's online booking landscape, hotels need to do everything they can to stand out. A competitive hotel website establishes a strong online presence that is not only optimized to stand out in search results (better known as SEO) but also optimized for the user experience.  
Google evaluates websites based on Experience, Expertise, Authoritativeness, and Trustworthiness (EEAT) as a metric of their quality. Their algorithm assesses websites based on these principles. Based on that assessment they rank webpages higher or lower in search results. At the center of this assessment is trust. Overall, Google is trying to ensure that they are sending users to trusted websites that are relevant to their inquiries.  
Any hotel looking to stand out from the competition must use these guidelines throughout their site. There are two factors at play specifically for hotels.  
One is that using these principles demonstrates that this website is the legitimate, trustworthy landing page for this hotel. Some shady actors set up pages that purport to be the hotel in question, but are shell pages created to divert money to an intermediary, rather than the hotel itself. If you've ever googled your hotel name only to land on a page you don't recognize, this might be the case for you. Your hotel website must demonstrate its reliability to outrank these sites. 
It may seem straightforward that you're creating a website for your business, but using these principles also tells Google that this is the trusted website of that business set by the property in question.   
The second is that these are simply good goals to use when creating hotel website content that ranks well, drives traffic to your website, and convinces visitors to convert to confirmed guests.  
In this article, we're breaking down exactly what this acronym means, and how you can apply EEAT to your hotel website. 
Experience: Real word expertise
For many years, the acronym in question was just EAT. At the end of 2022, Google updated these long-standing guidelines to include experience as a key principle of their search algorithms.  
The general idea behind prioritizing "experience" is the understanding most people are looking for content delivered by someone with real first-hand knowledge of the question. For example, people searching for travel information want intel from someone with direct experience with the area.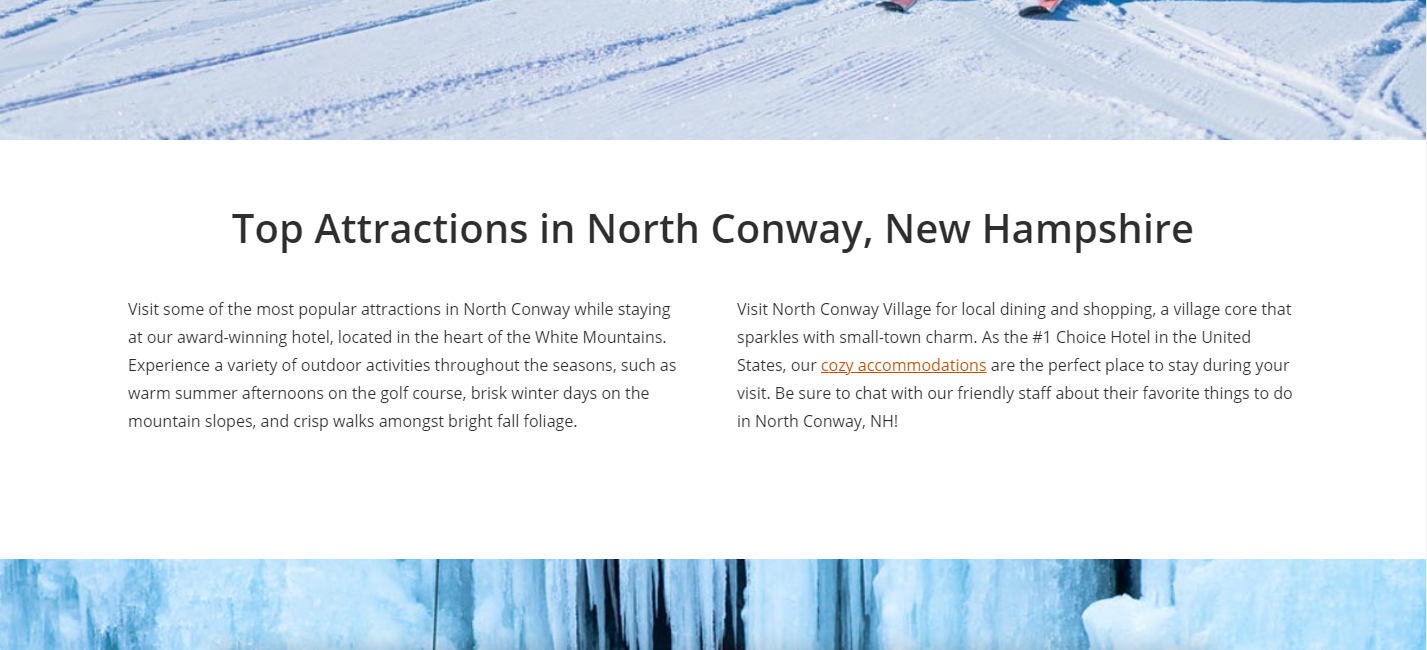 When building hotel websites, we showcase local travel information provided by our client's knowledge of the area from their real-world experience. For example, our client North Conway Comfort Inn share some of the top attractions in the area on a dedicated "things to do" page on their website.  
Expertise: Showcase Your Hotel's Unique Offerings
To establish expertise, hotel websites should highlight the unique offerings and services that a user can't find anywhere else on the web. Showcase your expertise on your own hotel! Include high-quality content like detailed descriptions of rooms, amenities, and local attractions, to establish your expertise on the subject of your hotel.  
This tells Google that this website is the expert on this hotel and therefore is the site to direct relevant search queries.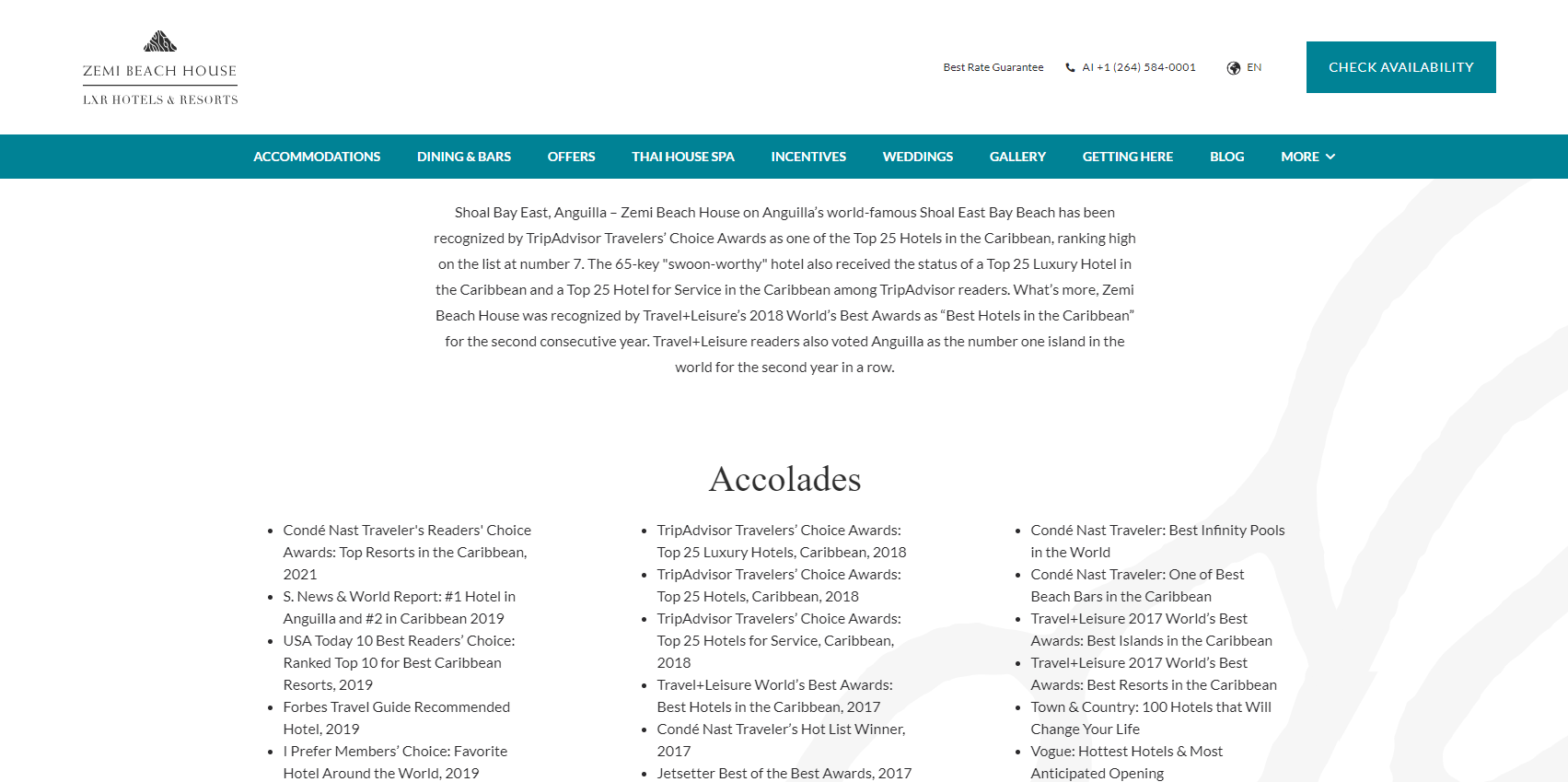 Our clients, Zemi Beach House in Anguilla have a page on their website that provides all of their press accolades and mentions. This page does double-duty, as it demonstrates that this site is the true expert on the property and it lets the property show off their many awards to potential guests.   
Authoritativeness: Build Credibility and Trust
Demonstrate your authoritativeness by showcasing your unique perspective and story. When assessing authoritativeness, Google is effectively asking about the reputation and credentials of the site's authors. Creating an About Us page can help with this. It also lets you tell your hotel's story and provide a sense of history to the property for guests.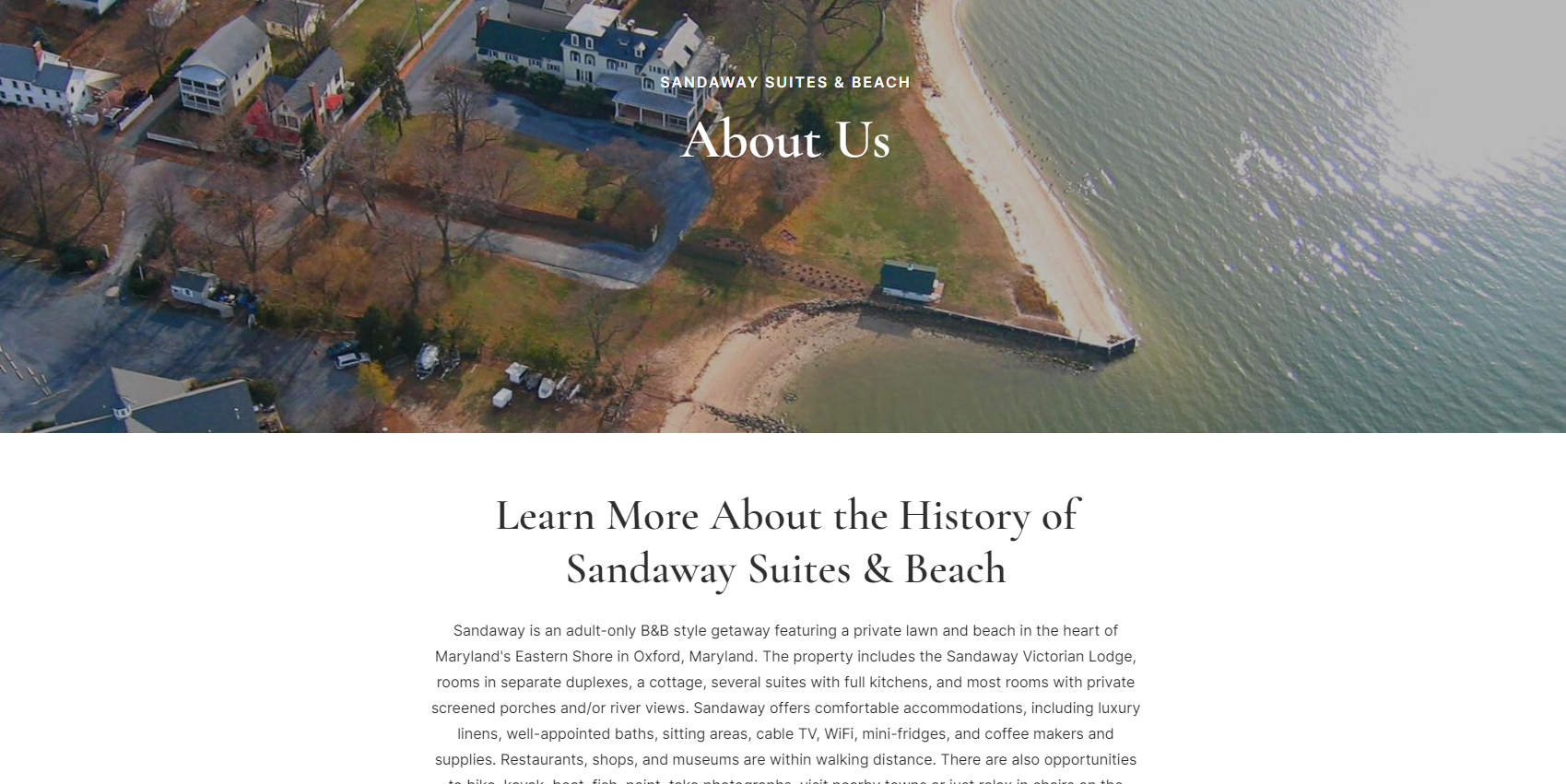 Sandaway Suites & Beach in Oxford, MD has an About Us page that details the building's history, and ownership, as well as relevant press and awards. Sharing your hotel's story on your website builds authoritativeness, both in the eyes of the search engine algorithms and equally as importantly, with your guests.  
 Trustworthiness: Reassuring guests  
Building trust is the essential goal of your entire website. You're establishing to guests – and Google – that your website is the best place to get information about your hotel and accommodation in your area. When building your hotel's site, consider experience, expertise, and authoritativeness throughout the site – or rely on a trusted partner to do so on your behalf. 
An essential way to establish trustworthiness is to showcase real consumer feedback on your website. Include a Reviews page with embedded widgets from sites like Google, TripAdvisor, Booking.com, or Expedia. Many hotels showcase testimonials by themselves, which is great but does not have the same trustworthiness as reviews from known sites.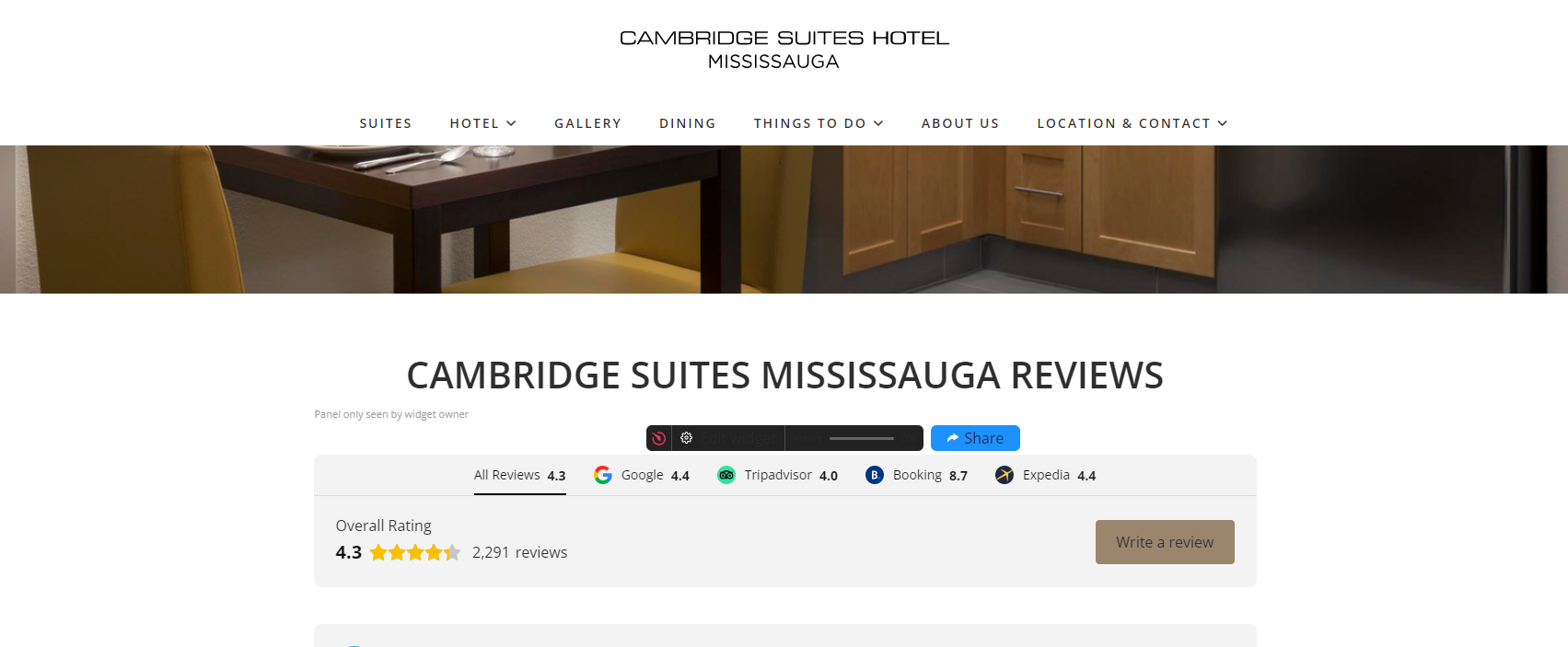 Cambridge Inn & Suites Mississauga Reviews page on their website uses a widget that provides real reviews from a variety of sources, including Google, TripAdvisor, Booking.com, and Expedia. This allows travel shoppers to see reviews without clicking away to a third-party site and establishes the credibility and trustworthiness of this direct channel. 
Conclusion: Build Credibility to Build Guest Loyalty 
By adhering to Google's EEAT principles, hotels can create a compelling online presence that resonates with potential guests, reassures them they're in the right place to book, ranks well in search engines, and convinces them to book your hotel.  
Using these guidelines optimizes your site for search engines while creating an exceptional online experience that leaves a lasting impression on guests to drive direct bookings.  
Working with a trusted partner makes it easy to launch a website that meets search engine and user experience best practices. Leonardo's web studio solutions help your hotel establish experience, expertise, authoritativeness, and trustworthiness to boost direct bookings. We provide: 
The initial build of your site

 

A dedicated account manager

 

Keyword and SEO strategy

 

Content writing 

 

Ongoing health and performance checks

 

And more

 
See live examples of our hotel website partners and learn more.