All
Why Book on Google is Good News for Hotels
---
Vacation planning starts on Google. More than half of all travelers begin their travel research on a search engine, according to the experts at Google. The search engine giant's goal has always been to help users find the results they want faster, now they want to show the information people want and keep users within Google.
Google has been making waves in the travel industry since the launch of their travel meta-search engine, Google Hotel Finder in 2011. Now, with the launch of Book on Google, travelers can find, compare and book hotels without ever leaving the search engine's UI. With this launch, Google can keep travel shoppers on Google products through the entire buying cycle.
Does this make Google an OTA now?
Not in the way most people think of an OTA. Here's why.
First and foremost, Google does not take commission from hotels when bookings are completed on Google. When a hotel is booked on Google, the reservation and payment details are securely passed to the hotel or online travel agency that processes the booking and charges the guest's credit card.
Second, unlike traditional OTAs and metasearch engines, Google's push into the travel industry has a different revenue model. Instead of commission, their revenue comes from brands bidding on their placement in search results within Google Hotels.
Finally, OTAs invest heavily in driving traffic to their sites. Google, on the other hand, already has millions of people searching for hotels. With Google holding almost 90 percent of search engine market share, we can assume that the majority of accommodations searches started on Google. Unlike typical OTAs, Google has a significant audience organically.
Google will not take a cut from nights reserved through Book on Google. The same revenue generation strategy that Google uses to monetize search results for any Google query applies to Book on Google. Hotel chains that invest in Google Ads will see their hotel listings on Book on Google outrank those that don't.
How does Book on Google benefit hotel chains?
Since Google simply collects the reservation and payment information and passes it along to the supplier without taking a commission, Book on Google presents a significant opportunity for hotel chains to promote their direct channels and drive more direct revenue.
How do I get my hotels' images on Book on Google?
Being in the travel industry for almost two decades, we know that the quality and quantity of hotel photos on a hotel listing has a significant impact on a traveler's likeliness to book.
If you're a Leonardo hotel chain customer, you're in good hands. Google is a longtime partner and member of our network. We were already feeding hotels images to the search engine long before this new initiative. When we heard the news about the roll-out of Book on Google, we got to work to enhance our Google image feed to deliver hotel images for specific room types to Book on Google.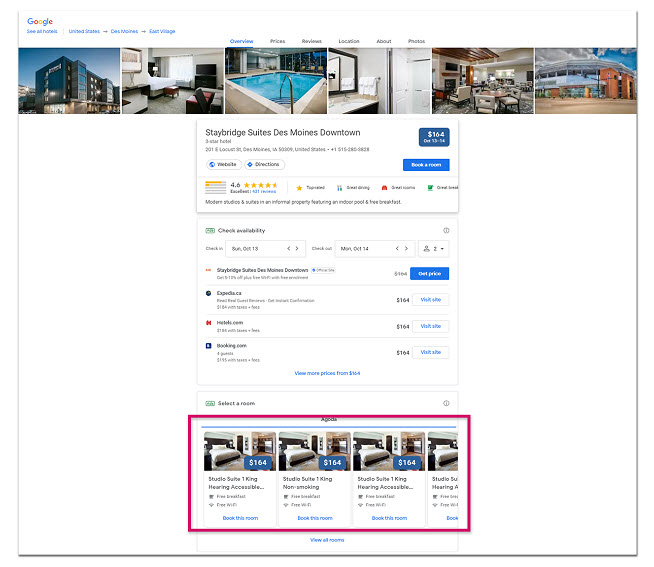 Once our enhanced feed is live, hotel chains that subscribe to our VScape solution will be able to better showcase their individual rooms with room type images and have a greater influence on direct revenue from Book on Google.
Subscribe to be notified when our enhanced Google feed launches.
The enhancement of our Google image feed is one of the many product enhancements we're working on right now. Find out what else we're releasing in the coming months.