Blog
Webinar Recap: Smart SEO Techniques to Drive Consumers to Your Website
---
When travel shoppers start planning a trip, they will often begin on a search engine. According to Google's 2014 Traveler's Road to Decision study, 60% of leisure travelers and 55% of business travelers use search engines to plan their trips. Hotels, therefore, need to rank high in search engine results if they want to drive more direct bookings and increase revenue.
A SEO Strategy
That Complements Your Brand
Every hotel wants to rank on the first page of Google. The problem is, there is limited space. Ranking for generic search terms, like "Hotels in New York," is especially competitive, making it virtually impossible for individual properties to outrank Online Travel Agencies (OTAs), meta-search sites and review sites.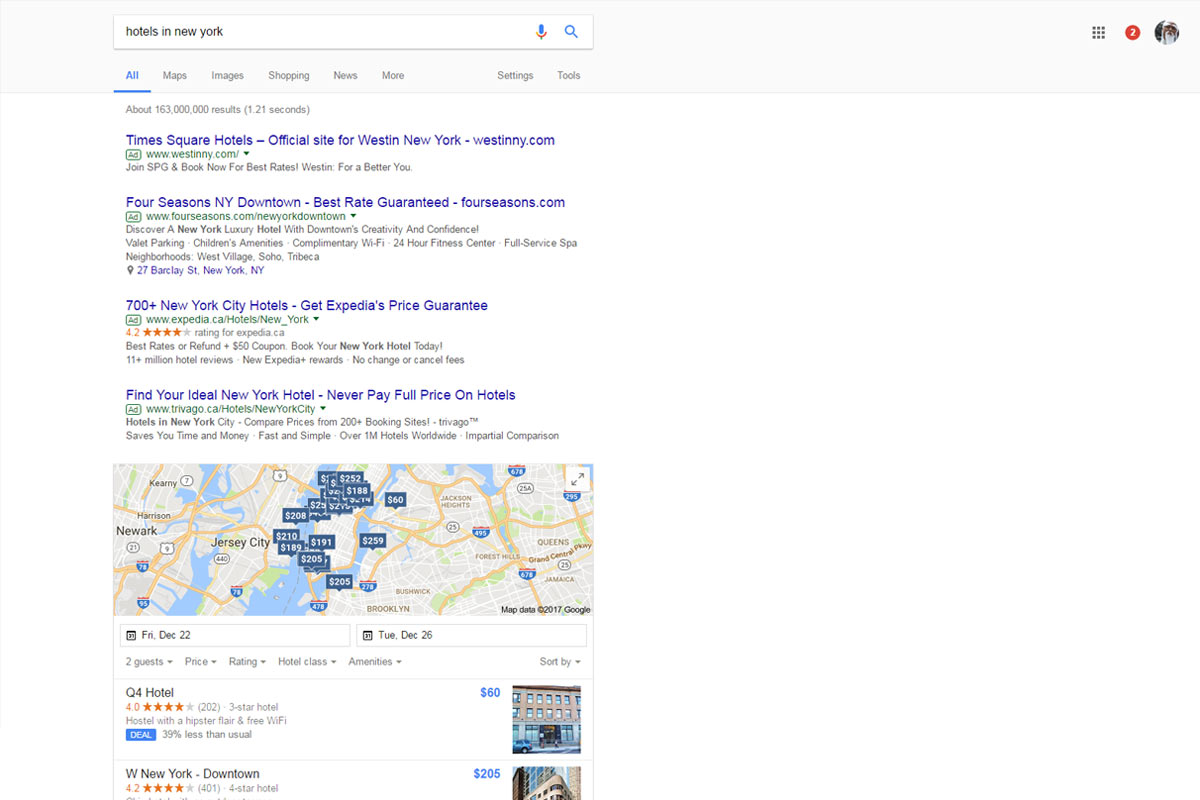 Luckily, if you are a branded property, your brand has the money and resources to compete for these search terms. Your Brand.com has a strong domain authority, which a standalone hotel website simply can't match. Therefore, let them duke it out with third-party sites on generic search terms, while you adopt a strategy that targets long tail keywords.
Long-Tail Keyword
SEO Strategy
Long-tail keywords are search terms that consist of 4 or more words. For example, "kid-friendly Miami hotel near the zoo." These search terms are more specific in nature, less competitive to rank for, and can drive more qualified traffic to your website.
There are countless long-tail keywords you can target. In fact, 85% of all searches in the US are long-tail. And because long-tail keywords are more targeted, they convert 2.5x higher than generic search terms.

To identify the best long-tail keywords for your hotel, start by analyzing what type of guests stay at your property. Consider what hotel attributes they are looking for (e.g. specific hotel amenities, or close proximity to a certain landmark). Once you have this, you can use tools like Google AdWords Keyword Planner to help identify which long-tail keywords to target.
From here, create content that relates to your targeted keywords (but avoid keyword stuffing). Produce content that's original, useful, and written for humans, not Google's search bots. Think about what type of information your ideal guest would want to know. Producing diverse content will increase your "discoverability" online and ultimately lead to more direct bookings.
Key Takeaways
from the Webinar
Domain authority is an important SEO factor. Brand.com, OTAs, meta-reviews sites and TripAdvisor carry a higher domain authority than standalone hotel websites.
Let your brand battle third-party websites on generic search terms (e.g. "Dallas hotel") while your website focuses on long-tail keywords (e.g. "Hotel near Dallas stadium with free breakfast").
Long-tail keywords consist of 4+ words, are more specific, less competitive and drive more qualified traffic.
85% of all searches in the USA are long-tail.
Long-tail searches convert 2.5X better than generic search terms.
Websites optimized for long-tail keywords move up, on average, 11 positions in search rankings compared to generic search terms, which move up 5 positions.
Other SEO ranking factors include: page speed, user-experience (UX), logical navigation, prominent calls-to-action & mobile optimization.
A mobile website has never been more important, with Google in the process of switching to a mobile-first index.
A mobile-first index means Google will crawl your mobile website first when matching search results to search queries.
A mobile responsive website caters to mobile users, adjusting the layout of your site to specific mobile devices, adding large buttons for easy tapping, and more.
For more insights, listen to the full webinar on-demand (25 minutes).