All
People Don't Buy What You Do, They Buy Why You Do It
---
One of most powerful fundamentals in understanding how to market any product or service is to focus on why your company does what it does, and not what it sells. It's not about the profit, since that's just a result.
Simon Sinek, the owner and founder of Start With Why, explains in this Ted Talk what it means to discover your company's reason and purpose:
Most hoteliers will tell you that their goal is to provide exceptional hospitality to guests so that they'll have an experience that will make them smile, remember and share. While this is aligned with Simon's view of communicating your purpose or your belief as the starting point for inspiration, property storytelling can be refined to reflect this message better.
Often, we see the same old rote descriptions by many hotel marketers emphasizing their hotel features and benefits. If you really want to motivate travel shoppers and achieve your marketing objectives, keep reading.
The author of one of my favorite marketing blogs put it eloquently:
"No matter how much digital, social, mobile we have in the world around us, marketing will always need well-told evocative stories and the ability to communicate to your audience's needs, wants, and emotions."
Think about Marriot's content marketing studio – in particular, the release of their first short film, Two Bellmen. The campaign isn't about what makes Marriott great – it's a funny, creative video about something all hoteliers can relate to: the crazy, challenging job of a bellman who is your guest's first interaction with your brand. It brings light to a job many travelers probably aren't even aware of, highlighting the way they help make a hotel run.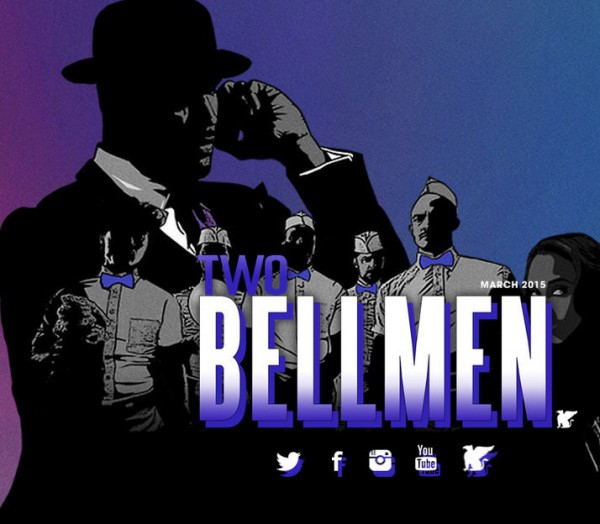 Instead of creating a film about why Marriott is the best hotel to stay at, the hotel chain chose instead to refocus their marketing on storytelling – the experiences, the emotions, the feelings of everyday hospitality professionals, and yes, it just so happens to take place in a Marriott.

A New Reality

Thanks to today's digital technology, we have a new reality: the chance to tell your story in new formats that better conveys what your property is about. Who would've thought that a short film about bellmen could mean so much? Thanks to today's technology – video, mobile devices, social media and more – you're not limited anymore by budget and lack of resources. You can tell your story and show people why they should choose you.

Here's what we mean:

Imagine your hotel runs a shuttle to the airport. Instead of saying, "We operate a great shuttle that gets you to the airport on time," rephrase in a way that describes your amenity but also gives insight into why your hotel offers this service. "We make your airport commute convenient and efficient – so you spend more time enjoying your granola parfait and scrambled eggs and avoid the rush to catch your flight" and then post a picture of the shuttle.

The difference is that you are capturing both why you provide that service along with helpful information about what you offer rather than merely listing your property's features in the same way the competition down the street does. It's a much more effective and engaging way to stand out from the rest of the pack to secure the booking.

As Simon Sinek tells us "people don't buy what you do, they buy why you do it."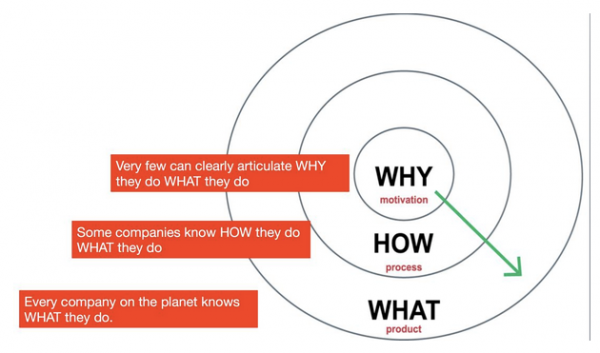 "Why" Matters
Leaders in the hotel industry know that a travel shopper can be motivated to book their property through good storytelling and authentic insights into an anticipated experience. Strengthen these best practices by sharing the "why" behind your features and amenities. "Everyone needs a good night's sleep; rest in comfort with Egyptian cotton and feather top beds."
Evaluate your own marketing materials and ask yourself: Are you selling one-off features?
Here are some more examples:
1. Your Pool
Describing a feature: Check out our state-of-the-art pool located off the back patio!
A better spin: Nothing makes us happier than seeing families with smiling faces in our large, heated and kid-friendly pool.
2. Your On-Site Restaurant
Describing a feature: Our chef will provide you with scrumptious food and desserts that will melt your taste buds.
A better spin: We like feeding people great food! Think about all the Instagram photos you can post of your scrumptious meal cooked to perfection by our chef!
3. Your Special Events Venue (Ex: Wedding Reception)
Describing a feature: Our wedding venue can fit up to 400 people and includes a DJ, extensive decorations/lighting, and multiple dance floor configurations.
A better spin: We love love. That's why your wedding day is special to us. Let us help make memories that will last a lifetime with a state-of-the-art wedding venue that includes room for 400 of your favorite people, music to dance your first dance all wrapped within a lovely and romantic setting.
4. Your Spa
Describing a feature: Our highly qualified spa professionals will provide you with exceptional manicures, pedicures, massages and facials.
A better spin: Relaxed and coddled guests = happy guests. That's why our spa professionals cater to your overall well-being with manicures, pedicures, massages, facials and more.
5. Complimentary Breakfast
Describing a feature: Our complimentary breakfasts are filled with lots of different options including: fruit, yogurt, cereals, eggs and more.
A better spin: A healthy and strong start to your day is important, so each morning we offer a freshly prepared complimentary breakfast of fruit, yogurt, cereals, eggs and more.
Hotel Spotlight: citizenM
citizenM does a great job of showcasing how their hotel makes guests' lives easy, simple and fun. Their enticing descriptions don't just highlight their amenities – they accentuate the citizenM way of life.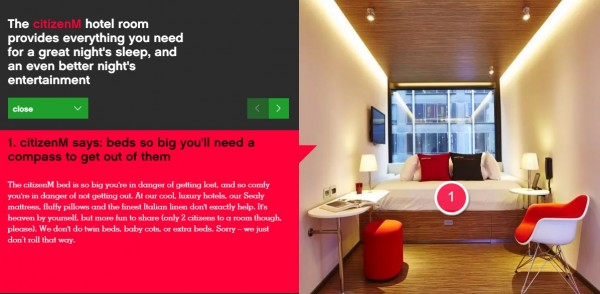 Want to learn more about effective storytelling? Check out my eBook, Content Marketing 101 for Hotels, for tips and tricks to get your story front and center in travel shoppers' minds – showing them why they should choose you.