Blog
Top Amenities to Display on a Hotel Website
---
Hotel guests have different needs depending on, among other things, their reason for travel, their destination, and their length of stay. Hotels meet these needs by providing various amenities depending on their scale and target audience. For example, a resort may offer an on-site spa, or a hotel across the street from a convention center might have a state of the art business center and meeting rooms.
The amenities your hotel offers can be the deciding factor when a travel shopper is debating booking with you or a competitor. This begs the question: which amenities are most important to highlight on your website?
A 2018 study by Chekitan S. Dev from the Cornell University School of Hotel Administration and his team revealed which amenities guests expected to use prior to their stay versus their actual usage. The researchers surveyed 724 guests about 50 amenities offered by 33 hotels that operated under an unnamed major global hotel company.
"It seems reasonable that offering amenities that guests tend to predict they will use at a high rate will have a positive effect on initial purchase, while those that guests find themselves using at a higher rate than predicted will have a positive effect on repeat visits."
Top 10 Expected Amenity Uses

Vs Top 10 Amenities Used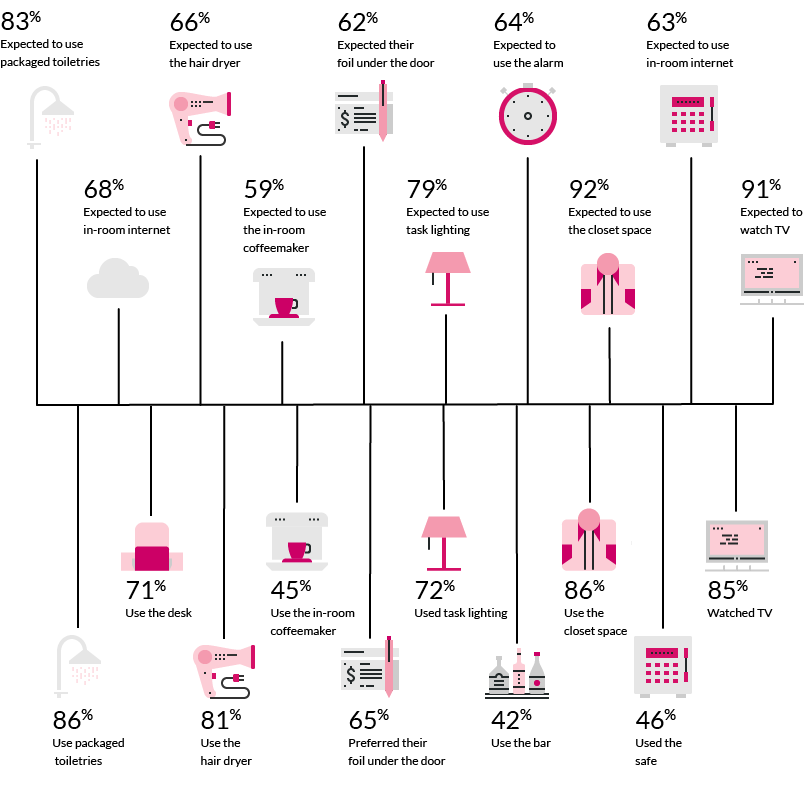 Can I Specialize

My Target Audience Even More?
A 2019 follow-up by Chekitan S. Dev and Prateek Kumar broke down the expectations and actual usage of hotel amenities further by length of stay, gender and chain scale, travel purpose and chain scale, and hotel location.
Here are some other amenities of note:
71% of guests booked to stay 5 or more days expected to eat dinner at the hotel restaurant, but only 1% of all guests actually used this amenity.
When a guest stayed for 5 or more days, the percentage of in-room dining tripled from a 1-2 night stay.
Business travelers used the bar more than leisure travelers in midscale hotels, but less than leisure travelers in upscale or luxury hotels.
Resort goers ate at the hotel restaurant significantly more than people who stayed at urban or suburban hotels. An average of almost 40% of resort guests had meals at the hotel restaurant, whereas other hotels' restaurants only saw approximately 17% of all guests.
Over 60% of guests at urban and suburban hotels preferred their folio under the door, while the majority of resort goers preferred to receive their bills in a different way.
For all scenarios, the TV was overwhelmingly the most used amenity.
It's important to understand which amenities your guests are looking for when booking a hotel and utilize most over their stay. Highlighting these amenities prominently on your hotel's website will have a positive effect on your bottom line and help you drive more bookings.
If you would like a way to make sure travel consumers are aware of your travel amenities, reach out to us today to see how Vizlly can help.