All
What to look for in a hotel media feed for travel channels
---
Whether you're a travel start-up new to the hospitality field navigating this complex industry, or a mature company with an established market, you must be careful about where and how you're sourcing content. There are lots of sources out there, but as we discussed in our article: the hidden costs of sourcing content from bed banks they're not all equal.  
Here are some questions channels should ask when investing in a dedicated media feed. 
Where is the content coming from?
There are many intermediaries out there that will provide media alongside rates and while the rates may be current, who knows where (and when!) the media is from.  
Individual hotel properties, management companies, and hotel brands do not have the time to send content out to every single channel. They rely on third-party partners, like Leonardo, to distribute content for them. 
Investing in a dedicated media feed gives you access to millions of images directly from hotels themselves. Leonardo's Content Manager is an intuitive platform that allows hoteliers to upload content for distribution. The content we send out is always sourced directly from hotels themselves.  
What additional metadata are you receiving? 
While there are algorithms that can read what's in an image, we know that most travel channels don't have the resources to develop or use them. Instead, you likely rely on additional metadata to categorize and deploy an image. You need that metadata to be accurate and specific. 
With Leonardo, images are all coded with relevant categories that align with travel channel conventions. What's more, we leverage our proactive Account Management to provide hotels with best practices and resources, reducing the number of images with overly general categories. 
We also provide copyright data on all files. Travel channels are protected when they can trace the source of their media, which Leonardo provides to all vendors. Content sources that are not media-specific often strip content of this key data, putting you at risk.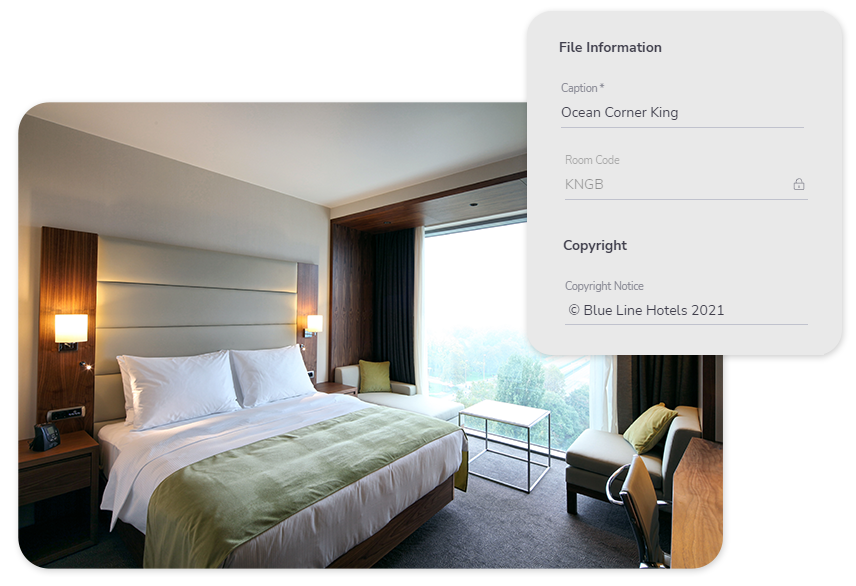 Can you match room types to media?
Room pictures are the most important hotel photos you will receive. They're the type of photos travelers want to see most. What's more, showing photos of the relevant room type right next to the rate results in faster and higher conversions.  
The right media source can help you create that booking experience. You want to show specific room types through the booking process, not general hotel photos. Content Manager allows hotels to provide room types and then easily match photos to them, giving channels more data for better display.   
How do I ingest this content over time?
Your initial onboarding of any content feed will be managed closely—that's certainly the case here at Leonardo—but it's important to consider how new content is delivered over time. Your content partners should have feeds that are built for easy refreshes.  
So-called static content is anything but static – media changes at hotels all the time. We make it easier and less resource intensive for travel channels to parse and display content in two key ways: 
We add a time stamp to all files, and we only send new files when your feed refreshes

 

Our 

de-duplication engine

 solves for manual errors by flagging and avoiding duplicate files   

 
These features mean that our feeds require fewer resources than some alternatives. You're not storing every file, just the content you need to sell hotel stays. 
Where can I source high-quality hotel media?
Leonardo's MediaConnect is the industry-leading source of media sourced directly from the 50,000+ hotel properties that rely on our technology. Learn more about how we can help with a demo that will show you our media feeds and how they can help you improve display.