All
What to look for in an enterprise hotel website builder 
---
Building a website is easier today than it ever has been. There are dozens of services that allow a user to upload photos, select a template, write some content, and launch a new website. 
But a bad website will have a negative impact on your direct revenue and erode traveler trust. When you're dealing with the web presence of a hotel brand, multi-property group, or chain, it's essential to build a professional website backed by hotel-specific technology.  
Here are some of the things to focus on, and questions to ask, when selecting a website vendor for your brand.  
#1 Guest-centric design
The 5 phases of hotel booking need to be optimized for on your site, from dreaming, planning, booking, the experience, to sharing post-trip. A hotel website cannot be a generic e-commerce experience: the look and feel needs to be designed with hotel guests in mind.  
To optimize for the full shopping experience, your website should: 
Be image-driven to capture the dreaming shopper

 

Avoid customer confusion with clear, easily found information for the planner

 

Seamlessly integrate with your IBE for the traveler ready to book

 
Integrate into your tech stack for a better experience 

 

Make it easy to share their experience with social media links and promotions

 
#2 Seamless booking engine conversion
A technical booking engine integration creates a seamless shopping experience and increases the likelihood that someone will book. This means you need more than just a BOOK! button on every page (although you need that too), which is all that a generic website provider will provide. 
For example, when someone clicks "Book" on the page for a specific room type, their room type selection should be passed over to the booking engine. That way, they're seeing data about the room type they're already interested in. Similarly, when they enter dates, room, and guest info on your site, those selections should be passed over to the booking engine. Again, a generic ecommerce website cannot provide this level of integration.  
With a proper technical integration, you can show the base price of a room right on your site to convince them to move to the next booking phase earlier.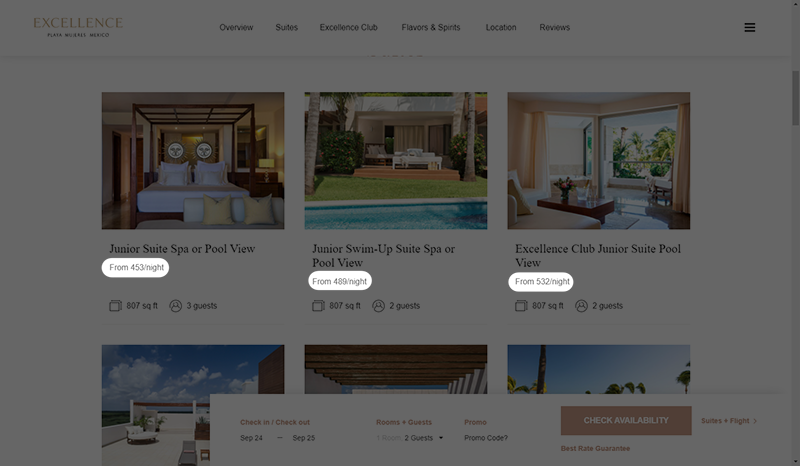 Example from the Excellence Collection, built on Live CMS 
#3 Ease of launching offers and news
Your hotel website should never be static. You need to share news and travel updates, as well as seasonal offers and specials. When researching an enterprise hotel website builder, you should determine how easy it is to create updates and how they're handled. Do you need technical expertise to make an update or a new page? Can you handle the update yourself or will a team assist you? 
Consider the kinds of updates you may need to make: 
Seasonal notices around availability

 

New pages for promotions, information

 

Connecting offers and promotions to the booking engine

 

Restaurant menus or specials 

 
#4 Integrations with your tech stack
Integrating with your booking engine is just the start. Your website needs to work with your full tech stack, so you can gather data and market to your guests.  
For example, if you want to launch a newsletter, you'll need a site that can connect to the interface that stores emails. Similarly, you should be able to connect your CRM to your site to launch pages for loyalty programs that have the same look and feel as your brand overall.  
Launch chat bots to handle customer inquiries, or comparison tools that show your site provides the best value. An API-driven hotel website builder like Leonardo's will be able to connect to whatever you need so be sure to ask questions up front.  
#5 User management and control
Consider how and who you want to manage your website going forward. Will one team update and maintain it? Does the content need approval, and if so, by whom? Will you outsource updates and maintenance?   
Your provider should be able to accommodate whatever set up you require, with user management or additional digital marketing services.  
Your website is a vital part of your marketing apparatus. You need the ability to add, remove, and manage permissions, especially in the case of staff turnover.  
#6 Asset and content management 
A lot goes into a hotel website: copywriting, property details, hotel data, photos, as well as additional assets like brochures, videos, and PDFs.  
Your hotel website builder should have an interface in which you can upload this content, manage it, and send it everywhere it needs to go across your site. The back end of the website needs to be intuitive and easy to use.  
Leonardo's hotel website services are specifically built with an intuitive design that's easy for staff to pick up and learn, with no technical expertise required.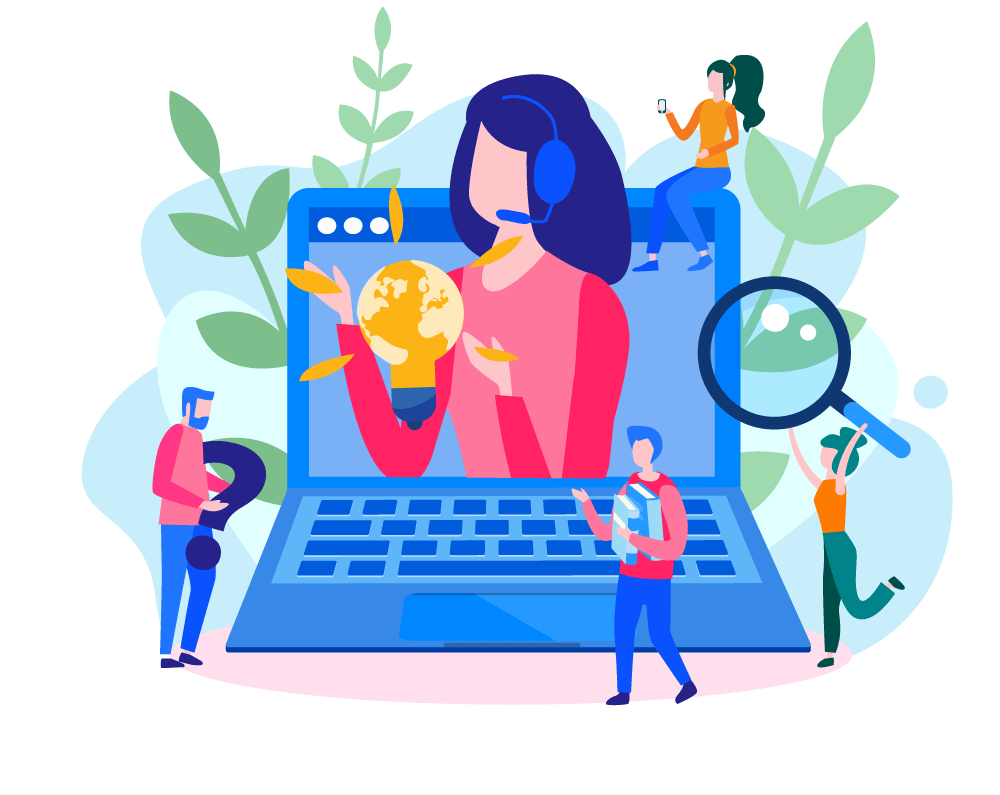 #7 Easy onboarding and training 
It's easy to launch a website with a do-it-yourself system, but if you're outsourcing the process to a professional (and we recommend you do!), it's important to consider how they launch your site.  
Some questions to consider: how do they get to know your brand? What is the onboarding process like – do they train you on the software or launch everything for you? What can you expect in the first few weeks of purchasing?   
#8 Security and compliance 
Websites that collect financial data are governed by strict security protocols. Unless you have an e-commerce integration, your hotel website does not collect sensitive data, because credit card information is only collected and stored by your booking engine. 
However, it's still essential that your website is up to date with the latest requirements in your area, especially around data collection, web accessibility, and so on. The right vendor will keep you up to date without extra work on your end.  
#9 Additional services 
A lot of hotel website builders are hands off, meaning they require you to provide all the content and then plug it into the system and handle building, launch, and ongoing maintenance yourself. At the very least, you should ensure that your vendor has ongoing, proactive support so you always have someone to reach out to.  
You may also want to consider a website vendor that has digital marketing services, to help you launch and market your brand. Typical services that can come bundled with your website include: copywriting, search engine optimization, and paid advertising (such as PPC, display ads) management.  
Learn more about Leonardo's digital marketing services here.  
#10 Scalability and growth 
If you're shopping for a hotel website builder, it's likely that your brand has plans to expand. Your website should be able to easily grow and adapt with you. Some questions to consider: 
How easy it to add new properties to your brand site? 

 
What's the process like for onboarding and marketing a new property? 

 

Can you provide access to new users while still retaining central control?

 

Can you create templates that make it easy to launch new pages following brand guidelines?

 
Leonardo's Live CMS is more than a website builder. Hotel brand's sites are one facet of your direct marketing strategy, and you need a content management system that powers it all. Contact us to learn more.