Blog
How Vizlly Helps Drive More Bookings at a Lower Cost
---
When it comes to marketing your property online, hotel marketers face a daunting task. There are literally hundreds, if not thousands, of opportunities to reach travel shoppers, but which ones are going to yield results?
At Leonardo, we believe hoteliers need to simplify their efforts and focus on the things they can control. In other words, their hotel website. In a poll we conducted in 2016, 60% of hoteliers said their biggest challenge was driving direct bookings on their website. But why is this?
Well, in an effort to make a great-looking website, hoteliers often unknowingly move further away from its main goal – to turn lookers into bookers. They focus on things that aren't adding value, versus providing a great user experience that makes the site easy to book through.
One Place
to

Manage it All

A high-performing hotel website is just one element of a successful digital marketing strategy for your hotel. You need to be present on all the channels travel shoppers are using to research and book accommodation. Vizlly is your one-stop shop to manage it all in one place – your website, mobile website, digital brochures for third-party channels, and Facebook apps.

Vizlly's Facebook apps enable you to extend your website to the Facebook platform, to showcase the unique features of your property, special offers, gallery and more on your hotel's Facebook page. The result is a professional-looking presence on Facebook that builds trust and confidence with prospective guests.

Vizlly's Facebook apps help drive hard-earned Facebook traffic back to your hotel website. In addition, they can integrate directly with your booking engine, so travel shoppers can book directly with you from within the Facebook environment.

Here's an example from Hotel Kleber in Paris. They have used Vizlly's Facebook apps to promote their special offers within Facebook, and visitors can book right there.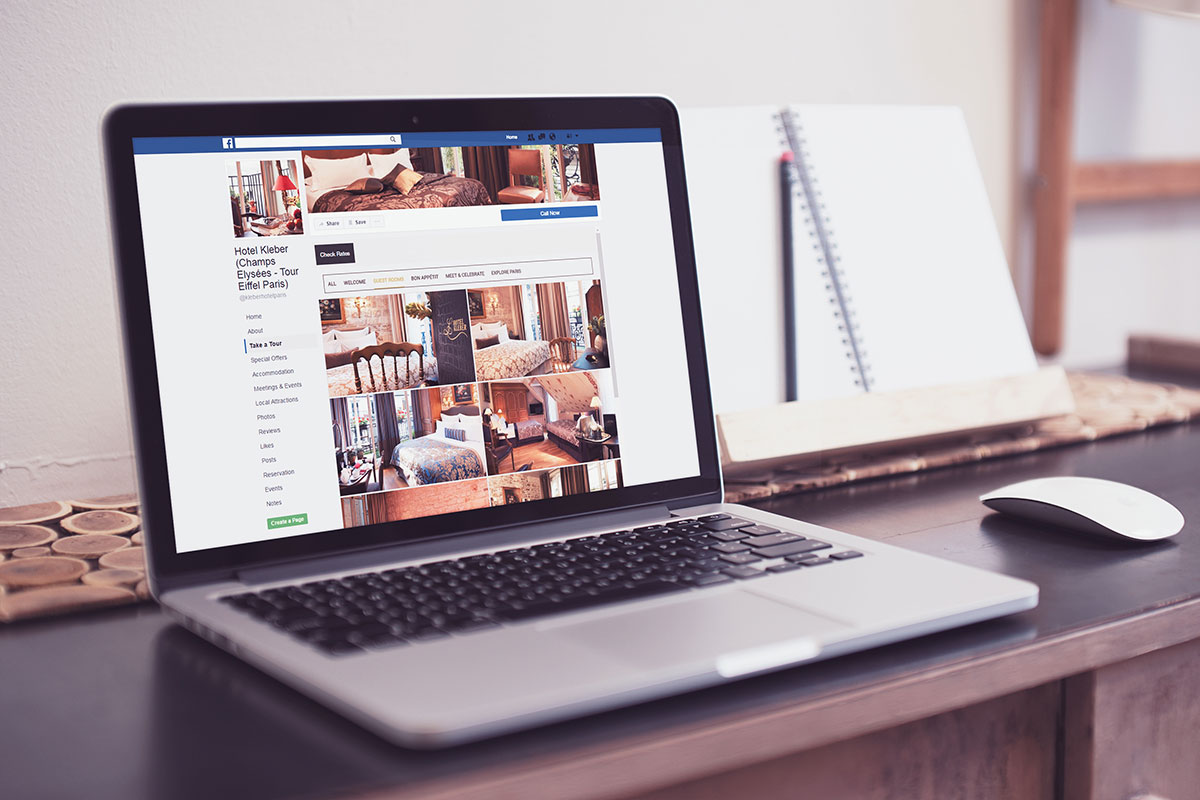 Your Success
is Our Business
With Vizlly, there is an entire support team behind you to ensure your success. Your Vizlly subscription includes a dedicated Success Coach that is CDHM and Google-IQ certified. They will guide you through the Vizlly platform, sharing best practices along the way, to help you feel confident using Vizlly.
Our Professional Service Team is also available, to help build out your website, Facebook Apps, digital brochures, and write content on your behalf. All you have to do is approve everything before it goes live! Your subscription also includes unlimited technical support to keep you moving with Vizlly.
Simplify
with Vizlly
Vizlly is a digital marketing system built specifically for hotels and designed to improve performance, save money and simplify your life. By focusing on the things you can control – like your website, Facebook apps, and presence on third-party channels, you'll be well on your way to increasing bookings for your hotel. Discover why thousands of hotels around the world are using Vizlly.