Digital Marketing
Are You Driving Social Media Traffic To Your Website? How UTM Parameters Can Help Track It
---
By now, virtually all hotels have at least one social media channel that they use – most likely Facebook. They might also use some others; Instagram, Twitter and Snapchat being among the most popular. Unfortunately, in an effort to not be left behind by competitors, social media accounts are opened with little to no thought into what you should be posting and how to actually track the performance of these channels.
Thankfully Google Analytics, offers many ways to track whether your social media marketing is actually bringing you useful traffic. One of the tools at your disposal is using UTM parameters to track exactly where referral traffic to your website is coming from. By knowing this information, you can tailor your social media strategy to focus on what is most effective at driving traffic to your website and, in turn, driving bookings.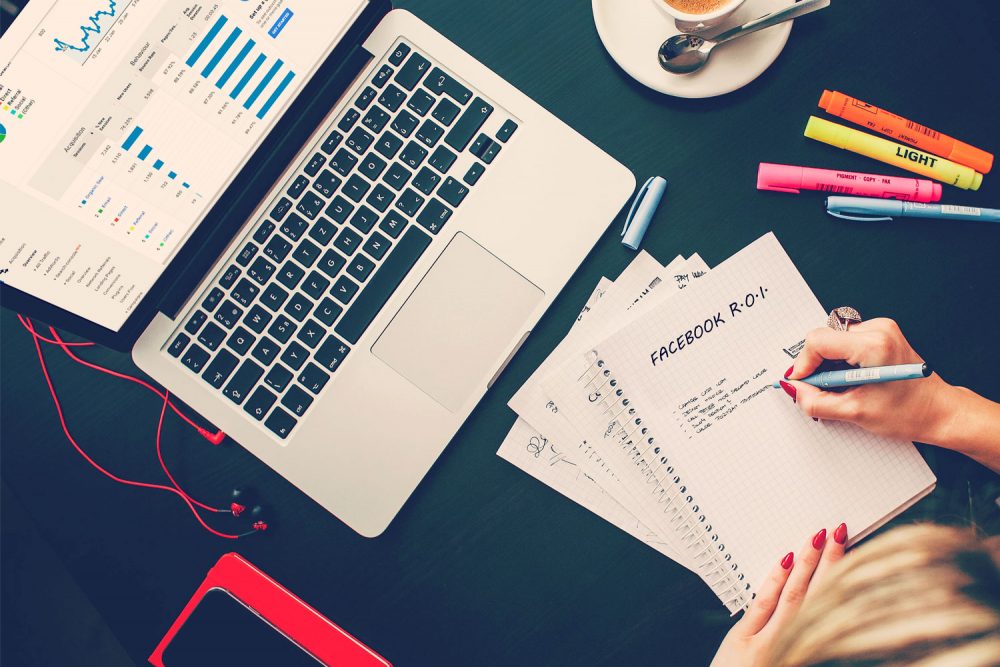 Google Analytics' Standard Referral Traffic Tracking
If you use Google Analytics to monitor your website's performance, then you are likely familiar with referral traffic. Referral traffic reports on where visits to your website came from. It is a good place to start to understand if your social media activity is driving traffic to your website.
On the Reporting page in Google Analytics, under Acquisition, you'll find Network Referrals, which tracks your most popular social media URLs, like Facebook, Twitter or LinkedIn. This allows you to evaluate which channel is driving the most traffic, but doesn't help you understand what content is driving the traffic.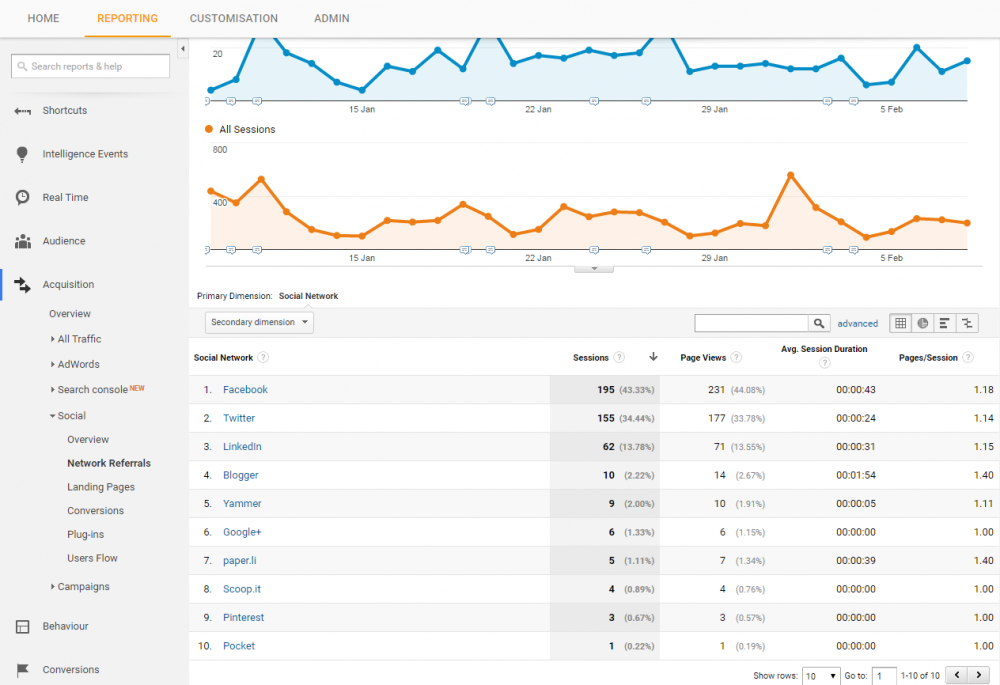 In other words, you can't determine if someone was referred to your website from a link on your Facebook About page, in a promoted Facebook post, or in a timeline post. That's where UTM parameters can come in handy. UTM parameters allow you to track exactly what a travel shopper clicked on to reach your website. Armed with this information, you can stop wasting time on posts that fall on deaf ears and produce more content that is leading travel shoppers to your website.
What Are UTM Parameters?
UTM parameters are tags that you add to the end of a URL that allow you to capture more information about how people find your website. They answer three main questions:
Where is the traffic coming from?
How is it coming to me?
Why is it coming to me?
How to Create UTM Parameters in Google Analytics
Building trackable links with UTM parameters for social media is easy with Google Analytics Campaign URL Builder. You just need to enter the URL you will be linking to, the campaign source, medium and name.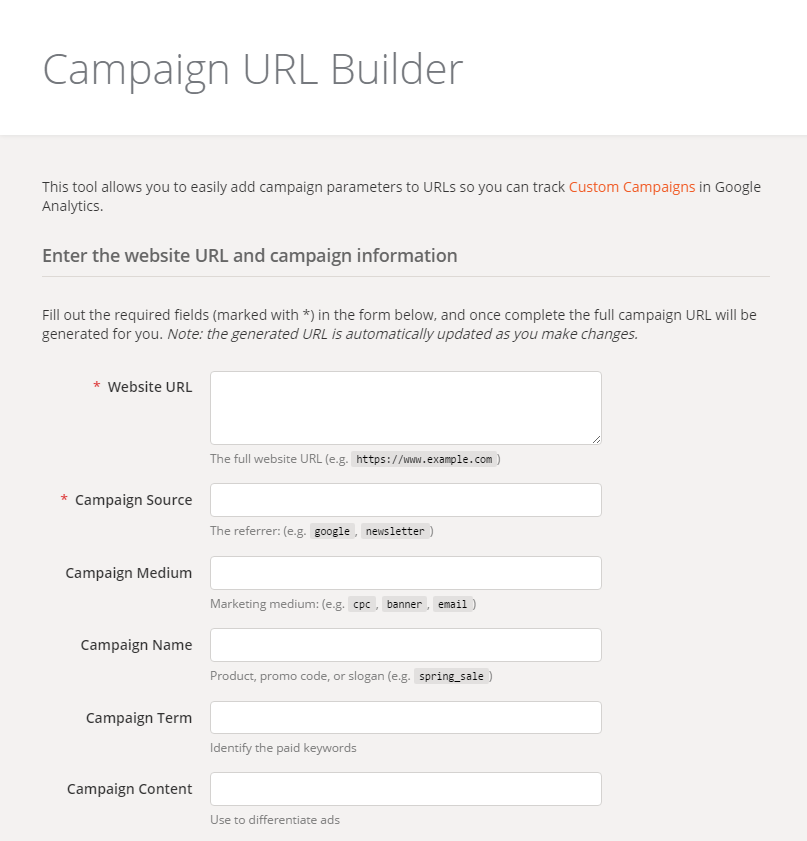 Campaign Source
The campaign source will help you identify where traffic is coming from. In this case, you want to include the specific social channel that you will be posting the link on. If you're going to post on Facebook, you would enter Facebook for the campaign source.
Campaign Medium
The campaign medium helps explain how the traffic is coming to you. This is very similar to the campaign source but it is more general. You could have multiple different campaign sources that use the same campaign medium. "Social" would be a good term to use. That way you can have different campaign sources like: Facebook, Twitter or Instagram, that all fall in to the same Social campaign medium.
Campaign Name
The campaign name explains why the traffic is coming to you. It allows you to differentiate if it came from a Facebook post on your timeline, a boosted post, or somewhere else. The name needs to be specific enough that you can tell exactly where you shared the link.
General terms like "Facebook post" aren't specific enough because you constantly post on Facebook. Include words that describe the content of the post, or the date that you posted it. For example you could use "special-offer-timeline-post-07022017" as a campaign name.
That's a Long Link
Once you have entered the campaign source, medium and name you get a fully trackable, but really long, link that looks something like this.

It's not always wise to post that long of a link on social media, especially in tweets. Luckily there are many free link shorteners you can use, like Bitly. You just need to enter the link you created with the UTM parameters and it will give you a shorter version that still allows tracking.
Vizlly Facebook Apps
Ultimately, the point of increasing traffic to your website is to drive more bookings. Vizlly Facebook apps can help you do just this. The apps allow you to transform the look of your Facebook page with visually-rich and customizable stories that include the content travel shoppers want to see most. You can also integrate your booking engine to simplify the booking process. Travel shoppers can select their dates, room type and number of guests and enter your booking engine directly from Facebook.
The analytics built in to Vizlly Facebook apps allow you to track the performance of your Facebook page. You can easily measure purchase intent by tracking the number of visitors who click through to your booking engine. When you combine this purchase intent data and referral traffic data from UTM parameters, you will have a much better understanding of your social media ROI.
To learn more about social media marketing, download our Social Media Cheat Sheets!