Best Practices
Webinar Recap: How to Build a Winning Social Media Strategy
---
Social media plays an important role in the travel shopping journey, helping to inspire travel shoppers, research & evaluate different accommodation options, and to share travel experiences.
Hotel marketers acknowledge that they need to have some form of social media presence, but it often falls down the list of priorities if you can't see demonstrated ROI. In our webinar poll, 45% of attendees said they were not seeing results from their social media strategy (vs. 27% that don't have a social media strategy, and 26% that said their social strategy was working great).
It's clear that hotel marketers need some ideas and guidance on how to use social media more effectively in their digital marketing mix to prove ROI.
In our latest webinar, we were joined by Greg Bodenair, Area Marketing Manager for Kimpton Hotels of Boston & Cambridge, to get the scoop on how to build a winning social media strategy with trackable ROI. Greg manages the digital marketing efforts for three Kimpton Hotel properties in Boston & Cambridge, Massachusetts. And his extensive background in social media strategy working with the Charles Hotel, Fairmont Southampton (Bermuda) and Mark Hotel (NYC), to name a few, make him an expert on this topic.
Here are some of the highlights from our very interactive discussion:
You have thousands of storytellers at your property – they are your hotel guests!
Frame your social media strategy around Google's micro-moments (dreaming, planning, booking and experiencing moments). How are you appealing to these parts of the traveler journey?
The goal of social media is to augment communications with guests before, during and after their stay, and to tell your property's story
Social media efforts shouldn't just focus on pre or post stay. Engage with guests while they are on-property, capture those moments, and broadcast it out
Don't be overly self-promotional. Be relevant to the person's need in that moment. What is their current situation or context? How can your brand help?
React to what your audience likes and wants to engage with, versus what you want to push out. One way to find this out is through user-generated content
Contests and custom hashtags are a great way to generate user-generated content
Example: 57 Hotel in Sydney uses the hashtag #57selfie for guests to take selfies in their hotel room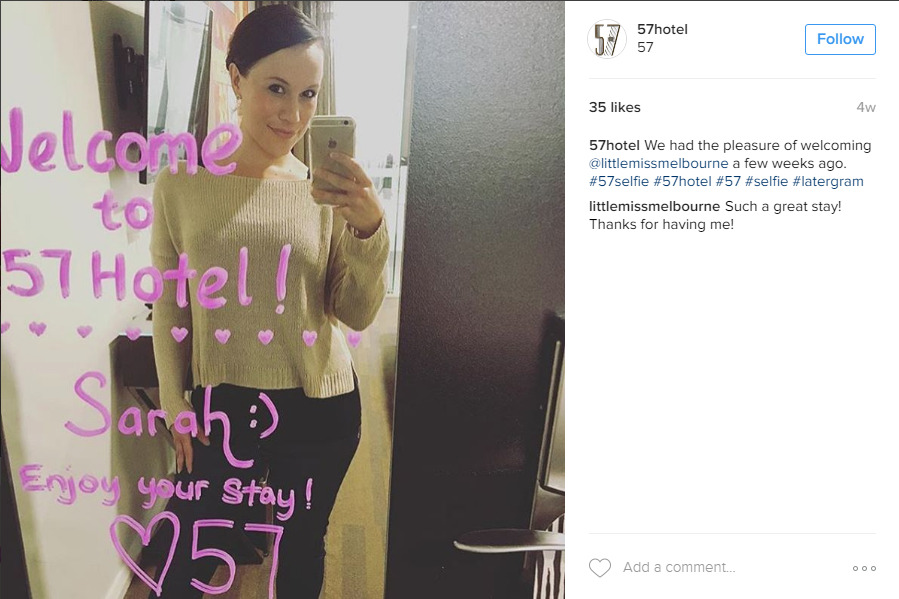 Let your guests know on-property that you are on social media and encourage their interaction. Share your hashtag, your handle, and your geo tag (for Instagram) so they can tag your venue. Without doing this, you run the risk of guests creating their own hashtags and you not finding their content
Other social media content ideas: local tips, events, behind-the-scenes info, timely articles from credible publications, tips from experts at your property (chefs, bartenders, concierges), reviews & praise – all this is all useful to the guest
85% of webinar attendees said their primary goal with social media was to drive bookings. To do this, your social media strategy needs to be tied to a bigger business objective. What do you want to achieve overall? Who is your audience? How will you measure success on social media?
Example: Secrets Playa Mujeres in Cancun, Mexico ran a social media campaign that targeted newly engaged couples to boost wedding bookings. In 12 weeks they had 500 contest entries (with email addresses), 34,000 Facebook impressions, 20 new weddings booked and $165,000 in new revenue
Greg's advice: only boost posts that you're seeing stronger than average organic reach. In other words, test your posts organically first, then spread awareness of the most successful ones through paid advertising
Use tracking codes in Google Analytics to track bookings generated from social media (click attribution). You can set this up in Google Adwords and create those links yourself
Catch up on all the insights by watching our webinar recording on-demand.