Blog
How This Resort Rebranded And Grew Revenue In New Markets
---
The Briars Resort & Spa has been welcoming guests to the shores of Lake Simcoe near Barrie, Ontario since 1942. After operating for many years as a family-focused resort, the Briars recently rebranded and began targeting couples and business travelers as well.
We spoke with Bob Law, Resort Manager at The Briars Resort & Spa, about his strategy to revamp the resorts' web presence to reflect the new brand and appeal to their new target market. "As a property with 70 years of history looking to reach different types of travelers, we realized that we had to not only look at what we were doing, but how we were doing it," explained Bob.
A website is key to any independent hotel's web presence.
At the beginning of 2018, the hotel was relying on a bespoke website that had been custom-built and redesigned twice over eight years. While their custom-built site gave The Briars a lot of control, they lacked the support and guidance they needed to maintain and enhance it. They had to be careful how they updated the site, links easily broke, and the number of pages began to rack up.
"Based on our website analytics and booking reports, it became clear that our website was confusing existing customers and not drawing in new ones. We needed to make a change," said Bob. Here's how they took on that change, with three steps to rebranding your hotel without changing its name:
Audit your existing web presence
Invest where it can help most
Understand that it can't happen overnight
Step 1: Before You Rebrand,
Examine What You're Doing Now
The Briars' previous bespoke website came with expensive agency services, including third-party blog writing, pay-per-click campaigns, and more. But their unique property wasn't getting the attention it deserved by relying entirely on an outside source to provide hyper-local and timely, relevant blogs, recommendations, and communications.
An essential part of rebranding is assessing your current target market and setting your sights on new ones. The Briars was a family-friendly resort with lakeside cabins and rooms that welcomed generations of guests and had become part of people's family traditions. Going forward, they were looking to expand further into corporate retreats, couple vacations, and more.
Their previous website did not give a clear enough picture of the resorts' services and experience beyond family vacations and leisure travel. The cumbersome navigation made it difficult for guests to get a full picture of what The Briars offered, and their offers were not prominently marketed.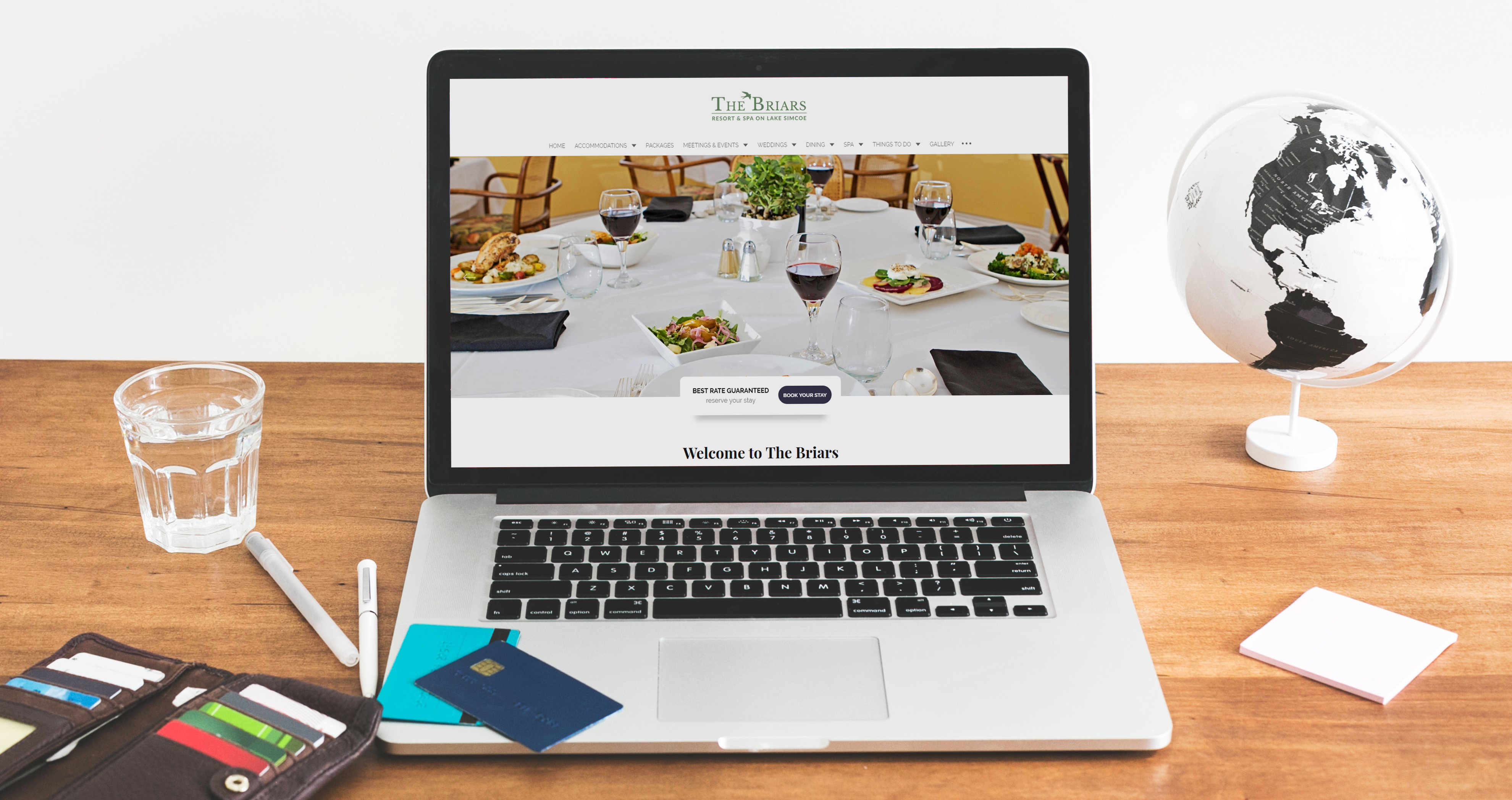 Step 2: Invest Where It
Helps Your Hotel Rebrand the Most
By moving their website hosting and management to Vizlly, The Briars reduced their marketing costs by 20% and got the ideal combination of technology and services:
A dedicated account manager
Audit of existing webpages and discussion of goals and growth areas
Dedicated Success Coach, writer, and SEO analyst
Refreshed website copy focused on bringing new organic traffic to their website
Tailored SEO strategy
Conversion-driven website built on a template that is easy to navigate and update
Daniel Grant, The Briars' Success Coach, oversaw the website build by Leonardo's team, kept it on track and manages all updates. "Bob's team sends me new packages, seasonal programming schedules and new website concepts on a regular basis," says Daniel. "I work with them to bring their vision to life and provide digital marketing best practices to ensure The Briars is being showcased in line with their rebrand."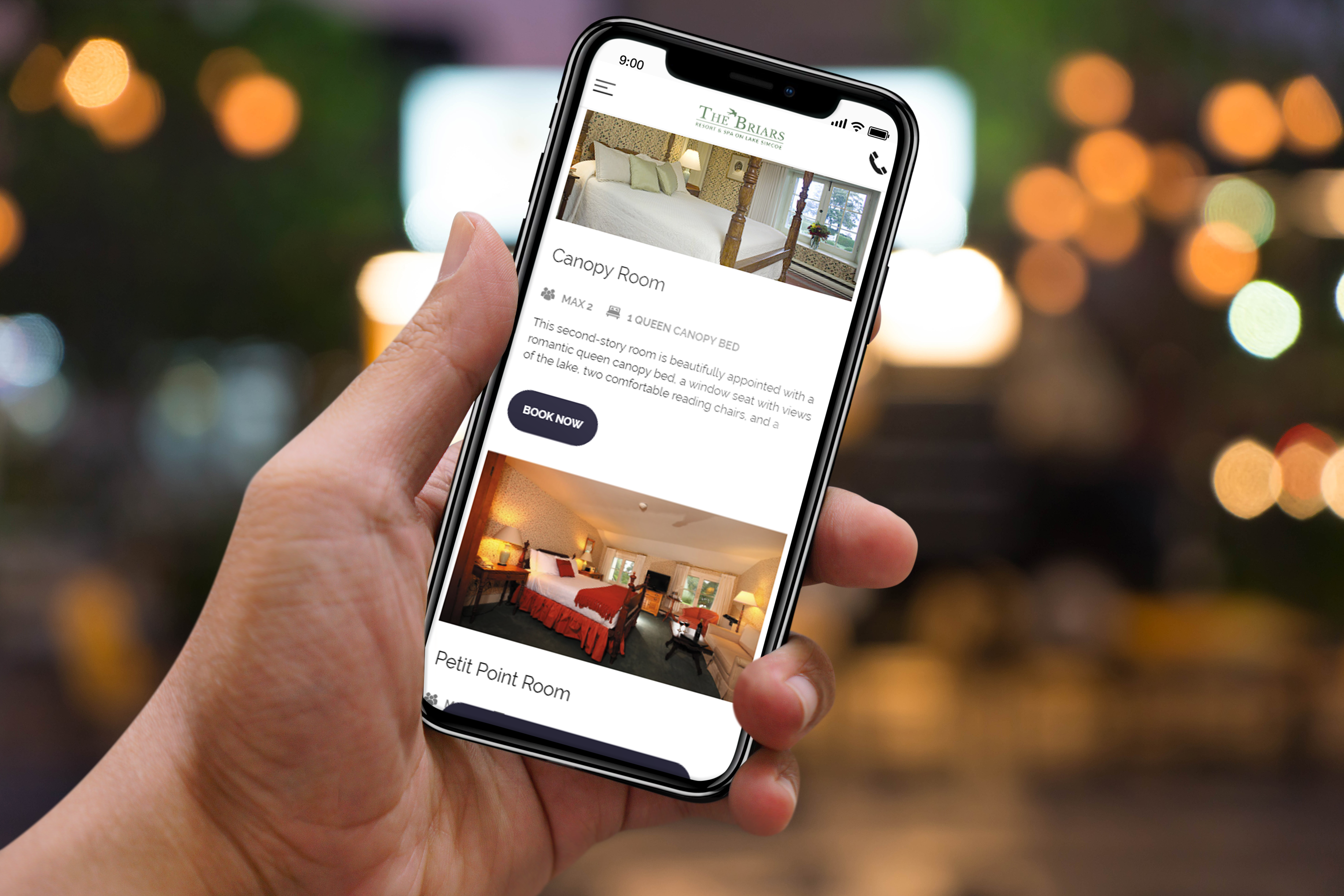 Step 3: Understand It Won't Happen Overnight
As part of their Vizlly website subscription, the Briars receives monthly website and SEO performance reports. Regular emails provide a clear picture of how many visitors they receive, direct revenue reports, and other essential details. Over time, all of those numbers are growing: from the all-important revenue, to the amount of time guests are spending on their site, and more.
Once their Success Coach Daniel helped the Briars identify their target market, he has helped them stay the course at marketing towards that. As an independent hotel, The Briars can't rely on associations or brand flags to help them indicate what kind of experience they offer potential guests. An SEO strategy focused on increasing organic traffic helps the property reach new guests who haven't been staying at with the Briars for generations as a family resort.
"Whatever effort we put in to our website, we get three times the return on it. When you are working with Daniel and his team, you get that extra advice that keeps you on the right track," says Bob.