All
Mobile Compatible vs. Mobile Optimized: A Deeper Look
---
Mobile compatibility, mobile friendly, and mobile optimization. You've probably heard these terms before, but what do they really mean and why should you care?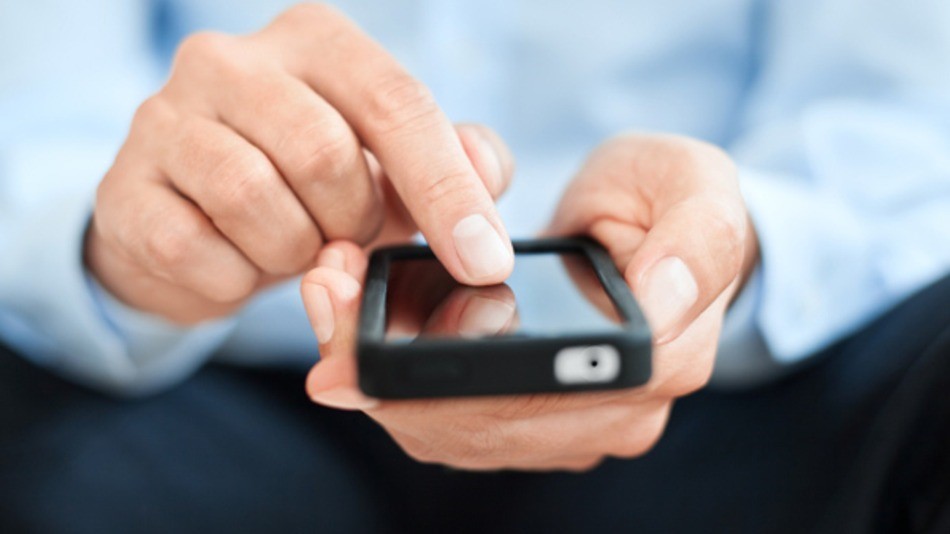 Mobile compatible and mobile friendly actually refer to the same thing and they're used interchangeably, so we'll simply refer to it as mobile compatibility in this post to avoid confusion. However, the big difference comes when you start comparing mobile optimization and mobile compatibility, which is what we'll explore:
Mobile Compatible Websites
Being mobile compatible just makes your desktop website viewable on mobile devices, it does not make it efficient or user friendly! Since flash is not supported on most smartphones, the majority of mobile compatible websites are simply the desktop website with all flash content removed or replaced using HTML coding.
This brings all of the problems you would expect going from a large desktop screen to a small mobile screen:
Tiny hard-to-read text forcing you to pinch and zoom
Large visuals that load slowly
Pages that stretch beyond the width of your screen, requiring you to scroll around
Small links that are difficult to click with your finger
Frustrating booking process
No clear links or functionality to quickly connect with the hotel
Pages originally optimized for desktop browsers that take a long time to load on mobile
Overall, an unpleasant user experience
Check out Niagara Falls Comfort Inn's website on your mobile device, or look at our screenshots below to see what a mobile compatible hotel website looks like: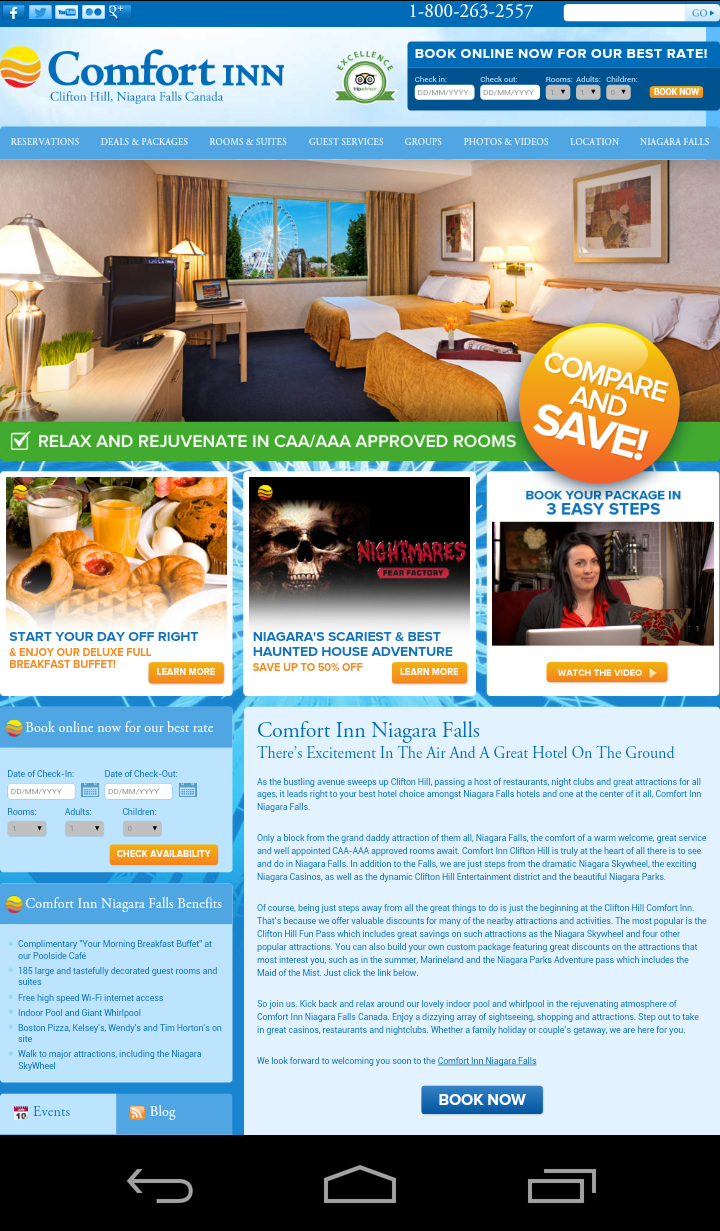 Mobile Optimized Websites
A mobile optimized website is more advanced than merely being compatible – it reformats your website entirely to create easy to read text, large clickable buttons, faster loading speeds, and more. These websites keep consumers engaged longer and offer a more enjoyable experience, which can lead to increased bookings!
Optimizing your website for mobile allows you to cater a better user experience for these reasons:
Large formatted, straight-to-the-point text
Smaller visuals that are optimized to load quickly for mobile data speeds
Content that comfortably fits the width of your screen in portrait or landscape modes
Large buttons that are easy to read and click with your finger
Simple and fast booking process
Several mobile-specific features added such as: tap-to-call, tap-to-email, and map functionality
Pages load much quicker and are more appealing
Overall, a pleasant user experience
Take a look at Somerset Inn's website on your mobile device, or look at our screenshots below to see a mobile optimized hotel website in action:
Recommendations & Next Steps
Having a mobile optimized website is the most engaging and appealing way to reach travel shoppers. In fact, research by HeBS Digital has shown that bookings and revenue generated through mobile has increased by 84% and 121% respectively over the past year!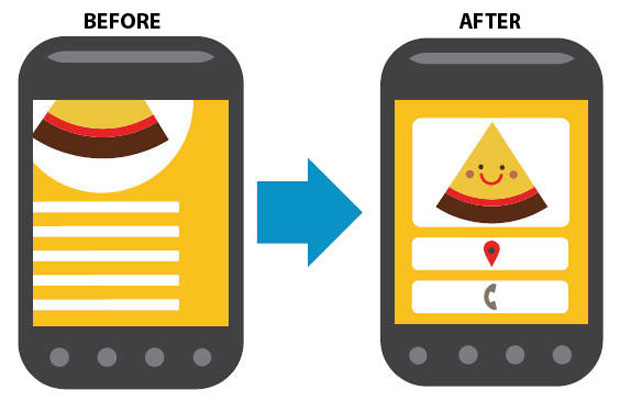 The most commonly used, and recommended by Google, method to implement mobile optimization is called responsive design – using CSS to redesign the look and feel of your website specifically for mobile users. Responsive design is the most flexible and rewarding method since it simply detects the screen size and adjusts itself on a surface level for each device without a hitch. Older methods would rely on detecting the browser and device type in order to figure out how to deliver the content, which takes longer to load and is more prone to errors.
Don't overlook this valuable hotel marketing tool – use this information to keep travel shoppers engaged longer on your website and booking more! Check out Leonardo's VBrochure mobile solution to learn how to easily implement mobile optimization for your hotel.