Blog
Our technology partner has swept top categories at the 2021 HotelTechAwards for the second year in a row 
---
We're thrilled to say that our technology partner, Bookassist, has claimed the top spot in three categories at the 2021 global HoteTechAwards. Leonardo partners with Bookassist to build high-converting websites for hotel properties and brands. 
This year, Bookassist took home the coveted spots as the #1 Best Digital Marketing platform, #1 Best Website Designer, and #1 Metasearch Program.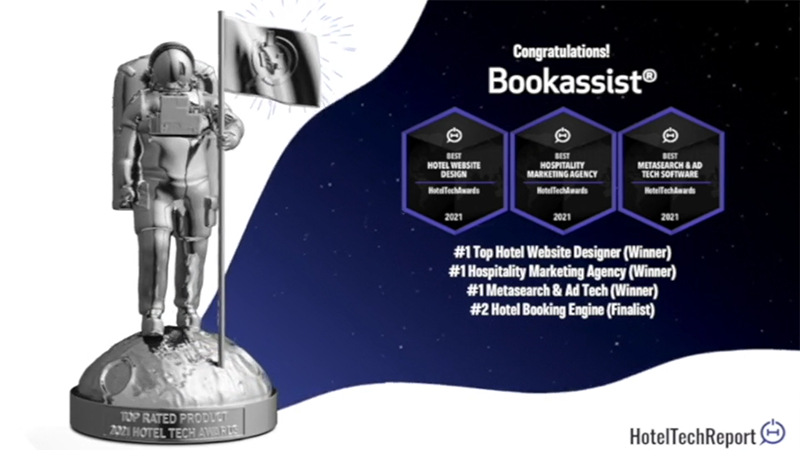 How Leonardo works with Bookassist 
We are focused on providing hoteliers with a broad suite of marketing solutions powered by customer-focused services. Our professional services team uses Bookassist's website building platform to launch customer websites with as little work as possible from the property. 
Using Bookassist's two-time award winning website platform we: 
Design and wireframe the website based on your brand needs

 

Create an SEO strategy 

to increase traffic and convert guests

 

Write all website copy 

 
Build and publish the website itself

 
A hotel website is the cornerstone of hotel's direct marketing plan, but building and maintaining one is a lot of work that most hoteliers don't have. We partnered with Bookassist, a fellow Jonas Hospitality company, to make website building easier. 
Learn more about the world's leading hotel website builder
Launch a beautiful website that ranks #1 in key search results for your compset. Let us take care of the work for you, using the industry's #1 website builder, two years running. In this travel market, you need the best. We provide it. Contact us to learn more.