Blog
How to Turn OTA Shoppers into Direct Bookers on Your Website
---
Article Highlights
Capture travel shoppers' emails for future marketing efforts
Embed guest reviews on your website to convince travel shoppers to book direct
Leverage user generated content; consumers trust it more than traditional marketing messages
Provide special offers, especially ones exclusive to your website
According to Phocuswright, 72% of travel shoppers in the US use Online Travel Agencies (OTAs) to shop for hotels. That's a lot of people! But, the good news is, not all of them will book through a third-party channel. There are things you can do to convince OTA shoppers to book direct instead.
Up to 60% of travel shoppers who book through an OTA will visit your hotel website first, according to Triptease. They're coming to learn more about your property, the local area, view more images, and ultimately decide if it all meets their needs. And that's your moment to convince a travel shopper to book direct. In this article, we suggest some strategies for how to do this on your website, to help drive more direct bookings and reduce your OTA commissions.
Capture

Contact Information

The first thing is to try and capture contact information for your website visitors – the most important being their email address. This will allow you to continue a dialogue with them, promote special offers, and send other marketing messages to convince them to book.

One of the easiest ways to gather email addresses is to run a contest. It doesn't have to be big or expensive. The prize could be a gift certificate for your hotel or on-site amenities, a free room upgrade, or passes to a nearby local attraction. The good thing about prizes like these is that they require the winner to book a stay to redeem them.

Another way to capture email addresses is to invite travel shoppers to subscribe to your newsletter. Just ensure that your newsletters contains valuable content that subscribers will want to receive, like exclusive special offers, details on upcoming events, and useful tips for the local area.
Provide

Reviews

Another way to convince OTA shoppers to book direct is to include

guest reviews

on your website. Guest reviews play an important role in the decision making process.

According to TripAdvisor

, 96% of travel shoppers consider reviews important when researching a hotel, and 79% will read 6-12 reviews before making a purchase decision.

OTAs provide plenty of reviews of their website, so your website needs to do the same. Don't give travel shoppers an excuse to leave and go searching them. Include reviews on your website, along with a prominent call-to-action to Book Now!
Leverage

User Generated Content

One clear way to stand out from OTAs is to leverage 

User Generated Content

(UGC) on your website. UGC is any content created by an unpaid contributor (i.e. your guests). It can be photos, social media posts, videos, reviews, etc.

UGC helps paint a more detailed picture of your property and sets guest expectations. It's also more trusted by travel shoppers than traditional marketing messages. According to Salesforce, 92% of consumers trust online content from friends and family above all other forms of brand messaging. Furthermore, 53% of millennials say that UGC has influenced their purchase decisions.

UGC is surprisingly easy to collect. Seventy-six percent of travelers already post about their vacation on social media. It's simply a matter of finding this content online and asking for permission to use it. Developing a specific hashtag for your hotel can make it easier, as well as encouraging guests to "check-in" on social media, tagging your hotel.

57 Hotel in Sydney does a great job at this by writing welcome notes for each guest on the mirror, encouraging them to share a selfie on social media using the hashtag #57selfie.

A custom hashtag makes it easy to find content on social media. You can also search geo-tags to see which posts have been uploaded at your hotel. There are even free widgets you can embed on your website that automatically pull in UGC from social media.
Create

Localized Special Offers

If you are a branded property, you have access to special offers from your brand (e.g. military and government discounts, group rates, loyalty programs). These should, of course, be actively promoted on your vanity website, along with the fact that they can only be claimed by booking direct. Many OTA shoppers are unaware that they cannot accrue loyalty points with a brand if they book through an OTA site. By mentioning this on your website, you might just convince them to book direct instead.

Where possible, you should also consider creating localized special offers exclusive to your property. These don't have to be fixated on price. They just need to provide value in the minds of travel shoppers. It could be something as simple as later check-out time, faster WiFi, or a free welcome drink upon arrival. You could even partner with a local restaurant or tourist attraction to develop a custom package. Be clear on your website that these special offers won't be found anywhere else online.
Boast the Benefits of

Booking Direct

Most travel shoppers don't give much thought as to how they book a hotel room, but it matters to you. So tout the benefits of booking direct.

Hotel Kleber in Paris, for example, lists "5 reasons to book direct" on its website. These include a best rate guarantee, first pick of the best rooms, priority service at check-in, free tea and coffee in-room, and a better cancellation policy. Consider what cost-effective "perks" you can offer your guests to make booking direct seem more attractive.
Reduce OTA Commissions,

Drive Direct Bookings

OTAs play an important part in filling rooms, but an over-reliance on them can eat into your profit margins. Your

hotel website

can be a powerful and strategic tool to convince OTA shoppers to book direct and reduce your OTA commissions.

To learn more hotel website best practices download our free Look Book for Hoteliers.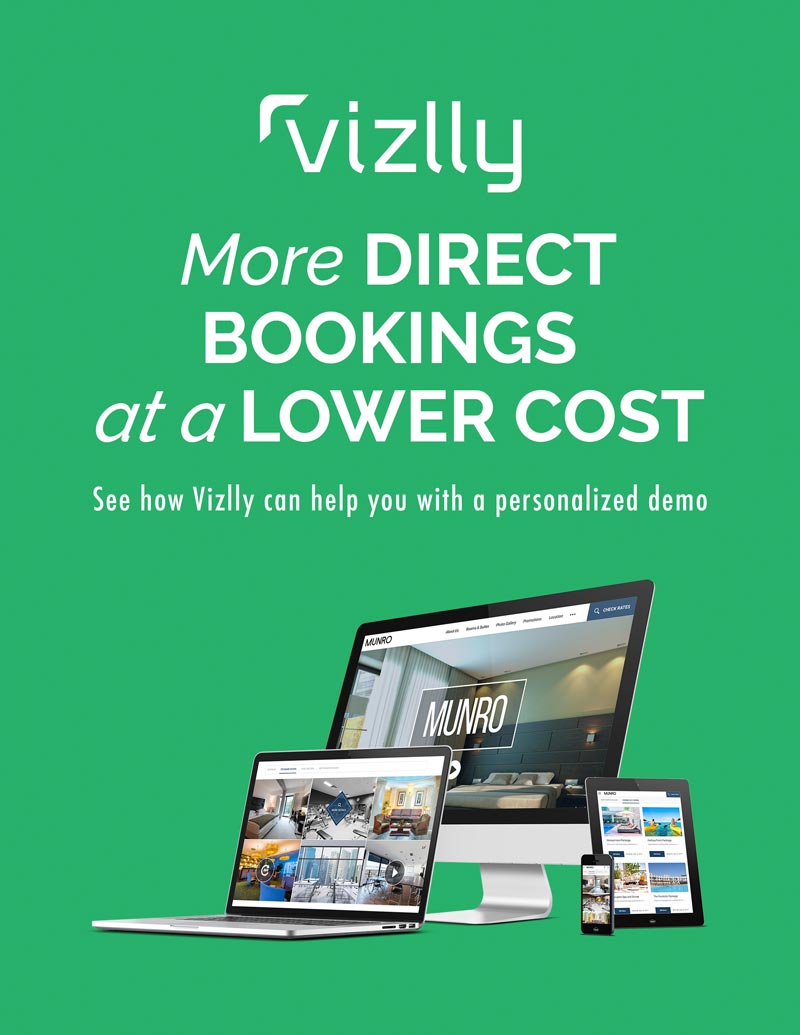 Request A

Demo

For more information about Vizlly, request a demo with one of our Vizlly specialists.