Blog
Search Engine Marketing for Hotels: Making Sense of Organic and Paid [Webinar]
---
In order to drive more bookings at a lower cost you need to increase the amount of traffic to your hotel website. To accomplish this, it is important to have a comprehensive search strategy that includes both organic and paid search initiatives.
Leonardo was invited to speak on this very topic at Sojern's recent webinar "Search Engine Marketing for Hotels: Making Sense of Organic and Paid." Darlene Rondeau, our VP Best Practices, Online Merchandising focused on a 3-pronged approach to driving more direct bookings:
Drive qualified traffic to your hotel website through SEO and SEM
Show travel shoppers how your property will satisfy their needs
Make booking direct seamless and easy through your website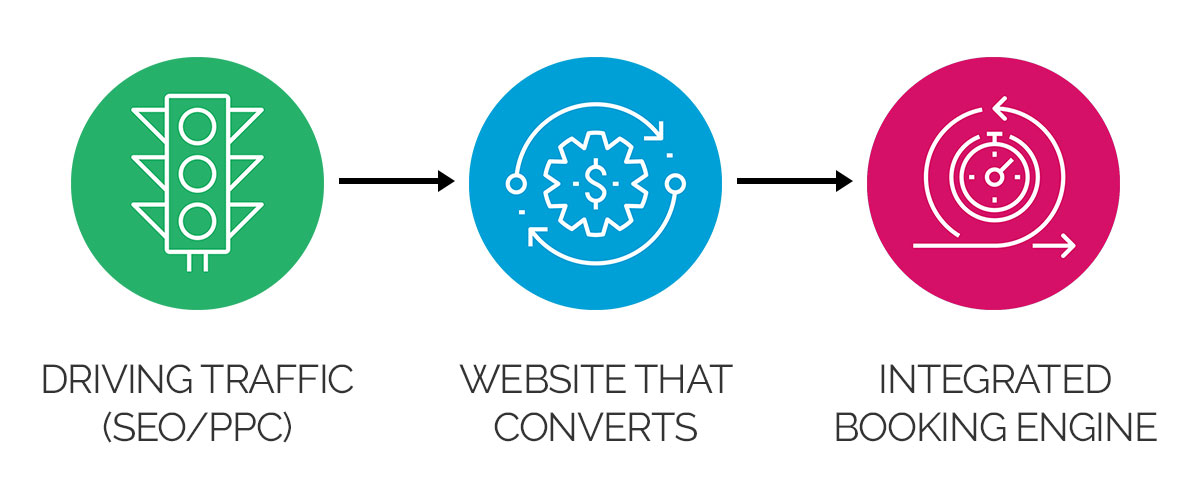 In this article, we recap some of Darlene's main discussion points from the webinar, and how to approach your own search strategy to ensure success.
Search Engine Optimization
To improve your organic search rankings, you need to optimize your website content for search. The content on your website is what Google or Bing uses to determine rankings on the Search Engine Results Page (SERP) when providing the answer to someone's search query.
The advantage of Search Engine Optimization (SEO) is that your property is viewed to have a higher degree of trust and authority in the eyes of travel shoppers by being the best match to their search queries. The downside is that it can take a long time and a lot of effort to start ranking on the first page, and for very general head terms like "hotels in Chicago" you will likely never get there.
In Sojern's webinar, Darlene suggested that instead hotels tailor their SEO strategy to focus on long-tail keywords. These are search terms that comprise of 4 or more words, for example "kid-friendly Miami hotel near zoo." They're specific, less competitive (easier to rank on page 1), and transaction based in nature, resulting in higher conversion rates. It still may take some time to reach page 1, but the beauty of SEO is that once you have reached the first page it's easier to stay there.
Search Engine Marketing
But what if you need immediate results? That's where Search Engine Marketing (SEM) comes into play. Scott McLin, Product Manager at Sojern, explained that by running an SEM campaign, you can land on the first page of Google in a matter of hours; you're just going to have to pay for it.
By running Pay-Per-Click (PPC) ads you can choose exactly which keywords you want to show up for, even head terms like "hotels in Chicago." When you identify the keywords that match your hotel's target market, you reach potential customers that are more likely to complete the booking, and as the name suggests, you only pay when a travel shopper clicks through to your website.
With basic analytics set up, it is easy to track the results of your SEM strategy. You can track how many people have clicked on your PPC ads and compare that to the number who actually made it through your booking engine to complete the reservation. Not only does this make tracking your ROI a breeze, but allows you to identify which keywords are performing the best and adjust your strategy accordingly.
Better

Together

SEO and SEM are both crucial if you want to increase traffic to your website, but they work best when used together. According to Nielsen Research, when a brand name appeared in both organic and paid search results,

the brand attracted 92% of total clicks

. When the brand was mentioned only in organic results, the brand got 60% of clicks. SEO and SEM are really just two sides of the same coin.
Key Takeaways
from the Webinar
89% of consumers use search engines for purchase decisions
$5.7 billion was spent on U.S. travel digital advertising in 2016, 55% of which was spent on search
In 2016, travel SEM spending increased by 20% year-over-year
It's very difficult to outrank the OTAs with their massive marketing budgets for head terms like: "Hotels in Chicago." Instead you should focus on long-tail keywords, comprising of 4+ words in order to rank higher.
Long-tail keywords are specific, less competitive and transaction based in nature. This results in more qualified traffic that is more likely to complete a booking on your website.
According to Conductor, long-tail keywords convert 2.5 times better than head terms.
A mobile website is crucial for SEO success. Google already rewards mobile-friendly websites with higher rankings, and in October announced that they would be moving to a mobile-first index. This means in the near future Google will match search results to queries based on the content found on the mobile version of your website, even if the search is done on a desktop computer.
If you're going to run PPC ads don't forget about mobile. Mobile ad spending accounted for 63% of the total spent by the travel industry in 2016.
For more insights and to hear the full presentation, check out the webinar recording.