Blog
Top 10 Blog Articles of 2017
---
As the holiday season approaches, we're recapping the top 10 articles of 2017 on the Vizlly blog. Our data reveals where hoteliers' priorities lay in terms of digital marketing this year. From improving their website and presence on third-party booking channels, to getting more value from Facebook, it's clear that hotel marketers are focused on the entire digital marketing channel and gaining great insights from these articles:
This year, Fuel and Filp.to released the "2017 Travel Website Behavior Study." Its findings revealed that your hotel website is THE MOST influential factor when travel shoppers are researching and booking a hotel. More influential, in fact, than word of mouth (#2), OTAs (#3) search engines (#4) and review sites (#5). Your hotel website therefore needs to shine and really grab the attention of travel shoppers. We review some key findings from the study and how they can help improve your hotel website.
Every major OTA site and Meta Review site has a similar layout. The advantage to travel shoppers is a familiar user experience that helps them navigate each site efficiently. The drawback for hotels, however, is the limited options they have to set their property apart. While you can't really change your hotel's name, review score, room rate or location, the one opportunity you have to convey your unique story is through images. Find out what images travel shoppers want to see on third-party channels.


According to a Phocuswright study, 72% of travel shoppers in the U.S. use OTA sites to shop for hotels. The good news is, not all of them will book through these third-party channels. There are things you can do on your website to convince OTA shoppers to book direct instead. See our 5 strategies for driving more direct bookings on your website and reducing OTA commissions.
Facebook is the largest social media platform in the world. In June, it reported 2.01 billion active monthly users, a 17% increase year-over-year. Facebook is simply too big for hotels to ignore. Learn why this social channel needs to be part of your digital marketing strategy, and what to post to get the most engagement from travel shoppers.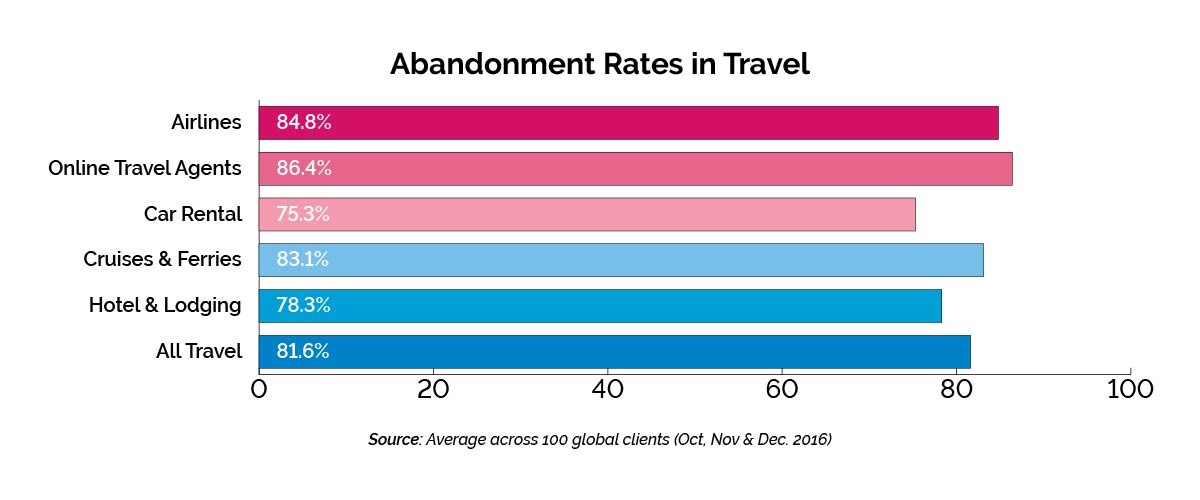 Hotels can invest hundreds, if not thousands, of dollars each month driving traffic to their website. But if it isn't optimized to convert visitors then all that time and money is wasted. Booking abandonment is a real problem for the travel industry; up to 82% of online travel bookings are abandoned, worth an estimated $1.78 trillion! Don't let it happen to you. See our 3 simple tips for reducing booking abandonment on your website.
The average Facebook user now spends 50 minute per day on Facebook's three major platforms (Facebook, Instagram, and Messenger). That's roughly 1/16 of our waking day! One major reason for this is Facebook's improved search functionality, which helps users find people, places and businesses within the Facebook ecosystem. Facebook Search presents a new opportunity for your hotel to be discovered by online travel shoppers. Learn how to optimize your hotel's Facebook page to rank in Facebook search results, and how to turn Facebook engagement into direct bookings.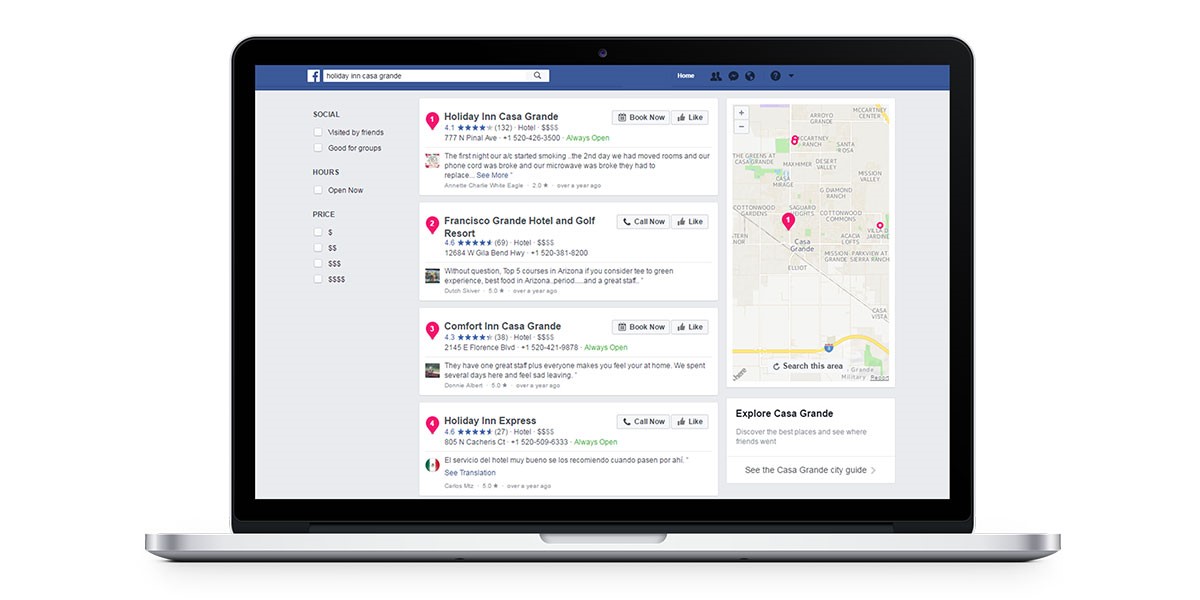 Last year, mobile Internet usage surpassed desktop usage for the very first time. In the hotel industry specifically, 1 in 5 reservations were made on a mobile device – which is only going to keep growing. Hoteliers can't afford to bury their heads in the sand when it comes to mobile. To compete for bookings, you need a mobile optimized website. But what exactly does that mean? Check out this article to learn what features are essential to a mobile website for hotels, and how to tailor yours to convert more travel shoppers.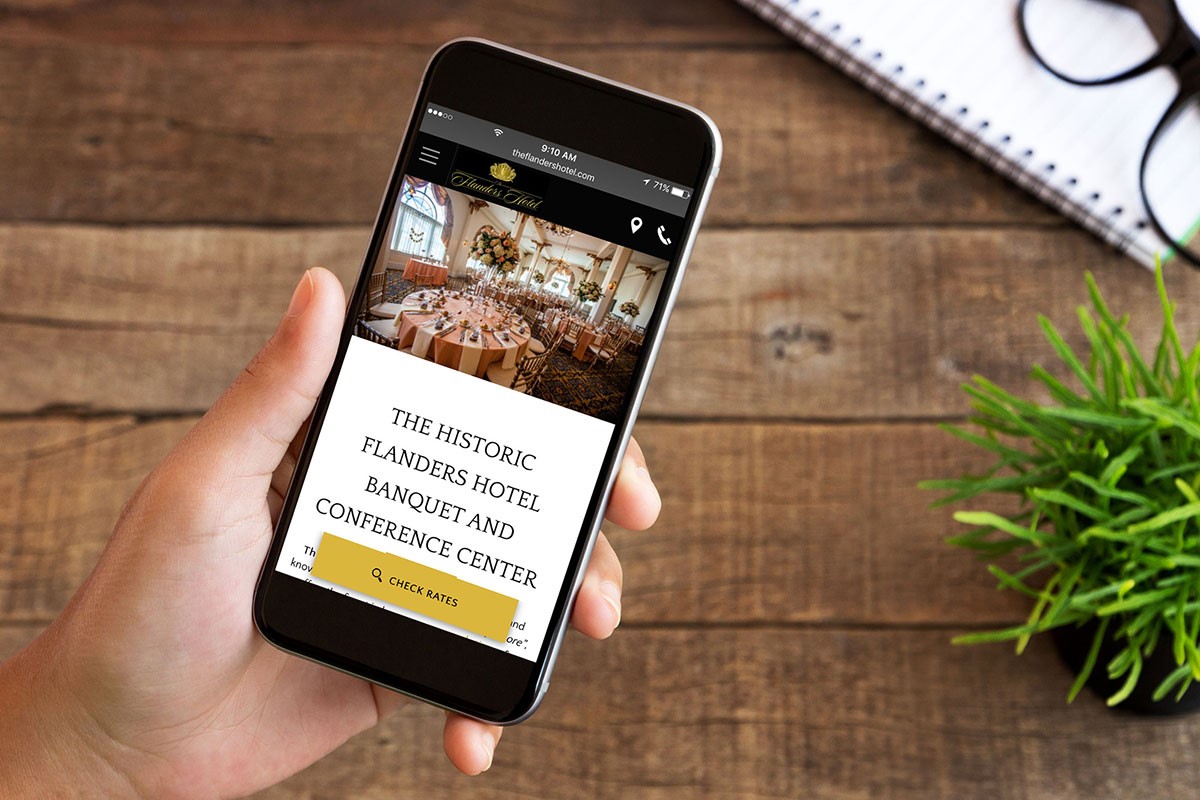 The most cost-effective way to drive bookings for your hotel is through your website. So, it's no surprise that hotel marketers want to learn how to drive more organic traffic to theirs. But don't be fooled by vanity metrics. More website traffic is not the goal – more quality traffic is. By "quality traffic," we mean visitors who are likely to book a hotel in your area in the near future. So, how do you find these people? Or, more accurately, how do they find you? Learn why you should be focusing on long tail keywords in your SEO strategy.
Not all third-party channels are created equal. While major OTAs like Expedia and Booking.com can fill rooms in a pinch, there are more valuable networks you be may inadvertently ignoring. We're talking about "managed" travel websites; sites not open to the general public but widely used by business travelers, government entities, and event planners to book accommodations. These "closed channels" can be incredibly profitable for your hotel. We highlight 3 of these channels worth looking into.
For years, businesses could use Facebook for free to promote themselves. But that all changed in 2016, when Facebook updated it News Feed algorithm, increasing the visibility of posts from family and friends and minimizing the exposure of business pages. Businesses (i.e. hotels) must now essentially "pay to play" if they want their posts to appear in peoples' News Feeds. However, the number of ads now being shown to Facebook users is reaching a saturation point. For the company to grow, it needs to find new revenue streams. Enter Facebook Search. Learn more about Facebook's improved search functionality and what it means for your hotel.