Blog
6 Reasons Why Management Companies Choose Vizlly
---
Whether you're managing one property or fifty, Hotel Management Companies face the same set of challenges when it comes to managing the digital marketing efforts for their properties. They find the process messy, convoluted and frustrating; working with different hotel managers, content management systems, stringent brand guidelines and conflicting priorities.
That's why Leonardo launched Vizlly, our digital marketing solution, to help individual properties and management companies drive more direct bookings at a lower cost. Vizlly provides 4 tools to do this: a conversion-drive website, mobile website, Facebook apps and third-party distribution of digital brochures – all managed in one place.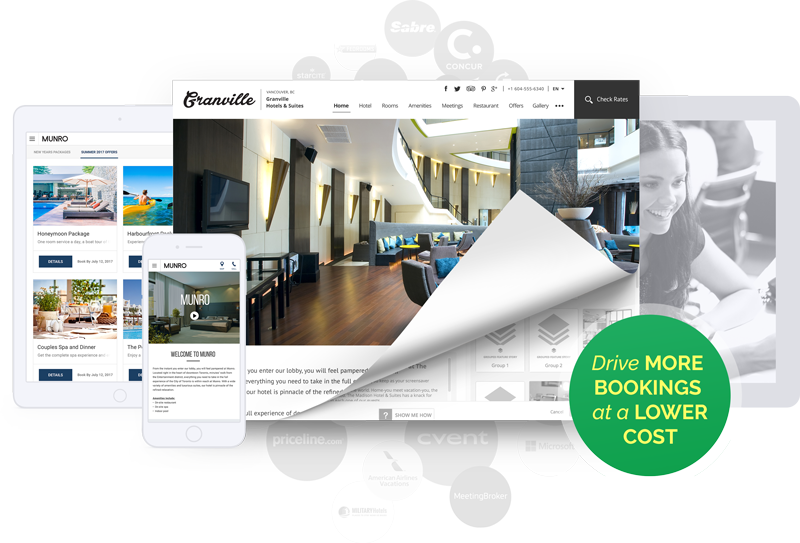 Vizlly is transforming the way Management Companies support their properties in the following ways:
1. Improved

Workflows

Vizlly is the ideal solution for Management Companies that are looking to take control of their properties' digital marketing at the corporate level. Most importantly, it eliminates the need to use multiple content management systems to update each website. Instead, it streamlines everything into one system, giving you greater flexibility and control when it comes to updating content, publishing special offers, uploading new images, and maintaining brand consistency across all the properties you manage.

Beyond managing your websites, Vizlly also provides one central place to manage content on your Facebook pages and digital brochures for third-party travel websites. Make updates in real time to your direct and indirect booking channels without the need for expensive agencies or long turnaround times. Vizlly is designed for hoteliers and doesn't require any technical expertise.
2. A Website

That Converts

Vizlly provides a visually-stunning hotel website for each of your properties, proven to drive direct bookings. Choose from a collection of website themes that look professional, include prominent calls-to-action, and provide an easy navigation to the booking engine. Our Product Team conducts extensive research into web browsing behavior to design each theme according to best practices in user-experience (UX) – an important factor that influences Google search rankings.

Vizlly integrates with any Internet Booking Engine (IBE), and supports advanced integrations with the leading IBE providers, including those belonging to the major hotel chains. This advanced integration automatically copies a visitor's search query from your website (e.g. travel dates, room type, number of guests etc.) to your booking engine, to make the reservation process more efficient and thereby reduce booking abandonment. In addition, Vizlly can integrate with codes in your PMS, CRS and IBE to support special offers.

Update all of your websites in real-time. Create visually-rich stories of each property's guest rooms, special offers, reviews, and media galleries. With Vizlly, you can customize each website to meet specific brand guidelines of each chain, while still being able to manage all your properties in one place.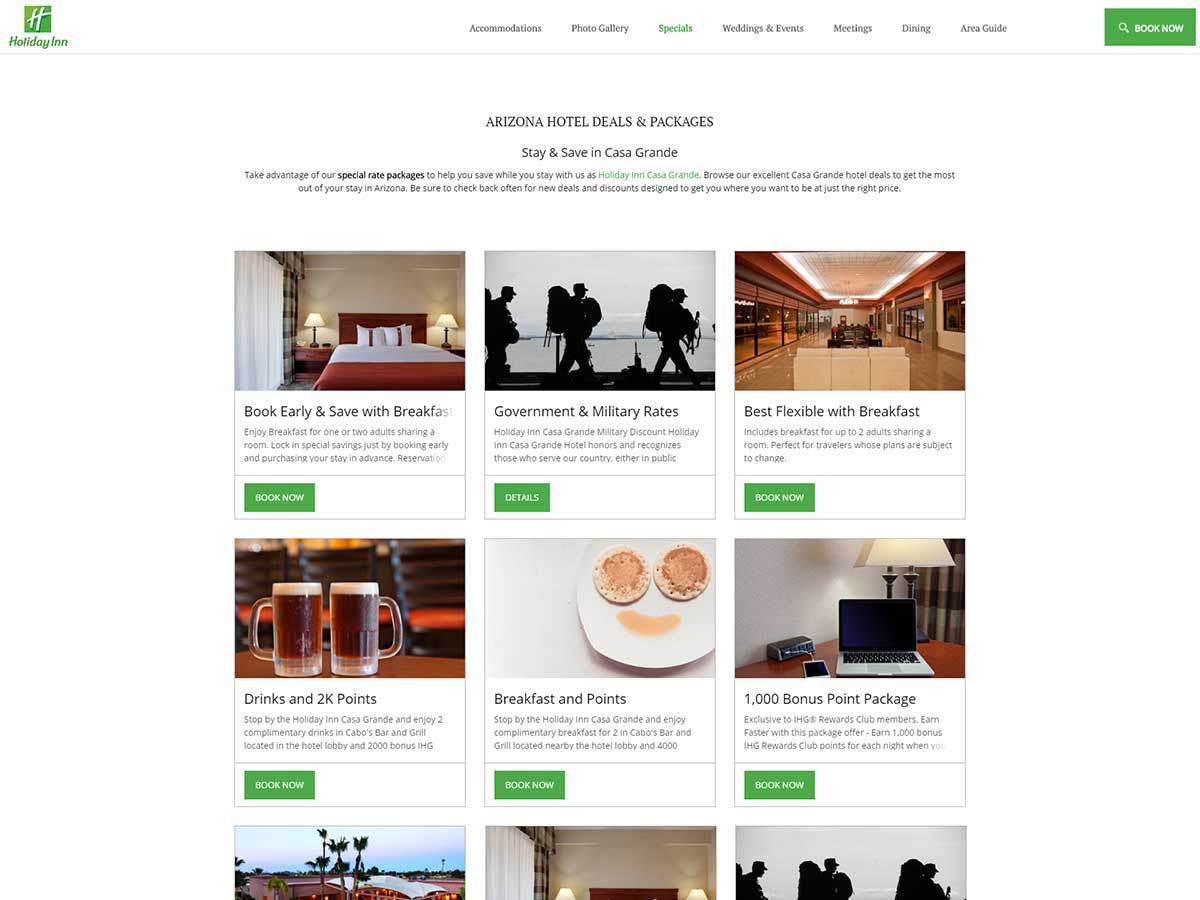 3. A Superior

Mobile Experience

In 2016, Google announced it was switching to a mobile-first index, giving preference to websites that offer a superior mobile browsing experience in search engine results. While other hotels struggle to meet these new guidelines, Vizlly is already there.

Vizlly gives you the choice of a mobile responsive or optimized website. Its mobile website themes have been designed with SEO best practices in mind, to help you rank higher in Google search results and make it easy for travel shoppers to select and book a room on their mobile devices.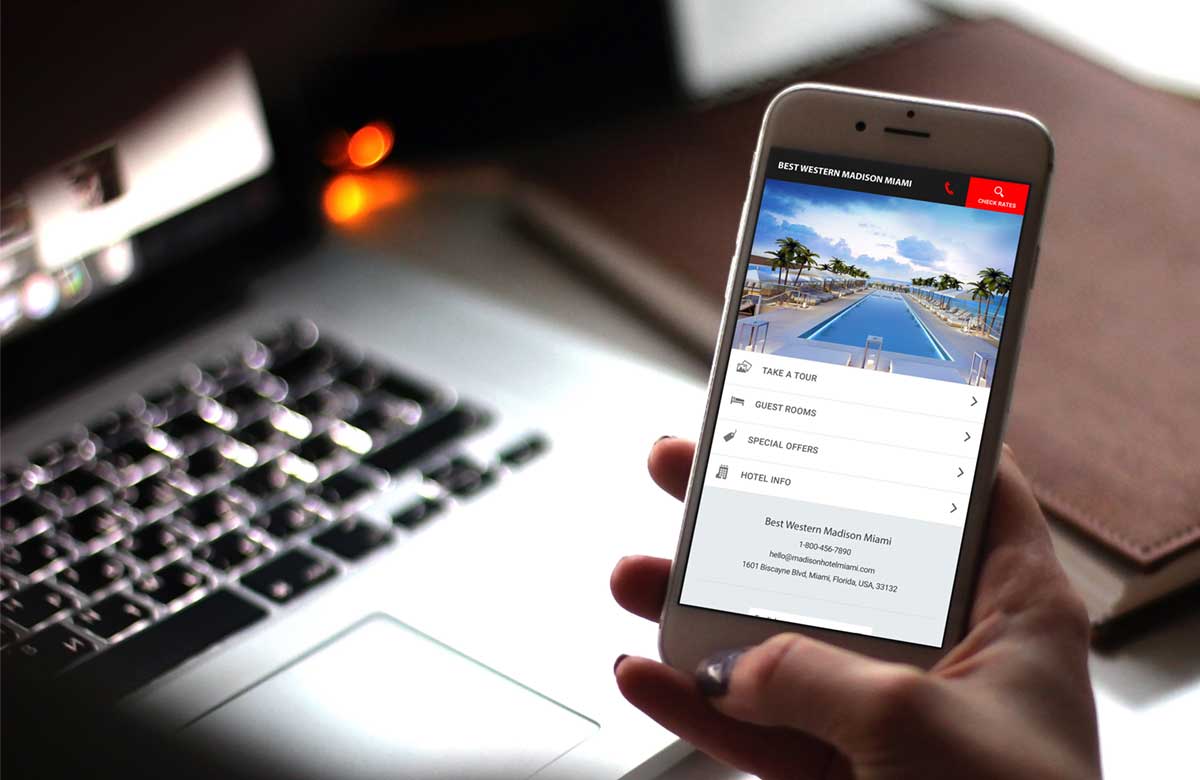 4. Turn Facebook Traffic Into

Direct Bookings

In a 2017 Leonardo poll, 96% of hotels said they had a Facebook page, 83% were using it to try and drive bookings, but only 47% were seeing desirable results. Vizlly's Facebook Apps are the answer to your frustrations.

Vizlly's Facebook Apps turn your Facebook page into another direct bookings channel. Use them to showcase your hotel in a way that you normally can't to Facebook page visitors. Add apps that give travel shoppers the details they'd normally have to visit your website for. Great examples include an app for your room types, special offers, photo and multi-media galleries, wedding packages, or even your meeting space.

Vizlly Facebook Apps integrate with your booking engine and allow you to place a Book Now button inside the app. This allows you to direct the traffic you are generating through paid Facebook ads and organic posts to the Vizlly Apps (which contain the Book Now button).

This is a win-win for you and the travel shopper. You can drive direct bookings and better understand the ROI of your Facebook activities, and, the travel shopper can stay on Facebook, make a booking and then return to their other "social activities."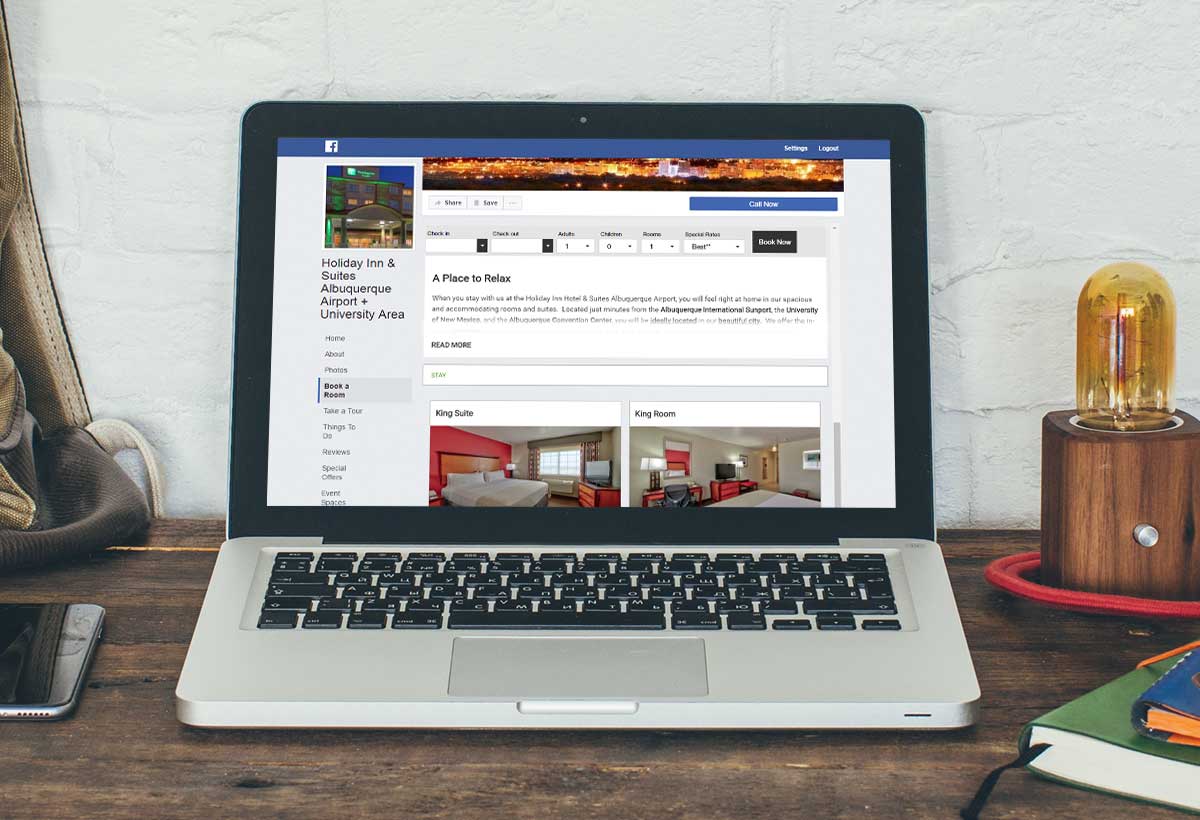 5.

Drive Incremental Revenue

Through Third-Party Channels

Beef up your listings on third-party travel websites by leveraging VNetwork, the world's largest network of third-party channels. Vizlly makes it easy to create and distribute digital brochures to these channels that convey your unique story and stand out. Through VNetwork, you can reach travel shoppers on all the channels they are using to research and book accommodation, including managed travel websites like Concur and Fedrooms you might otherwise not be represented on.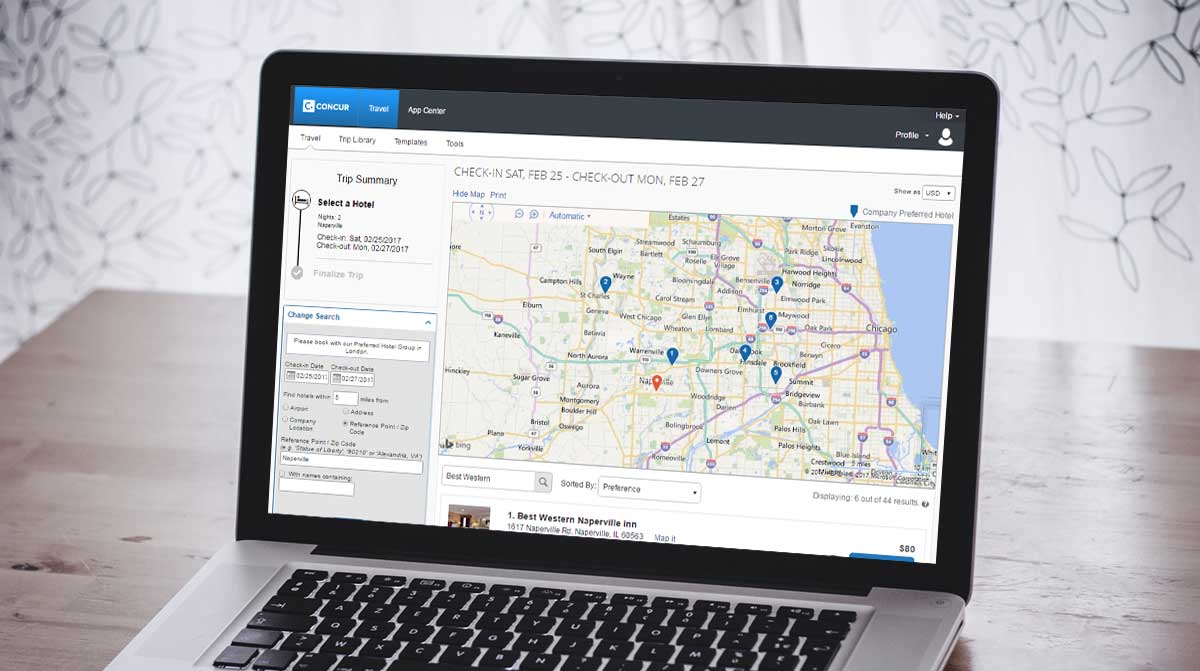 6.

Smarter Insights

To Inform Your Strategy

Vizlly's analytics uncover valuable insights about your portfolio of properties, to see what's working and what's not. Track the reach, engagement and performance of each website and compare the data to see what successful elements can be replicated across all your properties.

Use insights, like top converting images on your website, and the type of devices people are using to book, to help inform your marketing strategy. Vizlly provides objective data to help justify expenses, provide proof of performance, and demonstrate the value you bring to the properties you manage.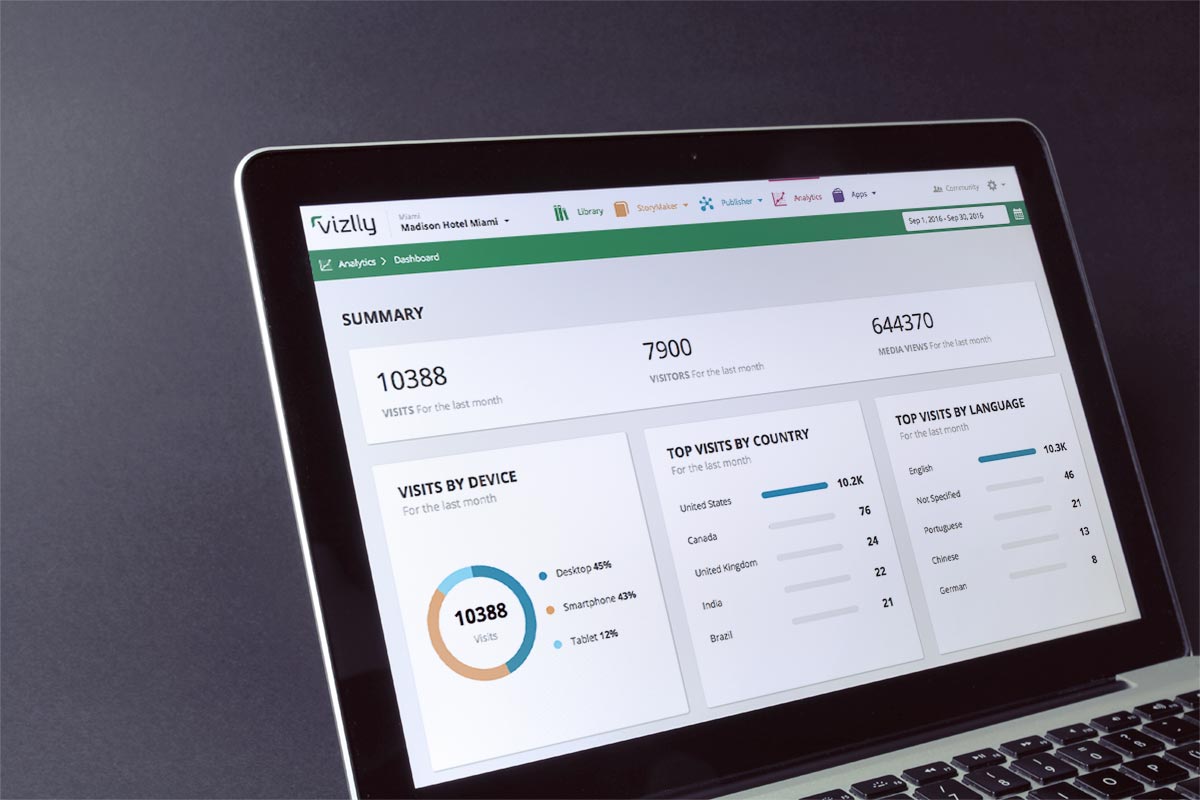 Increase

Revenue,

Streamline

Efforts

& Simplify

Your Life

Managing the digital marketing for multiple properties is no small task, and is even harder when your efforts are scattered across different systems and platforms. Vizlly is a digital marketing solution that centralizes everything. Create and manage your hotel websites, mobile websites, Facebook Apps and digital brochures for all of your properties in one place.

Vizlly is already helping other Management Companies increase revenue and streamline their digital marketing efforts. Learn how Hospitality Associates and its portfolio of 22 hotels are using Vizlly to increase occupancy, improve ADR and drive more bookings in the off-season.