All
This Year in Leonardo News: What We've Been Up to in 2020
---
No matter how you look at it, 2020 is going to be a year to remember. Impossible to predict changes have disrupted the travel industry more than most. Here at Leonardo, we have risen to the challenge, working alongside our partners, forging new relationships, and keeping ourselves busy with major product changes and releases.  
Over the course of this year, we have substantially increased our total property count, with plans to increase it by over 40% by early 2021. Throughout our conversations with hotel brands and travel channels this year, it's been clear that our solutions provide real value. In these difficult times, both long-time and new customers have told us that we allow them to do more with limited resources.  
Here's some of what we've been up to over the past year.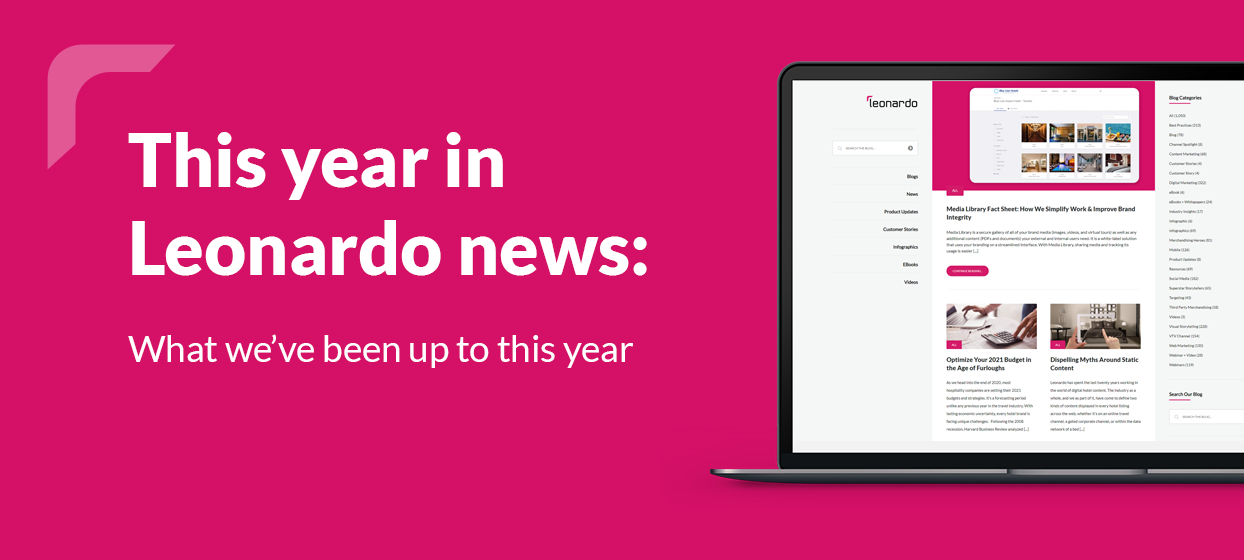 In company news….  
Leonardo + Achiga merge to expand solutions for the hospitality industry 
In April, we announced our merger with fellow Jonas Software Hospitality company, Achiga. This merger has changed the way we innovate and develop new solutions, giving us new insight into the future of hotel distribution, content management, and digital experiences.  
In product news… 
This year saw the formal launch of our new Content Manager and Media Library tools, as well as the migration of our existing customers over to these solutions. While we were working on that project, we still had time to release new features for those products. 
We built in-app reporting for Content Manager, allowing customers to access and analyze reports. Using data from our travel channel partners and insight from hotel brands, we focused on metrics that increase conversion and revenue.  
We also built out reporting tools for Media Library, our media gallery powered by Content Manager. With reports, customers can see who is accessing content, and which content is performing best.  
We partnered with HotelPORT for content verification tools 
As part of our commitment to streamlining content distribution, we forged a partnership that allows hotels to simplify content upkeep and maintenance, so that the description and details on their third-party listings are always accurate.  
COVID-19 communications pop up for websites 
Adapting to the fast-changing needs of the travel industry, our hotel website solution now has the ability to add and update key communications around health and safety.  
In new partnerships… 
We forged a number of new partnerships this year. Some of the highlights include: 
Wharf Hotels

 

Rocco Forte Hotels

 
CitizenM
Lotte Hotels & Resorts

Oracle Hospitality

 
In extensions and expansions…  
This year, we signed many significant contract extensions. Some of the extensions that we published news about include our partners over at Grupo Posadas extending and expanding to a multi-year agreement. On the travel channel side of things, we enhanced our connection with SAP Concur to feed their mobile solutions.  
Looking forward to 2021… 
We have achieved a lot this year even in tough circumstances, and we're looking forward to the future. We have new product features, new partnerships, and innovations that will improve distribution for the hospitality industry as a whole.  
Curious how any of this news impacts your organization? Set up a time to chat today.